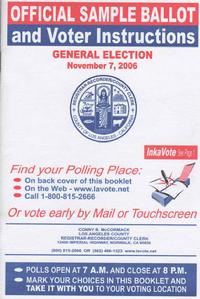 You can get one of these if you get a move on

October 23, 2006

First things first

This is the last day to register to vote in California for the November 7 election. If you haven't registered to vote, do it, and do it today. Forms are available at the DMV or you can download it here and if you're in L.A. you should drive it to Norwalk or one of these L.A. area offices — one of which is two and a half miles from AIM, at 13430 Sylvan, so get on it, people.

Dave Cummings wants you to vote

Here's the latest from the badlands of La Jolla, as reported by veteran performer – and veteran – Dave Cummings.

FROM THE TRENCHES
BY: Dave Cummings---Porn Star/Producer/Director

We're almost down to the wire. Will we continue to have to endure what I feel is a form of terrorism from certain whacko religious radicals and/or their legislative cronies, or will America succeed in sending them the voter's message on November 7th that they need to stop meddling in our private lives and Constitutional freedoms, especially concerning Adult Entertainment? Please join me in the push for voters to stand up and be counted, and for our leaders at all levels of government to fully understand that they indeed need to halt attacks upon the separation of church and state.

Speaking of politics, adult actress Mary Carey is running as an Independent Write-in Candidate for Governor of California. I think a strong showing might make politicians in California and throughout America hesitate to automatically kowtow to the religious whacko folks who are so loudly and vilely attacking citizen rights to adult entertainment. So, let's try to maximize voting for Mary Carey!

Recently, I was asked to address students at San Diego State University about the need for them to be involved in voting and political awareness. My speech was coupled with introducing Mary Carey at an on-campus campaign rally, one covered extensively by local and national television media. Governor-Aspirant Carey laid out her platform, expressed her feelings about proper government, and adroitly handled a variety of questions from the media and students. One recent graduate in attendance opined to me that it was the largest rally he had ever experienced on campus. I sensed that many students are becoming alarmed about politicians who pander against the right to privacy and the right to access and enjoy gentlemen's clubs, adult Internet entertainment, and adult films.

One last thing about voting and political awareness—please go to www.freespeechcoalition.com and browse the site and the many helpful links to items of interest to citizens of these great United States!

As I was out jogging on the beach this morning in San Diego, my mind wandered to fantasizing what it might be like to have adult actresses and actors more and more accepted in the mainstream political world. Can you imagine the support someone like Nina Hartley would garner if she ran for office---heck, many voters grew up with her as their special masturbatory fantasy. Nina is one very smart woman, someone who could actually win and govern superbly. I'd even lobby to be her Chief of Staff (I have a Master's Degree in Public Administration, and 25 years Army/government experience in leading/managing, and in staff roles). Maybe Ron Jeremy, a gentleman who also has college degrees, would even consider running for office. I know the aforementioned was a only a fantasy while I was jogging (I usually think about sex, so today's fantasy was intellectually special), but mainstream politics needs folks like Nina, Ron, and others of us!

Interestingly, I recently played a Senator in a sex scene with 19-year old Riley Mason for a Kick Ass Pictures production. The plot revolved around Riley being a constituent who wanted to convince me to vote against certain legislation that she opposed. Suffice to say, Riley was very sexually seductive. If I was a real Senator and had sex with her, I'd certainly be attentive to her ideas; and, I certainly wouldn't let any whacko religious radicals threaten me with a cut-off in campaigning monies, or a rebellion of voters from amongst their church congregations.

Seriously, I've come to think and feel that the religious radicals are sometimes as un-American as the terrorists!!!! We need to shut down their hatred by voting out their political supporters, and voting in challengers who won't invoke radical religious crap into their governing.

God bless us!!

Dave Cummings
www.davecummings.com


Close encounters of the game show kind

I met Jeopardy! mega-champ Ken Jennings last week. He was going to be signing his new book, Brainiac, in Palm Springs, and I was going to go there and shake his hand but when I found a copy of the book at a used bookstore for $10 I figured I could save $15 and four hours of driving.

Then I found out he was going to be appearing at the Glendale Main Library. The Lovely Mrs. Hunter and one of the Little Hunters accompanied me, and we actually chatted with the guy for a couple of minutes. He is warm and friendly, and quick-witted and clever, as you would expect from somebody who tapped the Jeopardy! till for $2.5 million. (He also wears a Mickey Mouse watch, so he and I at least have that in common.) He spoke at the library for about half an hour and then took questions, many of which were of the "How do you know so much stuff?" variety.

The book itself is a look at the trivia subculture in the US as well as a memoir of his six-month run on Jeopardy!, where he was compelled not to tell anybody how he was doing, which he compared to "being Clark Kent. You have this secret and you can't tell anybody." As a longtime member of this trivia subculture, I found the book a fun read.
And no, you can't borrow mine. It's signed. To my real name.


Speaking of game shows

Porno News Network honcho Don Benn is moving on. Don and I found out last January that we both worked on game shows before falling into this. We wish him well in his future endeavors, and look forward to getting together with him over a few drinks and arguing whose line producer was a bigger bastard.

PORNO NEWS NETWORK UNDERGOES MAJOR CHANGE IN MANAGEMENT
Adult Industry News Vet John Paone to Assume Editorship on November 1!

By Mike Kryger

Porno News Network's Don Benn is calling it "quits"! The daily news site's Editor-in-Chief/Publisher is set to retire at the end of October and in doing so pulling the plug on an eight-year adult industry adventure that he describes as "six of the best years of my life". "Two of them" he says "weren't that hot"!

The Philadelphia based Benn (who claims to have rented his very first x-rated video "in Beta format" almost thirty years ago from a college aged store clerk named Paul Fishbein) "accidentally stumbled" into the adult entertainment industry in 1998 when, as he explains…"I was attending a real estate seminar at the Atlantic City Convention Center, the East Coast Video Show was being held at the other end of the building, and one thing just kinda' lead to another".

Through a process which Benn described as "hard work and a lot of bullshit - but mostly bullshit" Benn has spent the past eight years establishing himself as an adult industry jack-of-all-trades as he….produced and hosted (along with Angela Summers and later Nikki Steele) an X-rated television show; appeared in non-sex roles in a number of adult features, produced and co-hosted (again with Angela Summers) the Consumers Choice Awards Show (where he and Ron Jeremy presented a "Lifetime Achievement" award to that former video store clerk who had rented Benn his first tape in the late 1970s); wrote a novel entitled "The SeXfiles – The Almost True Story of My Years in Porn"; served as editor for Adult Stars Magazine and Gay Adult Stars Magazine (until he went cock-eyed); was appointed adult industry liaison for then-start-up company XonDemand; and for the past four years served as owner and Editor-in-Chief for Porno News Network.

Two years ago, Benn underwent surgery for "complications" resulting from a traumatic brain injury sustained years in an auto accident. Unfortunately, the operation replaced one set of "complications" with a whole new set of "complications" which, over the past 18 months have caused Benn to "reevaluate, reexamine, and reorganize [his] personal and professional priorities" and in doing so was no longer able to include involvement with Porno News Network in his daily schedule.

"I couldn't have asked for or dreamed-up a more perfect, more exciting, and (certainly) more pleasurable second career" said Benn. "This industry gave me the opportunity to travel the world, put more than just a few bucks in my pocket, exposed me to friendships that will last a lifetime/infections that cleared-up in 7-10 days, and has provided me with memories, stories, and video tape that will one day make me the most popular guy in whatever old age home my family puts me in" he added. When asked if he had ever slept with any of the hundreds of porn stars whom he interviewed and worked with he replied…."not a wink….not a wink" and then winked!

Starting on November 1, 2006, Porno News Network will be helmed by veteran adult industry journalist John Paone. Paone has written for Adult Video News, High Society, Hustler Erotic Video Guide, and is a respected adult video and film critic. The new Editor-in-Chief has promised to keep all the good parts that PNN is known for (ease of navigation, humor, and a fan-friendly feel) while adding new features, increasing readership (which has admittedly slipped in the past year) and having a damn good time doing so!

Benn will still maintain PNN ownership and while admittedly plans to be an absentee-landlord (which ironically, is the profession which got him into the business in the first place) is expected to contribute news items and op-ed columns on a semi-regular basis. Benn will continue to helm PNN through the end of October at which time all e-mail addressed to EDITOR (at) PornoNewsNetwork.com will be received by Paone! Press agents and public relation pros are urged to take note of this change.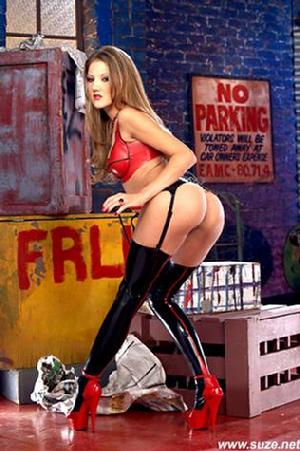 Mia Rose, from opus 3000
3000th time's the charm

Suze Randall Productions celebrated its 3000th photo shoot last week, when Holly took up the camera to immortalize Mia Rose. Good for them, and may the next 3000 be as good as the last 3000.

Suze hits 3000th Anniversary Shoot
(Chatsworth, CA) -- Suze Randall has been at the top of her game for a very long time. In an industry where careers run their course in a matter of months, the award-winning photographer/director has been a mainstay for better than three decades. She and daughter Holly have turned their art into a family business that continues to thrive. Together they anchor Suze Randall Productions and have expanded to include video production and a web site that encompasses part of the massive Randall collection.

Such a track record in this industry is practically unheard of and her recent shoot is a testament to her talents and longevity. On Friday October 13th, Holly Randall shot the 3000th photo shoot. The sexy young star of the shoot, Mia Rose was not even a glimmer in her parents' eyes when Suze started shooting and there is a good chance that she will still be shooting great looking erotica well into the next generation of porn starlets.

Much of the Randall collection can be found on her web site http://www.suze.net. With more than 30 years and 3,000 shoots under her belt, the sheer volume of material is incredible; at present time the site offers over 1,000 centerfolds, 180,000 plus images, with a large volume of those being hardcore boy/girl. Their video site, http://www.suzevideo.com, holds well over 1,000 high quality videos. Currently they are offering an Octoberfest sale where prospective members can join both sites for the price of one.

"We are very excited to have hit our 3000th shoot-- it seems like just yesterday that I joined the company and we'd only just hit 1,000 shoots," says Holly Randall. "And with the sheer volume of content we shoot every week for the site, it won't be long before we double that and hit the 6,000th mark."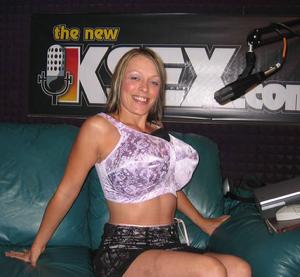 A big bra for the little lady

October 18, 2006

A night at KSEX

Walking up the stairs to the second-story KSEX studio, I meet Max Hardcore on the way down. He is accompanied by a practically-naked young lady and is carrying a large grocery bag.... He offers me a beer, which I accept. He reaches into the bag and pulls out a still-cool Corona... Max tells me that he had some interesting things happen to him at a recent show in Barcelona, and I promise to call him next week so we can get together and discuss it... When I walk into the station the Jock Lounge is a flurry of activity, with Wankus and Tyler saying goodbyes and a pizza the size of a tractor tire on a table... Lynn LeMay is sitting on one chair, a guest on Layla Jade's upcoming show, which will start in a few minutes... During the show, LeMay tells about the design of her breast implants, then pulls off her sweater and bra to illustrate... Already topless, Layla slips on the bra, and has to shove LeMay's shirt inside it to fill it out... LeMay is in good spirits, having shot several scenes that afternoon, and beating her personal-best time in a blowjob, bringing the guy to climax in less than a minute...

After an hour of cavorting, Layla makes way for Lorrainiac and Cuzzfucker, and the party begins for Batman's birthday. The usually-full studio is crowded with well-wishers, including performers Caren Caan and Kayla Quinn, whose tattoo of Batman enemy Harley Quinn never seemed so appropriate...

Lorrainiac and Cuz give Batman a series of gifts, including a couple of bottles of Charles Shaw wine, fondly referred to as "Two-Buck Chuck" by habitués of Trader Joe's... Another friend gives him a poster-sized reproduction of the cover of the graphic novel The Killing Joke, with the Joker behind a 35mm camera saying "Smile!"... I recognize the image and say so, leading the giver to ask me if I'm a comic book geek... As it happens, I was managing a bookstore when The Killing Joke came out and I read it then... Later, I explain to him that I'm even worse than a comic book geek, I'm a game show geek. He agrees that that is worse... As a party game, Batman is blindfolded and asked to identify the women in the room by feeling their breasts... He gropes his way down the line and identifies them all correctly, but he is told that he was wrong as they re-position themselves in the line and he tries again... On the third try Kayla lets him in on the gag... "Now, as a birthday present, it's time for your blowjob," Lorrainiac says, and the two women who aren't performers volunteer as Kayla and Caren move off-camera, letting them take the spotlight... It's loud and jokey until Batman gets wood, then it suddenly gets very quiet, as everybody maintains the don't-distract-him protocol familiar from porn sets... The brunette works his cock pretty well, not cheating to camera to show what's going on but turning her head as she bobs up and down. Batman seems to like it, bucking his hips, finally delivering his load right in her mouth as she smiles...

After the commercial break, it's time for Batman's ritual spanking, and as he drops trou, exposing his bare ass, I'm thinking this won't be so bad. Hah. Around halfway, a small welt appears on his right cheek, and after a particularly nasty swat he yells "DON'T HIT ME THERE!!" in a determined voice, then turns around to get his ass out of the line of fire for a moment as he regroups. Kayla takes over, and the sound of the swats resound around the room as people are now visibly wincing... Caren moves in to finish the spanking, and she is diabolical, gently caressing his ass with her hand before cracking it with a hard slap, then following up with three quick ones as she reaches around to jerk him off with her other hand... Batman kneels there, feeling the pleasure as he anticipates the pain. Really feeling the pleasure: "I feel pre-cum," Caren announces, right before finishing the spanking with three more hard smacks, the last one right on the welt as Batman howls. He quickly pulls up his pants, grateful that it's over... The show has run over, to 12:30 am, and the re-runs are going to be half-an-hour late all night, but nobody cares...

KSEX is accessible at ksexradio.com. It's free to listen, and you can watch for a fee.

Enron crook Lay gets charges dropped, posthumously

A federal judge in Texas has dismissed the indictment against Enron mastermind and Bush crony Kenneth Lay, who died last July before being sentenced after his conviction on 10 counts related to the demise of the Texas energy company. This means that Lay's family can keep a reported $40 million-plus of Lay's ill-gotten gains.
http://www.washingtonpost.com/wp-dyn/content/article/2006/10/17/AR2006101700808.html

Another look at Net Neutrality

The badly-named concept of "Net Neutrality" gets exposure here. If you already know about it, feel free to move on. Otherwise click and learn.

http://www.coanews.org/tiki-read_article.php?articleId=1332

Registered to vote?

Jeez, I hope so. Click here to find out where you can register if you haven't. You have till Monday.
http://lavote.net/VOTER/Voter_Registration.cfm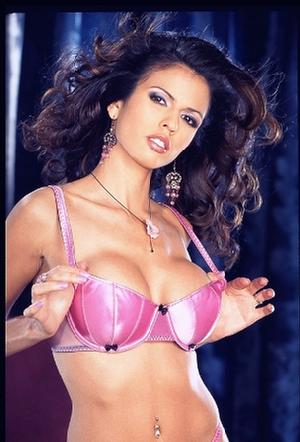 Shy Love

Shy Love at liberty

The performer/director moves to non-exclusive with Hustler, and is available for other projects.

SHY LOVE IS A FREE AGENT

(Woodland Hills, CA) In an amicable agreement, Shy Love and HUSTLER have dissolved Love's exclusive contract with the company. The mutual decision made over the weekend now allows Love to pursue opportunities outside of her former contract perimeters. Shy will still be directing and performing for HUSTLER non-exclusively.

Shy Love stated, "We are not parting ways, I love Hustler. However, Hustler is a big job, and I have too much on my plate right now to be a contracted performer for one studio. Presently, my Feature Dancing schedule takes me out of town almost every week Wednesday through Sunday. I am excited to continue as a VCA Director. My next title is slated for shooting the first to second week in November. I will direct and also maybe perform in the movie, so you know it will be nasty."

"Shy is a fantastic performer. We have no ill feelings towards Shy Love. Shy has directed 2 movies for VCA, Shy Love's MAss Destruction, and MyXXXpornspace.com. Both titles did well for us. All things permitting, we will continue to have her direct for our VCA label. We wish her and her company all the best of luck." said Hustler's Drew Rosenfeld.

Shy is represented exclusively by agent LA Direct Models and can be booked for scenes, photo shoots, and more by visiting www.ladirectmodels.com.

Fans worldwide can visit Shy Love at www.shylove.com or www.myspace.com/shylovexxx

Attagirl

Actress Scarlett Johansson admits that she gets tested for HIV twice a year. Good for her. About time somebody in public life said this is a good thing.
http://news.yahoo.com/s/ap/20061009/ap_en_ce/people_johansson


Sex Z movin' the goods with Corruption

The new release sells out, but don't worry, they'll make more. And it's a three-disc set, so it's gonna take a while. Here's the latest from Hollywood and Vine:

'CORRUPTION' SELLS OUT FIRST RUN WITH 'DIRECTOR'S CUT'

(HOLLYWOOD, CA) Sex Z Pictures' big budget political thriller Corruption sold out of DVDs in the first series of shipments to distributors and stores over the past two weeks from the company's headquarters in Manassas, Virginia proving that the decision to offer the harder edged 'director's cut' was a good one.

The highly anticipated action packed mega porn movie which many consider a leading candidate for best feature of the year surpassed initial estimates of demand and quickly positioned itself as the biggest selling title in the history of Sex Z Pictures after only two weeks.

"We had planned on this being a huge release of course, but I guess we were actually caught a little bit off guard with the early orders as this appears to not only be our best movie ever, but maybe the best movie of the year period," stated the company's engaging owner Bo Kenney who happily ordered another large duplication run of the popular three disc Corruption set.

Superbly crafted by Eli Cross who turned in a career defining directorial, Corruption tells the twisted story of California's Republican Senator whose thirst for power and sex get the best of him and those around him.

David Walker Helms, California's first Republican senator in more than a decade is a power-hungry, perverted sociopath who views ethics and morals as codes of conduct adhered to by lesser citizens. The brash Senator positions his entire life around his shot at the Oval Office where he stands poised to win the Republican presidential nomination in 2008. With the help of his wife Carolyn Helms, he embarks on a freakish journey that will leave viewers on the edge of their seats cringing about what they have just witnessed.

Starring rising superstar Hillary Scott, Corruption is the type of movie that stands head and shoulders above the competition as far as adult entertainment goes from a production and story standpoint.

"This is a really great story with totally hardcore sex and I'm so proud of how it turned out. It's the best work I've ever done, the final result is amazing and I hope everybody sees Corruption," stated Hillary Scott who not only delivered a best actress worthy performance, but engaged in some graphically hardcore sex unheard of in feature movie product.

"I've never seen a feature with this type of aggressive gonzo sex. They left a lot of things in the director's cut that I thought might be cut out. I did things in this movie that I've never even done in gonzo movies," she admitted.

In fact, Sex Z Pictures decided to go with the supremely harder edged 'director's cut' right from the start because the sex was essential in telling the perverted, mind numbing story of the US politician.

With a volatile mix of governmental politics and blazing rapid fire sex, the release of Corruption seems perfectly timed with nationwide elections coming up in early November and anyone who thinks they truly know the goodness and kindness of their favorite politician might be in for a rude awakening.

Each year seems to offer a special adult movie and this time the story of Corruption is as grown up as the dirty sex. Do not miss the best movie of the year.

Corruption stars a large all-star cast including Hillary Scott, Kylie Ireland, Alana Evans, James Deen and Bryn Pryor as the Senator. If there is only one adult movie to see this year, Corruption will make you sweat come Election Tuesday.

The time has come for Corruption from Sex Z Pictures available now. Ask for it by name.

To check out Corruption visit www.corruptionmovie.com.

Sands Avenue squeeze-out?

Looks like CES is making a move into the Sands Convention Center, longtime venue for January's Adult Expo. I might wind up being right about the Adult Expo moving to Mandalay Bay yet.
http://www.cesweb.org/about_ces/newsletter/1009.asp#3855


Websites, Hollywood venues announced for XBiz February Conference and Awards

XBiz has announced plans for a February conference to be held in the heart of Hollywood, which will coincide with its annual Awards. I was at the July Webmasters Conference in Las Vegas, and the show was classy and informative, plus a good place to make contacts. See you there.

XBIZ Launches Event Sites for Hollywood 07 Conference and 2007 Awards

LOS ANGELES — With anticipation building for its new annual conference in the heart of Tinseltown, adult media company XBIZ went live with two websites — XBIZHollywood.com http://www.xbizconference.com and XBIZAwards.com http://www.xbizawards.com/ — that detail event related information, registration instructions and a plethora of sponsorship opportunities.

The XBIZ Hollywood '07 Industry Conference will be held Feb. 7-8 at the glamorous and historic Roosevelt Hotel in the heart of Hollywood, Calif. The 2007 XBIZ Awards will be held Thursday, Feb. 8., as the grand finale to the conference.

XBIZ has reserved an exclusive block of rooms at the Roosevelt for guests, who can receive a booking discount by mentioning special group code: XBIZ.

The XBIZ '07 Hollywood Industry Conference will feature two days of highly focused educational workshops and seminars that will explore a wide range of subjects covering all sectors of the adult entertainment industry, set against the trendy atmosphere of the Roosevelt Hotel, its meetings rooms, restaurants and stylish Tropicana venue.

"The XBIZ staff is dedicated to providing XBIZ Hollywood '07 attendees with a dynamic and unique experience that speaks directly to their bottom line," XBIZ Publisher Tom Hymes said. "The industry is changing, but opportunities continue to abound. While most industry trade shows continue to target individual areas of the adult entertainment industry, we believe that it is time to explore the many ways we can all work together. That is the exciting and ground-breaking focus of XBIZ '07 Hollywood Industry Conference."

Tentative seminar and workshop topics will explore a wide range of subjects, such as expert marketing strategies, ways to exploit new distribution models, content production tips and techniques and how to position a business model to endure economic slowdowns, legal threats and increased competition.

The revolution will not be televised, and the chances for a good movie about it have declined considerably

Filmmaker Gillo Pontecorvo died last week. Pontecorvo is best known for his 1969 film Battle of Algiers, for which he was nominated for directing and writing Oscars®, and he also directed one of my personal-favorite films, Burn!, which starred Marlon Brando as a British mercenary who helps overthrow the government of a fictional Caribbean island, and then has to deal with the newly-empowered former-slave government when they start to act, you know, independent. (Although the longer version, originally titled Queimada, is better.)

He was 86.

http://news.bbc.co.uk/2/hi/entertainment/6046602.stm

That's more like it

Take a look at these powerful ads targeting House members who voted against stem-cell research.
http://majorityaction.net

Why is this woman grimacing?
Ouch

If you've ever seen those fireplug-sized buttplugs and wondered "Who would use those?" the jolly band of reprobates at JM Productions has stepped up to the plate, so to speak, and gotten a group of girls to do solo scenes with those giganitic tools. Not sure where you go after this. Real fireplugs maybe.

JM Productions' Reveals New Series Overstuffed!
Featuring over 2 hours of the most intense solo masturbation scenes ever lensed!

Chatsworth, CA – When most people think of JM Productions' movies they definitely envision cunts and assholes stretched to the breaking point & beyond, but not solo masturbation. But, what if these two usually distinct realms could be combined and delivered to the consumer for maximum stroke value? Well, the answer to this question is upon us, because JM has done just that with the release of the first volume in the amazingly innovative new solo series Overstuffed, which hits shelves on October 30th.

Overstuffed features the most extreme do-anything whores in the business taking impossibly large objects into their asses and twats. "These are not the kind of solo masturbation scenes you want to view with your girlfriend or anyone that you want to respect you afterwards," explains JM publicist Tony Malice, "They might not consider it very romantic to watch you furiously masturbate to a whore taking a butt plug the size of a basketball up her ass or force feed three dildos as thick as tree trunks into their cavernous snatch."

The nice folks at JM Productions pride themselves on their abilities to test a whore's limits and Overstuffed takes this philosophy to new heights. "I had a train of giant black cocks a mile long up my ass," explains covergirl Aaralyn Barra, "And while that's been quite emotionally traumatic, it didn't test my physical limits anywhere near the shit they crammed into me for Overstuffed."

JM contract whore Ashley Blue is no stranger to having her ass and pussy bored out for the viewing pleasure of perverts worldwide. "Pretty much everyone in my family has been amazed at what JM Productions has been able to fit into my ass so far," explains Blue, "But Overstuffed is probably the first time that I've actually surprised and impressed myself. I'm really growing as a person."

Overstuffed also features the expanded holes of Trina Michaels, Candice Cox, Gia Paloma and Riley Mason and will hit the streets on DVD October 30th. Distributors can order now by contacting JM. For more information or to acquire your copy please visit Jerkoffzone.com on the web!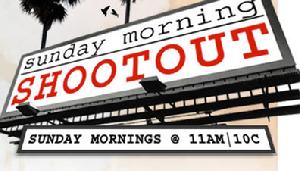 AMC will never be the same

October 13, 2006. Bad luck day. Stay home and pull the covers over your head.

Wicked women make AMC appearance

Wicked Pictures contract performer jessica drake and Wicked Pictures executive Joy King get together with Variety editor Peter Bart and producer Peter Guber on AMC's Sunday-morning talk show. Not sure what they'll talk about, but I'll be there to find out. Check your local listings for channel number and exact time.

JESSICA DRAKE & JOY KING
Join Hollywood Film & Literary Moguls
PETER GUBER & PETER BART On
AMC's SUNDAY MORNING SHOOTOUT!

LOS ANGELES CA - (OCTOBER 13, 2006) - Each week on AMC's Sunday Morning Shootout, a gathering of Hollywood's biggest players share their experiences and knowledge with Variety Editor-In-Chief Peter Bart and Mandalay Pictures kingpin Peter Guber, two seasoned L.A. insiders whose recent guests have included Oliver Stone, Charlize Theron, Denzel Washington, Vince Vaughn, Francis Ford Coppola, George Clooney, Clint Eastwood, and Steven Spielberg.

This Sunday morning, October 15th, at 11:00 AM / 10:00 AM Central, Bart and Guber will be playing host to Hollywood royalty of a provocatively different stripe as Wicked Pictures contract actress jessica drake and Wicked VP Of Special Projects Joy King treat the hosts to an unfettered insider's view of 21st Century adult entertainment.

While the show is packed with revelations and new, eye-opening perspectives from jessica and Joy, those seeking gossip and innuendo will want to look elsewhere, as these two adult industry veterans bypass the salacious in favor of facts and level headed commentary. That their hosts should join them in cutting right to the heart of the matter comes as no surprise when one considers that, as the VP and Editor-In-Chief of Variety, Peter Bart personally oversees both Daily Variety and Daily Variety - The Gotham Edition, the go-to journals of the mainstream entertainment community.

And while he may be best known for his '70s/'80s heyday as the head of both Columbia and Sony, Peter Guber continues to create such hits as I Know What You Did Last Summer, Donnie Brasco, and Wild Things, as well as critically acclaimed features like the Angelina Jolie vehicle Beyond Borders through his latest venture, Mandalay Pictures.

So make a date this Sunday morning with jessica drake and Joy King, two adult luminaries who bring both beauty and brains to the table when it comes to sharing their extensive industry knowledge and expertise.

Please consult your local cable listings to confirm the air time and date for your area. To learn more, please visit www.jessicadrake.com and www.wickedpictures.com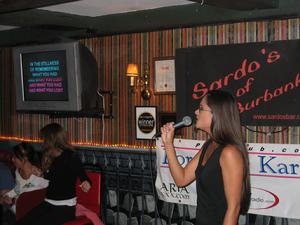 Stephanie Swift sings
October 10, 2006

Random Notes From A Red Notebook: 10/3 PSK @ Sardo's

Had an interesting experience as I walked into Sardo's for PSK: I got carded for the third time in my life, and the first time since I started getting grey hair... The place is dolled up for Halloween, with spider webs everywhere and a mock tombstone on Kristen's podium that says "RIP Dimples," a lighthearted slap at another Burbank karaoke bar, slated to be demolished to make way for a new multi-story office/retail/housing complex, right across Olive Street from the most recent multi story office complex, which stands right between NBC and Warner Bros. because, dammit, it isn't crowded enough on the West end of Burbank now and we need to take that nightly 5:00 traffic slowdown over there and change it to total fucking gridlock... Lady Bastette is in the J-shaped booth, and I join her as I note Powder from KSEX, Caren Caan and Betty Rage... Master editor Sonny Malone is here, too, taking a night off from her night-shift at Playboy... James Bartholet... A guy makes a brave attempt at Tell Me Something Good...

Gram Ponante and Wayne Hentai come in, take a table on the platform... The Dennis Hof looking guy is here... Prince is big tonight, Purple Rain and When Doves Cry get good response... A discordant Bohemian Rhapsody. Jaye P. Morgan would have gonged that guy at the 46th second... Tee Reel... Gram is chatting up an Asian woman. She probably isn't Sandra Oh, but you never know... Somebody tries to pull off Alabama Song. Kurt Weill is probably used to it by now, but Jim Morrison is spinning in his grave. In Paris. With his fingers in his ears... A woman comes in who looks like Stephanie Swift... Table chat heads to the new Robin Williams movie, Man of the Year: "Bill Maher is probably jacking off to that," somebody says... Sing-alongs are big tonight, with I Love L.A. getting big "We love it"s and Kiss (Prince again) practically a sing-along... Flexxx... The Stephanie Swift-looking lady, returning from the restroom, stops at the J-shaped table and says "Hi Tod."... No wonder the resemblance was so striking... We chat for a moment. She's living in San Diego now, and featuring. "I'm just a little tired, I needed a break."... Our chat is cut short as she is called up to sing Fleetwood Mac's Dreams. Good choice, the lightness of her voice matches the original Stevie Nicks vocal... James Bartholet, Gram and I all rush the stage to get a picture of Swift as she sings... As I leave I see my longtime friend, performer/director Kiss, who tells me she's liking for Asian girls who can act, and can I post something about that.... I tell her I'll think about it...

Porn Star Karaoke is held every Tuesday night at Sardo's bar, 257 North Pass Avenue in Burbank, just off the Pass Avenue off-ramp from the eastbound 134. Bring your ID.

Hastert says he'll fire anybody involved in covering up Foley sex-predator scandal... except himself, natch

In the classic blame-the-underlings tactic, House Speaker Dennis Hastert (R-IL) has threatened to fire anybody in his office who knew about former Representative Mark Foley's inappropriate interest in the underage male teenage Pages in the House. Hastert, of course, has no intention of resigning over the sandal, raising the usual question, "What didn't Hastert know and when did he stop knowing it?"
http://msnbc.msn.com/id/15208078/

Playboy gets in bed with sex.com

Looks like Playboy has gone beyond testing the waters with porn. They have just entered into an agreement to "power" the sex.com Website.

The NEW Sex.com to Distribute Premiere Adult Entertainment Offerings From Playboy Entertainment Group.

(BOSTON, MA, October 10, 2006) -- Escom LLC, the owners of the storied Sex.com domain name, today announced a distribution deal in which the new Sex.com will become a premiere online destination for broadband premium services representing the best in entertainment for adults.

The agreement calls for the Playboy Entertainment Group to power the Sex.com web site, providing content options that include a wide array of high-quality erotic programming and interactive elements that allow for social networking between consenting adults.

The suite of premium broadband offerings will include:

Playboy TV Jukebox
Club Jenna
Naughty Amateur Home Videos
Spice VOD

"Sex.com is the most sought after and powerful domain name on the Internet," said Jay Janarthanan, Chief Technical Officer, Escom. "After fielding partnership discussions and strategic opportunities from almost everyone interested in adult content, it became clear that we wanted to build Sex.com with Playboy, as they are unequivocally the premiere provider of entertainment programming for adults. With their broadband platform and range of offerings, we are excited about this partnership and the opportunity to provide premium content. And given Playboy's commitment to operating their business in a socially responsible manner, we could not think of a more trusted partner."

"We are committed to offering the best entertainment and lifestyle offerings for adults across all platforms", said Michael Sprouse, Senior Vice President of Marketing for the Playboy Entertainment Group, "and we are delighted to expand the reach of our broadband offerings by partnering with Sex.com."

Information regarding the broadband offerings to be made available by the Playboy Entertainment Group on Sex.com:

Playboy TV Jukebox – This sexy video site brings together the highlights from all of Playboy TV's hottest shows including: "Totally Busted" (The practical joke show with a Playboy twist), "Night Calls" (Rock-n-Roll and sex. Televised.), "7 Lives X-posed" (One house. Seven housemates. Twenty-one cameras.), "Foursome" (If three's a crowd, four's a party, as sexy strangers borrow Playboy's digs for 24 hours.), and much more.

Club Jenna – Official site of the most famous adult superstar in the world, Jenna Jameson. This site features exclusive video content from Jenna herself as well as the next generation of stars, the Club Jenna girls.

Naughty Amateur Home Videos – This site features the world's largest library of hot amateur content, plus some of the best clips from Playboy TV's popular series of the same name. Features and benefits include daily updates, video and picture galleries, downloads, erotic stories, and many community tools including rating functionality.

Spice VOD – A collection of more than 35,000 full-length adult movies from all of the major adult studios covering almost anyone's individual taste in adult entertainment – with near DVD quality for those who have a fast connection. These titles are available to rent a la carte or in a convenient pay-per-minute model.

As a premier online destination for adults, Sex.com is intended only for adults and will comply with all major filtering software, giving parents the ability to block the site as appropriate. This continues Playboy Entertainment's Parental Control campaign, which includes a web site located at TakeParentalControl.org which is designed to educate parents on protecting children from content intended for adults.
About Escom, LLC: Escom, LLC, is a privately held Delaware company that owns the highly publicized sex.com domain name, registered trademark, and website. Sex.com is being developed in partnership with the Playboy Entertainment Group.

About Playboy Enterprises, Inc: Playboy Enterprises is a brand-driven, international multimedia entertainment company that publishes editions of Playboy magazine around the world; operates television networks and distributes programming globally; owns Playboy.com, a leading men's lifestyle and entertainment web site; and licenses the Playboy trademark internationally for a range of consumer products and services.

Little Boots helps invalidate the "godamned piece of paper"

The recent demise of Habeas Corpus may mean the end of the US as we knew itt.
http://www.hoffmania.com/blog/2006/10/the_gops_last_v.html#more

Keith Olbermann weighs in:
http://www.hoffmania.com/blog/2006/10/keith_olbermann.html#more

Mercenary gets 'em fresh out the box

Director Tina Tyler puts together new faces and well-traveled dicks in the latest edition of Fresh Out The Box, complete with a sister act as seen on the part of the cover I can actually show here on the site. Have a look at the official word.

Stevens Sisters Take the Spotlight in Mercenary's Fresh Out the Box 5

CANOGA PARK, Calif. — Featuring the one-two punch of all-natural busty newcomer sisters Whitney and Britney Stevens, Fresh Out the Box serves up its fifth helping of fresh faces introduced to Mercenary Pictures' brand of all-sex gonzo.

Jade Russel, Aqua Hazel, Samantha Smith and Odessa also star in Fresh Out the Box 5 -- directed by Tina Tyler and on store shelves now -- with an award-winning cast of male performers including Marco Banderas, Brian Pumper, Mario Rossi, Mr. Marcus and three-time Male Performer of the Year and Mercenary Pictures owner, Lexington Steele.

"Directing these new girls with the experienced men I had on hand was amazing," Tyler said. "These girls and guys did incredible jobs, and the men knew how to keep the scenes hot without overwhelming the girls. Whitney and Britney Stevens were all over Lex, and not only is it a hot scene, but it's also a rare scene because they are sisters. It, like the rest of the disc, is something to see."

The mix of top talent with the new girls adult customers want to watch is part of what makes Mercenary's product stand out in the marketplace, Steele said.

"Mercenary has always been about putting the most capable men with the women who can deliver the goods when the camera starts rolling," Steele said. "All of our lines -- Fresh Out the Box, our ethnic new girl line Black Moon' Risin, the award-winning Black Reign, our interracial POV series Pole Position: Lex Steele POV, the only ethnic POV on the market Nightstick: Black POV, and gonzo titles like ManHammer, Lex Steele XXX and SuperWhores -- are about quality in all aspects of production. If one part of the production fails, so does the rest of the title and we will never shortchange the consumer by giving them anything less than the premiere performers in this business."

For more information, visit LEXINGTONSTEELE.COM. Distributors may contact Hank at mercenarypictures (at) msn.com. For foreign sales, contact Dani at dani (at) calvista.com.


October 3, 2006

X markz the spot

Xbiz continues its juggernaut, breathing new, fresh air into the previously moribund porn-reportage business. Their latest foray is aimed at fans, and quite well, although the hyperbolic press release below may be premature when it says that XFanz is the "ultimate destination for fans of adult entertainment." It takes at least a week for something in adult to become "ultimate."

XBIZ Parent Launches XFANZ

LOS ANGELES — Dubbed the ultimate destination for fans of adult entertainment, XFANZ.com has made its much-hyped debut on the Internet. The innovative, adult celebrity driven online community is a dynamic and fun fan portal that offers unique insight into the world of adult entertainment.

Launched at 10:02:06 p.m. PST on 10/02/06, XFANZ.com will act as a link between adult stars and enterprises and their fans worldwide. The site delivers a wide variety of original content and contains a wealth of resources with a fresh approach, providing fans with intimate access to their favorite celebs, sites and studios.

"XFANZ was constructed with a mission to become the ultimate playground for fans of adult entertainment," XBIZ President Alec Helmy said. "I am very proud of what our talented team has achieved here and thrilled to see it finally go live."

XFANZ.com features adult entertainment news published throughout the day, video and website reviews, exclusive video clips, photos from red carpet events, a comprehensive web directory, events calendar, blog and online community.

"XFANZ is going to cover just about everything that is sensational in the world of adult, and there's a whole lot to cover!" XFANZ.com Managing Director Alan Hawkins said.

XBIZ Director of Public Relations Dusty Marie added, "XFANZ is the perfect site for the industry to connect with its fans, and a tremendous marketing vehicle providing reach to a global audience. Adult companies have already contacted us and are eager to take advantage of the many opportunities XFANZ offers."


Taboo: Rested, re-mastered and ready to roll

Kirdy Stevens' classic film Taboo has been released on DVD with new mastering and impressive new features, including an interview and commentary track featuring star Kay Parker. Here's the latest info:

Standard Digital's Revamp of Legendary Taboo Series Hits Store Shelves

TARZANA, Calif. - Returning to shelves after a leave of absence, the Kirdy Stevens Signature Series edition of Standard Digital's adult classic Taboo -- ranked in the top 25 of the 101 Greatest Adult Tapes of All Time -- features more than just a name change.

The most obvious addition to the first volume of Taboo, directed by X-Rated Critics Organization Hall of Famer Kirdy Stevens and starring Kay Parker and Mike Granger, is its brushed metallic slipcover featuring the title's distinctive logo with softcore stills from the film. The plastic DVD case features hardcore stills, marking the first time they've been used on packaging, Steve Stevens, president of Standard Digital and son of Kirdy Stevens, said.

The disc features a newly re-mastered version of the film that is the best representation of sight and sound of the title since its theatrical release in 1980, Stevens added. The stills included in the gallery have not been seen since the film's initial release, and other extras include a commentary track by Kirdy Stevens and Helene Terrie, Taboo's screenwriter and producer, as well as a separate track and an interview featuring Parker.

"Standard Digital will release a new volume of Taboo, given the same remastered treatment, every other week until we ship Taboo 6 through our exclusive distributor, Addictive Entertainment," Steve Stevens said. "The films are true classics of adult's Golden Age, and they'll finally be seen and heard in the manner in which they were intended."

Stevens added Standard Digital will re-release Daisy Chain and The Animal in Me following Taboo 6.

Distributor response to Taboo's return is nothing short of amazing, Jon Islas, general manager of Addictive Entertainment, said.

"Taboo's always been a phenomenal seller, but our customers are going nuts over the new version," Islas said. "They can't get enough of Taboo, and we're giving them the best edition of the movie that's ever been available."

For more information about the award-winning Taboo series from Standard Digital and Kirdy Stevens, distributors may contact Jon at jon (at) addictednow.com.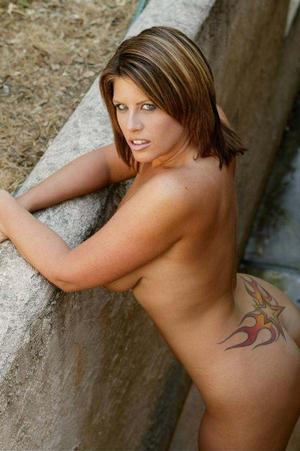 Lisa Sparxxx.

Lisa Sparxxx wins Boob(le) honor

Buxom performer Lisa Sparxxx put her best, uh, foot forward and won the monthly Booble Girl of the Month award, meaning that if it weren't for her, the site would read "B BLE" this month.

Booble.com Announces Lisa Sparxxx as the Winner for September's Booble Girl of the Month

Los Angeles, CA -- Booble.com - the Internet's top adult search engine and porn directory – today announced that Lisa Sparxxx was the winner as September's Booble Cover Girl of The Month contest. Booble, which converted its popular Booble fan sign program, in which adult models placed their OOs in between the big "B" and little "ble", into a full fledged contest, is excited at the results.

Over 9000 votes were cast this month alone, when this current running began on September 1st. Lisa Sparxxx ran away with September's award, as Catalina Cruz was runner-up, with Becky and Sandee Westgate in the top 4. Lisa joins July and August winners Naughty Allie and Sammie Tyler as Booble Girls of the Month.

Booble is also pleased to announce that more than 25 new 'Booble Girls' have joined the Booble Girl contest, which in September featured 108 models competing for the monthly prize of $500

Monthly Winners are automatically entered in annual grand prize competition, which will award a grand prize of $5,000 to the Booble Cover Girl of the Year.

The September Booble Girl winner Lisa Sparxxx runs her website, LisaSparxxx.com, and has also starred in over 200 adult films. She is an all natural southern girl gone wild with natural 36 DD tits. She loves to go out and have fun, party, and is definitely spontaneous, which happens to get her in quite a bit of trouble! She is known to go to regular clubs wearing a short skirt no panties top with her tits hanging out.

"I want to thank all my wonderful fans for voting for me. If it was not for you I would not be where I am today. Thank you so much!"

The Booble Girl contest is open to professional models over the age of 18 only – meaning: you must have a web site or cam show, or appear on a web site or cam site, or appear in at least one commercially released DVD. All models must use the fan sign provided by Booble. A winner will be selected by the users of booble.com every month. Winning models will receive a cash prize of $500, and entry into an annual contest which will award $5,000 to the winning model. Monthly Winners are automatically entered in to the annual contest.

Politics

Evidence mounts that GOP power structure knew and covered for alleged child-predator Foley.
http://www.nytimes.com/2006/10/01/washington/01foley.html

Public revulsion over alleged child-predator Foley may cost GOP the House and Senate.
http://www.washingtonpost.com/wp-dyn/content/article/2006/10/02/AR2006100201463.html

Foley was one of the vociferous opponents of sanctioned Summer nudist camp programs for teenagers.
http://www.washtimes.com/metro/20030623-093044-2914r.htm

If you'd like to discuss this personally with alleged child-predator Foley, he may be on line right now:
http://www.huffingtonpost.com/2006/10/03/maf54-exrep-foley-sti_n_30826.html

Nudists dispute teacher firing in Texas over nude statue in art museum:
http://www.naturistaction.org/AlertsAdvisoriesUpdates/ADVISORIES/Frisco_Teacher_09-28-06/frisco_teacher_09-28-06.html

New "terrorism" law would let Little Boots unilaterally lock up anybody he wants: By declaring them a "illegal enemy combatant" their rights become invalidated.
http://www.latimes.com/news/opinion/la-oe-ackerman28sep28,0,619852.story

Why this is a bad idea:
http://www.alternet.org/stories/42304/

Pre-emptive goodbye from a lefty blogger:
http://www.truthout.org/docs_2006/092906J.shtml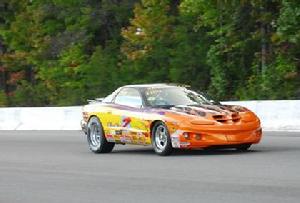 Note the big red "Z"

Sex Z Pictures takes lead on racetrack, in stores

IHRA winner follows release of new vid for company. Suitably triumphant press release follows:

SEX Z PICTURES WINS NAT'L IHRA RACE TITLE AS 'CORRUPTION' HITS STORES

(HOLLYWOOD, CA) The picturesque autumn-scented countryside was exactly what Sex Z Pictures' maverick owner Bo Kenney needed to kick some major ass this past weekend as he powered the Sex Z Pictures race car to the IHRA Championship in Maryland.

With the coveted trophy in his hands, the Manassas, Virginia based maverick porn mogul and race team owner had just completed what quite possibly was the greatest weekend of his life.

Not only did Kenney, who drove the Sex Z Pictures car in winning the season's final race, taste the champagne in victory circle, he also won the white-knuckle shootout on Sunday giving him enough points to win the season's grand championship.

Before time trials even began Friday afternoon, the day marked a watershed moment for his fast rising Sex Z Pictures as the epic political thriller Corruption hit adult movie store shelves opening the door for many awards including a solid chance at earning the best feature movie award come January.

Directed by Eli Cross, the hotly anticipated movie about a corrupt United States Senator is off to a blistering start and promises to thrill and chill audiences with an engaging story of perversion, deceit and graphic raw sex.

"They don't make too many weekends like this one," Kenney said as he pocketed the substantial winner's check in front of a cheering crowd to be televised by the Speed Network. "With Corruption blasting out as hot as it did on Friday and with the International Hot Rod Association trophy we received on Sunday, I couldn't imagine a bigger weekend for Sex Z Pictures."

In fact, Bo's weekend continued to get better as Kenney drove one of two Sex Z Pictures Top Stock pro cars at the Maryland International Raceway located at Budds Creek to victory. Kenney managed to beat a ferocious team of national contenders including teammate Monty Bogan and leading adult entertainment industry attorney Paul Cambria who pilots the Hustler Hollywood car.

"Great race but I need to get Larry [Flynt] to shake a few more bucks loose to compete with Bo next year. Bo worked hard this year and deserves the championship. He only made one mistake and that was not thanking his wife Shannon who controls the cash," Cambria laughed when asked about the glorious east coast weekend.

With the Sex Z Pictures logo emblazoned on the sides of his racecar, Kenney looked every bit the tough driver that he is as he completed one of the most amazing seasons ever had by any race team.

Driving the Sex Z Pictures Top Stock race car, Bo won the IHRA Championship powering his 2001 Firebird to victory and earning the coveted national championship race. Not only did Bo win the big race, he also won the weekend shootout giving him enough points to win the season's national title.

"This is great and hopefully we'll be celebrating Corruption in Vegas this coming January," Kenney said with a well-deserved smile. "You don't want to miss this movie because it's that good".

Speed (formerly Speed Channel and Speed Vision) will carry the climatic set of races from Maryland on October 26th and 28th and will also offer them online at www.speedtv.com

Check out Corruption at www.corruptionxxx.com

Check out www.sexzvod.com and www.myspace.com/sexzpictures for more information
For sales information on Sex Z Pictures contact: Steve Miller, Sex Z Pictures, steve (at) sexz.net, or Bradley, Sex Z Pictures, bradley (at) sexz.net.


I hear they're thinking of Johnny Depp for the sequel

Digital Playground's Pirates continues to swashbuckle a path through the adult and mainstream industry, this time notching a one-year stay on a major rentals and sales chart. Have a look:

JOONE'S "PIRATES" SETS INDUSTRY-WIDE SALES RECORD

Joone's blockbuster Pirates celebrates its 1-year anniversary this week with no sign of slowing down. Pirates remains on the AVN Top 50 Weekly Rentals and Sales Chart after 1 full year, by far the longest stay on the list by ANY title. The October 2006 issue of AVN magazine reports Pirates in the number 4 spot for sales, another record-breaking feat for the multi-award winning and highly regarded title. AVN's figures are based on the collective sales of traditional and on-line retailers. Director Joone thinks it's awesome and credits the movie's success to "a really great cast and the fact that Pirates is an epic movie...as well as people's love for pirates. The word-of-mouth press for Pirates has been tremendous. People love it and tell people how much they love it...and then they go out and see it."

In May of 2006, Joone's Pirates become the first adult movie to successfully cross over, receiving an R Rating from the MPAA and mainstream distribution from MTI. Hot on the tails of the platinum sales of the original XXX version, the R-rated DVD began shipping in record numbers in July of 2006. "A lot of people will see the R-rated version of Pirates and then they'll want to see the adult version, just to see what they missed," continued Joone. "Basically, the R-rated version has become a commercial for the X-rated version." Digital Playground president Samantha Lewis is all smiles. She says, "Pirates has achieved great successes but most importantly, it has raised the bar for the industry and contributed significantly to the acceptance and mainstreaming of erotic adult entertainment. I am so proud of this movie and my partner Joone, for his genius artistry and dedication to real filmmaking."

After its September '05 release, Pirates quickly became its own cultural phenomenon, complete with a Hollywood-style premiere at the famed Egyptian Theatre, a two-month, nationwide promotional tour, coverage in a multitude of highbrow college papers and a handful of sold-out University screenings. The high-definition release also garnered press from sources like MSNBC, Variety, L.A. Times, Associated Press, KDKA and Reuters. Newsweek touted the release as "a sprawling epic" and the New York Times acknowledged, "Pirates has a high production value and is meant to appeal to both women and men." In addition to dozens of adult publications, Pirates made the cover of Home Cinema Magazine, Tampa Bay Times and Real Detroit Weekly. LA Weekly named it a Video Pick of the Week and HD TV Total raves, "from packaging over introduction, actors and story, to special effects, everything is just right with this one."

In September 2006, Digital Playground released the Pirates stand-alone soundtrack. The Pirates soundtrack is the first adult soundtrack to stand alone in the digital revolution and the first to acquire successful and visible mainstream distribution. From Skin Muzik, the Pirates Original Soundtrack CD features 12 unique songs from the DVD, which received two coveted sound trophies in 2005, 'Best Music' by AVN and 'Best Audio' by Empire.

Shot with High Definition 24p cameras, award-winning director Joone, has created an electrifying, swashbuckling adventure that takes you on a humorous and mystical journey through haunted seas. Pirates features deadly swordplay against CGI skeleton warriors, awe-inspiring Incan magic, explosive sea battles, and over 300 special effects. Shot on location in California, and off the coast of Florida, Pirates was released as an adult feature in September of 2005, and has already received over 35 awards, including a record-breaking 11 at the 2006 AVN Award Show. Pirates stars Jesse Jane, Carmen Luvana, Janine, Teagan Presley, Devon, Austyn Moore and Jenaveve Jolie.


September 27, 2006

Bad Seed in good hands

Industry veteran Peter Reynolds takes the reins of the Adam & Eve gonzo/raunch line Bad Seed, which has perhaps the coolest logo in porn. Here's the press release:

PETER REYNOLDS TO HEAD "BAD SEED" LINE FOR ADAM & EVE PICTURES

CHATSWORTH, Ca. Starting October 1st Peter Reynolds, VP of Sales and Marketing for Adam & Eve Pictures, will also be assuming the role of Producer for the company's Gonzo line Bad Seed.

Meredith Christopher, Executive Producer for Adam & Eve Pictures, will continue her role in that capacity. "We're really excited about the direction we're going with Bad Seed," says Christopher, "there is no one better than Peter to take the helm at this point and launch it to the next level."

"Meredith and I have worked really well together from the get go," says Reynolds. "She's very talented and creative and we're going to make a great team!" Reynolds also adds that he has every intention of adding to the already stellar roster of Bad Seed Directors (which includes name directors Kylie Ireland, David Lord, James Avalon and Andre Madness), "We're going to be bringing on directors that think outside the box. Predictable is boring and I want to shake things up."

There will be a new look for the line too. Along with the new production objective will come a fresh revision of packaging geared to catch the eye of the consumer and draw them to what promises to be the hottest line of hardcore product on the market.

For all inquiries regarding Bad Seed, please contact Peter Reynolds via e-mail at preynolds (at) adameve.com

900 year old dead TV presenter

People of a certain age remember Ralph Story as the urbane host of the late-Saturday-afternoon TV show Ralph Story's Los Angeles, where he would take a close look at parts of L.A., the histoical and the contemporary, where a story about the Black Dahlia would be side-by-side with a story about Tommy's at Beverly and Rampart. Story moved on to local morning news, hosting AM Los Angeles in KABC, a 7-9 am show that established Stephanie Edwards and gave the long-running Today a run for its money in the L.A. market. The show was later adapted to the ABC network, where they kept Stephanie Edwards and dumped Story. It was called "AM America" and is still on the air as "Good Morning America." He retired to Santa Ynez in 1984, but stayed active in the L.A. area. He was 86.
http://www.latimes.com/news/printedition/california/la-me-story27sep27,1,2337833.story?coll=la-headlines-pe-california


Free porn

That oughta get some hits. Veteran performer Lynn LeMay is offering a free video with new sign-ups to her Website.

LYNN LEMAY IS GIVING AWAY HER NEW XXX MOVIE FREE!

Anyone who joins LynnLeMay.com for the next month receives a copy of "Phoenix: Risen From the Ashes."

(SANTA MONICA, CA) -- She's baaaaack! LYNN LeMAY's loyal and loving fan base will certainly be happy with her company's debut as she performs in all four of the movie's sex scenes, jumping right back into the fire! So to speak. "Phoenix: Risen From the Ashes" marks the highly anticipated return of adult film icon, LYNN LeMAY, this time taking the reins of her career with her own production company, LeMayzing Enterprises. LeMAY performs a solo scene, a girl/girl strap on romp with CAROLINE PIERCE, a boy/girl with DIABLO, and a girl/girl squirt scene with ANNIE BODY. The movie also features a non-sex scene filled with witty batter between LeMAY and mainstream comic, commentator and host JAMES BRANDON ("L.A. Nightlife" & "Inside the Industry").

To celebrate the release of the movie, LYNN LeMAY is giving away the movie ABSOLUTELY FREE to anyone who joins her web site, LynnLeMay.com, throughout the next month. After joining, go to the Members section and click on the link to the Free DVD form, fill it out and your movie will be on the way! You can even request that she personally autograph your copy.

LYNN LeMay will be co-hosting KSEXradio.com's "Temptation" this Friday, Septmeber 29th from 10:00 pm - Midnight (PT).

LeMayzing Enterprises just wrapped production on its second title, "Wet August," which boasts a cast of 12 and a total of 6 sex scenes.

Latest front in the abortion war: TRAP

Remember SLAPP suits? Strategic Lawsuits Against Public Participation? The way corporations would target individuals who protested against them? The anti-abortion claque has a new one: TRAP. Targeted Regulation of Abortion Providers. Take a look:
http://www.crlp.org/pub_fac_trap.html


Déjà vu

Tristan Taormino gets a bunch of porn performers in a house and videotapes the goings-on for a "reality porn." Not "House of Ass," which came out earlier this year from Adam & Eve, nossir, this one's for Vivid. And it only has one performer who was in House of Ass – Mr. Marcus – so this one is entirely different. It streets today. Here's the press release:

"CHEMISTRY," TRISTAN TAORMINO'S FIRST DIRECTED FILM FOR VIVID WILL BE IN STORES SEPTEMBER 27th

Ms. Taormino is a Village Voice Columnist and Nationally Known Sex Advisor

Los Angeles – "Chemistry" is the bold and sexually experimental first movie conceived and directed by Tristan Taormino for Vivid. This 4-hour, 2-disc set shot in Hi-Def, is scheduled to be in stores starting September 27th.

Taormino asks us to imagine an uncensored, intimate look at seven stars – Dana DeArmond, Marie Luv, Mika Tan, Taryn Thomas, Jack Lawrence, Kurt Lockwood and Mr. Marcus – who are left to their own devices for two days and told nothing is off limits. Not only is everything caught on camera, but we also get unique perspectives as the actors film each other with their own "perv cams."

"The stars decided who they had sex with, when and where and this gave them the freedom to really be themselves," says Taormino, "They really tested each other's boundaries as well as their own. We get to see raw emotions, spontaneous sex, explosive orgasms and that one ingredient that I think is so important: Chemistry. Not only will the sex scenes surprise people, but the stars revealed some very personal things in the confessional."

The movie features music by indie bands Goodfinger and Boxelder and the DVD contains more than an hour of bonus material including additional sex scenes.

Ms. Taormino is the author of three best selling books on sex and 14 anthologies. She conducts popular sex workshops across the country in addition to being a columnist for Village Voice.

Before joining Vivid she directed and produced three adult films including "Tristan Taormino's Ultimate Guide to Anal Sex for Women," which won an XRCO award.

About her work for Vivid Ms. Taormino says, "While women and couples have finally been acknowledged as a viable segment of porn consumers, mostly only plot driven features are marketed to them. Plenty of men and women tell me that they love all-sex videos so the focus of my work is on fresh performers, hot, spontaneous sex, real chemistry and real orgasms for everyone. Couples already trust Vivid for erotic features, now they can count on Vivid for hot reality, too."

Keith Olbermann takes Little Boots to task

Here's a recent commentary from Keith Olbermann, who has been one of the few to actively, consciously differ with Little Boots on a regular basis.
http://www.crooksandliars.com/2006/09/25/olbermanns-special-comment-are-yours-the-actions-of-a-true-american/

Berth Milton spearheads African anti-AIDS and anti-violence initiative

Private Media Group honcho Berth Milton starts a "Drive For Africa" to help stop the spread of AIDS and promote equal rights for women. Good for him.

The Undisputed King of the European Adult Entertainment Industry embarks on an African Journey to help stop the spread of AIDS and violence against women.

Berth Milton, CEO & Chairman of Private Media Group, is getting ready to drive over the Atlas Mountains and through the Sahara desert on a two wheeled off road tour, While on tour Mr. Milton will devote his time to assist Zemtex Medical's DRIVE FOR AFRICA to stop the spread of AIDS and to promote equal rights for women.

What began a few months earlier as a casual conversation between Berth and his friend, Thomas, has mushroomed into an enormous charity drive through the efforts of another friend, Dave Moran, CEO of Zemtex Medical. Drive for Africa is a celebrity golf tournament scheduled for march 2007, organised by Zemtex Medical, where all the proceeds will be donated towards stopping the spread of AIDS in Africa, through collaborations with The United Nations and Red Cross. Zemtex Medical easily convinced Berth to show his support for DRIVE FOR AFRICA by personally delivering donations to medical centres during his African tour.

This 16 day off road tour has now become a test run in preparation of a much longer charitable trip that is being planned for next year that should take Berth Milton across the entire African continent. Mr. Milton will deliver condoms sponsored by Zemtex Medical and will also make personal monetary donations to several ONGs, hospitals and medical centres.

The monetary donations will come from several personal friends and companies from the adult entertainment industry that support Mr. Milton's initiative.

Mr. Milton's Drive through Africa will begin on October 1st in Barcelona and take him into the heart of Africa and back. The world can follow Berth by visiting his website at www.privatelifestyle.com/africa where there will be a daily blog, videos and pictures from his trip. There will also be link for individuals and companies to make pledges towards the eradication of AIDS.

In an effort to protect the travel itinerary and daily location the names and addresses of all the medical centres and hospitals will only be disclosed post delivery of donations. Berth Milton and Zemtex Medical will primarily support hospitals and medical centres that are devoted to children with AIDS and abused women.

"Do-nothing Democrats"? Don't buy it

The latest Republican refrain that they're held back by "Do-nothing Democrats" is more Rovian bullshit. Have a look:
http://www.hoffmania.com/blog/2006/09/do_nothing_demo.html

Oh great. More competition.

Elegant Angel launches its own blog. Have a look.

Elegant Angel launches www.elegantangelblog.com

Elegant Angel can announce the launch of http://www.elegantangelblog.com. The company has created a website geared to inform customers, press, and distributors about its up and coming releases, while also providing interactivity, competitions, a podcast, trailers, and behind the scenes video clips.

"It's a work in progress," says Graham Travis of Elegant Angel. "We have a very functional official site, which has really helped us move forward as a company, but we also wanted to infuse a bit of color and fun into our web presence. The importance of the internet has never been greater, and the industry has never been so over-saturated. We're hopeful that this will help provide us with an opportunity to find out what customers are really looking for."

The website features:
A Blog including the latest Elegant Angel news
A Podcast from director William H with music, skits, and information about our movies
Monthly previews of the Elegant Angel release schedule including box covers, and cast lists
Direct Access to recently released Elegant Angel trailers
A monthly Competition
Behind The Scenes video clips

The website is online now at http://www.elegantangelblog.com.
Black Reign offers ninth volume

Lexington Steele's Mercenary Pictures sends out a new volume of Black Reign, featuring a bevy of beautiful females getting dicked by Lex, Mr. Marcus, and Brian Pumper. Nice work if you can get it. Here's the release:

Mercenary Pictures' Black Reign 9 Continues Company's Sovereignty in Ethnic Market
CANOGA PARK, Calif. — Continuing its dominance in the ethnic market, Mercenary Pictures' critically-acclaimed and award-winning Black Reign series showcases five beauties in its ninth volume.

Directed by Lexington Steele and in stores now, Black Reign 9 stars Pinky, Annabelle, Naomi Banxxx, America and Kaylani Cream. The ethnic title also features Brian Pumper, Mr. Marcus, Black Viking Pictures' director of You'd Never Know Don Picone and three-time Male Performer of the Year and owner of Mercenary and Black Viking, Lexington Steele.
"Black Reign's one of the best-reviewed ethnic lines produced in the industry," Steele said. "It's won awards for Best Ethnic Series twice in 2005 and 2006. Mercenary takes pride in these awards, but I've always made my all-black titles more important in priority than my other titles because I've always felt that the ethnic segment of the market has consistently been underrepresented by the industry. Many of the black women in the industry were never given the opportunity to be in a first class gonzo production before we entered the business."

Consumers and retailers have responded to the high production value Mercenary places on Black Reign and its other ethnic lines, Black Moon Risin' and Nightstick: Black POV, the only ethnic POV series on the market.

"There's a demand for quality, well-produced ethnic titles," Steele said. "That demand has never been served -- until now -- and until we entered the marketplace, the titles that were available were nothing close to what those consumers were looking for. Mercenary will continue to serve this audience and produce the high-quality, all-sex ethnic titles they demand."

For more information, visit lexingtonsteele.com. Distributors may contact Hank at mercenarypictures (at) msn.com. For foreign sales, contact Dani at dani (at) calvista.com.
September 23, 2006, 8:00 pm

Adultcon 11: This joint is jumpin'

The latest edition of Adultcon moved into one side of the West Hall at the L.A. Convention Center. I found this out when I went into the empty side of the West Hall and it was empty except for six improvised queues made of traffic cones and yellow tape. "We've had more people in the first four hours than we've had in the first 10 Adultcons," an exuberant Renaud West tells me as he fastens a silver band around my wrist and beckons me to follow him. It's good to be press... Inside the high-ceilinged hall, the place is packed, with fans walking from booth to booth as a DJ spins... Gina Lynn is signing at the first booth I see, as is Dee at the nearby Sinsation booth... Devyn Divine poses topless-but-for-some-strategically-placed-stickers at the MofoWear booth... A newsman from Channel 22 walks around, speaking in Spanish, followed by people attracted by the camera lights... A booth from officialsexrecords.com offers keychains. A personable man named Chris explains "We want to record records pertaining to sex. Amateur, professional... as long as it's legal," he adds with a smile... A young woman in a bikini to that says xtrv.net on it agrees to pose. I get a picture, she gets a plug. We both win... Olivia O'Lovely selling her new Diabla clothing line. "I've been here four hours, and I'm ready to faint," she smiles. She must be selling a lot of T-shirts... Powder from KSEX is at the Venus Media booth... A lot of skin care and plastic surgery companies here...
Olivia O'Lovely

Lori Lust is in there someplace

Sophie Dee

Available for purchase

Devyn Divine

One of the offers

Keisha

xrtv.net representative

Lynn LeMay
Sunny Lane poses for a fan

Sunny Lane, at the Nectar booth, posing for a picture casually raises her leg, placing an ankle on the surprised guy's shoulder, then puts it back down after the camera flashes, her smile never dimming... The Screaming O cock ring guys are here.... L.A. Direct Models' booth is mobbed. The Rouge booth, directly adjacent, is deserted. Nobody behind the counter, nobody in front... Rebecca's Lingerie, directly across the aisle, has a steady stream of customers... The California Overnight package-delivery people are here, with pens, letter openers, toy trucks, and plastic tote bags. Not sure why they're here... Guy in a T-shirt that says "People hate me."... A booth offering "2 buck porn" has a sign that says "We can't sell for less than $15, please don't ask."... Renaud points out the middle aisle: "Thirty feet. We never could do that before." He points out the long line of people waiting for free T-shirts, stops a guy who just got one, pointing out the embroidered Adultcon logo. He fishes a $5 chip out of his pocket, says "The people love these. That and the free admission tomorrow."... There are a lot of couples here... I see Sophie Dee, remind her I met her at the Deep Throat screening a couple of years ago. "You had just done your first scene." I tell her. She indicates a counter full of DVDs: "I've done a few since."... Talk with Brandon Iron, who's recruiting guys for a new Baker's Dozen. He shows off a table of DVDs: "I'm in all of them. I'm just here like any performer," he says, showing of his red wrist band. "I'm doing pretty well. Only had about five stolen." I tell him I like his 50 to 1 series, and he picks the latest one up, pointing out the girls on the back. "She's out of the business, she's out of the business, she got married, she's back in Prague, she's on meth, she had just won an award in Madrid, she has it in her hand while we do our scene."... Nautica Thorn... Veteran performers Lynn LeMay and T.J. Hart... LeMay is having a slow day: "Buy a film, I'll do anything you want," she says with a grin. When I start to write that down she adds "As long as it's legal and within reason." She's also looking for smaller stickers to put on her breasts tomorrow... Black Widow Productions... Lori Lust, in a big booth festooned with posters... Keisha... Two girls kiss at Sean Michaels' booth while Sean watches from a corner, bemused... Guy wearing a T-shirt: "I beat anorexia!"... The sound of a siren momentarily silences the crowd. Momentarily... Tee Reel walks by. When I ask "How you doin'?" He replies "Hangin' in, as always."...

Adultcon is a good time without the corporate veneer of other shows. Booths can sell merchandise, and there's a pleasant personal touch that isn't seen in more-formal shows. There will be another one in March, but if you don't want to wait that long, head down to the Convention Center tomorrow.
Alexis Amore

September 23, 2006

Black Widow brings performers to Adultcon

Ric Williams heads 'em up and moves 'em out to the L.A. Convention Center for the two-day show. Details follow.

Black Widow Talent to Feature Spears, Delia, Amore and Shanelle at Adultcon 11

NORTH HOLLYWOOD, Calif. – Black Widow Talent shows off a selection of its stable at Adultcon 11, to be held at the Los Angeles Convention Center, Sept. 23 and 24.

Award winner, industry veteran and Wicked exclusive Randy Spears and his wife, Demi Delia, will appear with Alexis Amore and newcomer Cocoa Shanelle at the company's booth. Lori Lust and Moni Michaels will also make appearances. Black Widow Talent represents the mainstream interests of Spears and the adult and non-adult needs of Delia, Amore, Shanelle, Lust and Michaels.

Ric Williams, president of Black Widow Talent, said he was looking forward to bringing the fans together with the agency's performers at the consumer-oriented show.

"Randy Spears is one of the most recognizable faces in the adult industry and has been featured in thousands of movies and more importantly, he's known among the porn watching public at large," Williams said. "His wife, Demi Delia, is a rising star in her own right, Alexis Amore has a sizable following and Coco Shanelle's fame is on the rise. I'm sure they'll draw a sizable turnout that will promote their name and bring awareness on the consumer level as to the quality of talent a licensed and bonded agency showcases."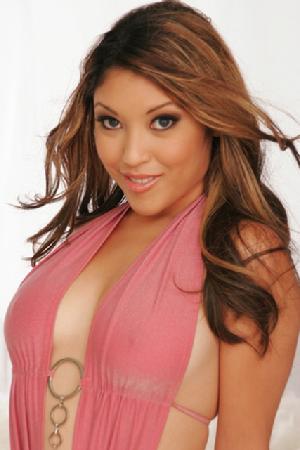 Nautica Thorn

Nautica Thorn coming to Adultcon

Another performer joins the group heading downtown this weekend.

MEET NAUTICA THORN THIS WEEKEND AT ADULTCON

(Hollywood, CA) The exotic and sultry Nautica Thorn is set to appear at AdultCon this weekend at the Los Angeles Convention Center.

Thorn, who is the president of her own production company Nautica Thorn Productions Inc., has just returned home from a three week FOX Television shoot in England where she starred alongside several other adult film stars for the network's new show "My Bare Lady".

Despite tight scheduling and recovering from jet lag and laryngitis, Nautica is happy to be back in the states and looks forward to her first ever AdultCon show greeting existing fans and meeting some new ones at the two day event.

"I'm very excited to being doing AdultCon. This is my first time doing this show and is special to me because I will be doing it under the banner of my new company Nautica Thorn Productions Inc," relayed a barely audible Thorn.

"I will also be promoting my new website www.enternautica.com that will launch mid October. I can't wait to see everyone this weekend at the show!"

Nautica will be available for photo ops, press interviews, and autographs and will have some of her favorite films and a selection of sexy 8X10s available for purchase.

Meet Nautica Thorn Saturday, September 23rd and Sunday, September 24th at Adult Con located at The Los Angeles Convention Center – West Hall, 1201 South Figueroa Street in Los Angeles, CA 90015. Please visit www.adultcon.com for additional information.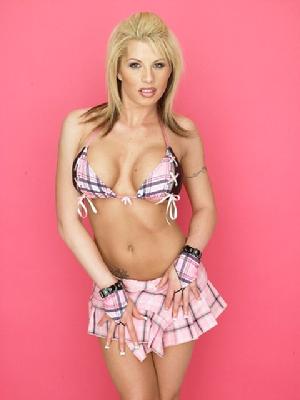 Brooke Haven

And the Adultcon talent list just keeps growing

Add Brooke Haven and Jezebelle Bond to the collection. It's gonna get crowded in there.

LA Direct Model's Brooke Haven and Jezebelle Bond To Appear At Adult Con

(Studio City, CA) Brooke Haven and Jezebelle Bond will attend Adult Con this weekend at the Los Angeles Convention Center.

Appearing Saturday and Sunday on behalf of LA Direct Models, which both girls are exclusively represented by, Brooke and Jezebelle will also be joined by several of the sexy and talented ladies of Rouge Gentlemen's Club.

LA Direct Models and Rouge Gentleman's Club have enjoyed a very successful working relationship since the start of the year with LA's premier adult agency providing top name porn stars for their feature dance bookings and newer names for the once a month - - Up and Comers nights, held on the first Tuesday of each month, when four girls appear on stage together. The upscale club has enjoyed an increasing amount of popularity from fans of the adult film stars.

Brooke, who attended Adult Con 10 in March, has always had a passion for interacting with her fans and anticipates another great weekend. She is looking forward to not only representing herself and LA Direct, but Rouge Gentlemen's Club as well.

"I am looking forward to interacting with my current fans as well as making some new ones", said the bubbly blonde, who is well known for her energetic feature dance performances.

Both girls are available for photo ops, interviews, autographs, and will have merchandise on hand for purchase including DVDs and 8X10s.

Adult Con is located at The Los Angeles Convention Center – West Hall, 1201 South Figueroa Street Los Angeles, CA 90015. Please visit www.adultcon.com for additional information.

To book Brooke and Jezebelle for scenes, photoshoots, feature dance dates and more please contact LA Direct Models at www.ladirectmodels.com.

To see more of Brooke Haven, fans worldwide can visit www.brookehaven.com.


WetRadio in town

The Las Vegas-based Internet radio operation goes west to take advantage of the parties and goings-on around Adultcon. Have a look:

L.A. GETS WET THIS WEEKEND

Wet Radio will be making appearances at several events this weekend in Los Angeles. Friday, the Wet Radio crew will be attending the DVD release party for Lynn LeMay's Phoenix "Risen From The Ashes". Saturday Wet Radio will be attending the Adultcon convention recording interviews with participating exibitors. Saturday night Wet Radio will be at the DVD release party for "Britney Rears 3". Sunday night at 7:00pm PST Wet Radio will be broadcasting live from Fantasy Island located at 11434 W. Pico in West Los Angeles. Scheduled to appear is some of the cast from Britney Rears 3; Hillary Scott, Jasmine Byrne, and director Will Rider.


Britney 3/L.A. Vice release party tonight

Jeff Mullen, the Perle Mesta of the Porno-American Community, has set another soirée for tonight at a secret location (which is nowhere near the last secret location) so if you haven't RSVP'd yet be sure to do it quick. Here's the press release:

BRITNEY REARS 3 & LA VICE PARTY TO MAKE SATURDAY NIGHT SPECIAL

(HOLLYWOOD, CA) All indications are that the Every Body Get Shafted DVD release party for Britney Rears 3 and LA Vice taking place Saturday night will be packed with porn starlets and industry movers and shakers. Hillary Scott will be arriving in the SugarDVD limo with a lucky fan and the blond star is looking forward to a great night.

"This is going to be a great Saturday night and I'm looking forward to having some fun," she said.

Event co-organizer Jeff Mullen of All Media Play commented on the secret nature of the location, "We kept the location secret until today so that we can keep this an industry only bash and so far this approach is working so well that nobody knows where it is. We are in the process of e-mailing the address to those who RSVPd and making phone calls just like we did with the Dark Angels 2 bash. We are expecting close to 320 girls but we understand that most porn babes never RSVP but those 18 & above can come and get in anyway."

The event is being sponsored by Sex Z Pictures, SugarDVD, X-Play, Hustler Video, Kröl Vodka and Adultcon. Sexy t-shirts and other apparel will be given away during the night from Bounty Hunter to those girls who get naked at the prescribed time.

The red carpet entry and media room will be bustling with activity and the complimentary cocktails all night long to those 21 and above will make for one of the great porn parties.

The event is free to all talent, agents and members of the media as all others will be whisked in quickly per RSVP instructions. Those wishing to attend must quickly RSVP to rsvp (at) allmediaplay.com Solo guys or groups of guys will be subject to the 'sausage factor eliminator rate' so make sure you bring girls.

Britney Rears 3 and LA Vice Everybody Get Shafted DVD Release Party is this Saturday, September 23rd at a private location. Those in the adult industry can still find out where the party is by RSVPing via e-mail or calling the All Media Play offices.

Red Carpet entry is from 9PM until 11PM.

VIP Guest List: rsvp (at) allmediaplay.com
Media Credentials: media (at) allmediaplay.com

For more information on the movies check out www.britneyrears.com and www.sexzvod.com.


Good lord

This is perhaps the best illustration of the old magicians' maxim that you shouldn't do the same trick more than once because people will figure it out. Even though her misdirection is pretty strong.
http://www.bigfun.be/Movie/Ursula+Martinez.htm

Interesting concept

A study is reporting that the availability of porn is lowering the occurrence of rape. Not sure if it's universally applicable, but food for thought.
http://www.rawstory.com/news/2006/Porn_up_rape_down_0922.html

Karl Rove is starting his attack machine

A new ad paid for by "Black Republicans" claims that Democrats started the Ku Klux Klan.
http://news.yahoo.com/s/ap/20060921/ap_on_el_se/black_republicans_ad

Little Boots gets opening for signing statement

The "comporomise" with conscience-bearing Republican Senators looks like a full-on cave-in, with a law retroactively allowing torture and violations of the Geneva Convention on its way to passage and the inevitable "signing statement" letting Little Boots off the hook for crimes against humanity meaning that the new Democratic Congress of 2007 will have to find some other reason to impeach Little Boots' ass, because "violating international treaties" and "crimes against humanity" will be legal by then.
http://www.washingtonpost.com/wp-dyn/content/linkset/2005/04/11/LI2005041100879.html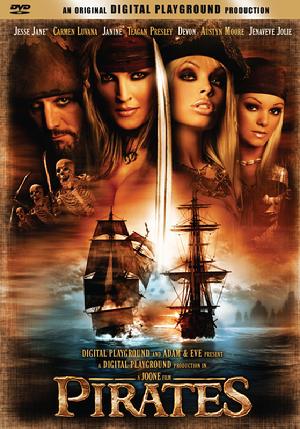 This one be rated "Arrr," mateys

September 22, 2006

R-rated Pirates plays Pennsylvania film fest

The Pirates juggernaut continues, with the R-rated version getting a showing earlier this week at the Great Lakes Film Festival, with director Joone and performer Jesse Jane in attendance. Have a look at the press release:

JOONE'S PIRATES SELLS OUT GREAT LAKES FILM FESTIVAL

Digital Playground is very pleased to announce Joone's R-rated version of the XXX blockbuster film, Pirates has sold out the Great Lakes Film Festival. It is the first time in history a movie has sold out the festival, with many people still trying to get in to the theater after the movie started. It is also unprecedented for a movie that has been released for a year. The movie received a standing ovation from the floor and during the hour-plus, open Q/A forum, it was the consensus that Pirates works, even without the sex. Steven M. Opsanic, Festival Director of the Great Lakes Film Festival raves, "We are thrilled to have been able to screen Pirates and honored to have Joone as a guest to present it. GLFF was founded on the goal of presenting the work of truly independent filmmakers who consistently prove that creative, cutting edge work can be done outside of the Hollywood system, and that given an alternative choice, the audience enjoys the opportunity to experience something new. In my opinion, no one personifies this independent spirit like Joone, who with Pirates has raised the bar for all filmmakers. And the capacity crowd on a Wednesday night proves that the audience agrees. The effort and support that Digital Playground and star Jesse Jane put into standing behind this film, leaves no doubt that good films can be successful regardless of the genre. We were honored to be a part of the success of their film." Director Joone says, "The experience was remarkable. It has been an honor to be among so many independent filmmakers and artists and to have their wholehearted support for my craft."

The Great Lakes Film Association (GLFA) showcases new independent films and by awarding outstanding filmmakers. The film festival has showcased over 250 films over the past 4 years including numerous films that have been aired on HBO, PBS, and the Sundance channel. This year's event kicked off with two short narrative shorts, followed by Digital Playground's Pirates. Following the showing, Joone and lead actress Jesse Jane participated in a meet and greet and formal Q/A forum with over 250 members of the association, and they attended a Pirates after party. The GLFF continues through Sunday, featuring narrative shorts and films, documentaries, animated and experimental productions, as well as contributions in the horror and spiritual genres.

In May of 2006, Joone's Pirates become the first adult movie to successfully cross over, receiving an R Rating from the MPAA and mainstream distribution from MTI. Hot on the tails of the platinum sales of the original XXX version, the R-rated DVD began shipping in record numbers in July of 2006. In September, Digital Playground released a stand-alone soundtrack for Pirates. The Pirates soundtrack is the first adult soundtrack to standalone in the digital revolution and the first to acquire successful and visible mainstream distribution."

Filmed with High Definition 24p cameras, award-winning director Joone, has created an electrifying, swashbuckling adventure that takes you on a humorous and mystical journey through haunted seas. Pirates features deadly swordplay against CGI skeleton warriors, awe-inspiring Incan magic, explosive sea battles, and over 300 special effects. Shot on location in California, and off the coast of Florida, 'Pirates' was released as an adult feature in September of 2005, and has already received over 30 awards, including a record-breaking 11 awards in January 2006. 'Pirates' stars Jesse Jane®, Carmen Luvana, Janine, Teagan Presley, Devon, Austyn Moore and Jenaveve Jolie.

For additional information, including the 'Pirates' trailer, visit http://www.PiratesTheMovie.com


See all this and more at Rouge this weekend

Tera Patrick featuring at Rouge

The exotic beauty takes her show on the road to Van Nuys this weekend, so there's someplace to go after Adultcon. Have a look:

TERA PATRICK TAKES OVER ROUGE IN VAN NUYS, CA THIS WEEKEND

(Studio City, CA) Ultra vixen, goddess of glam, sultry sex kitten. Many words have been used to describe the power and beauty that is TeraVision president and Vivid contract superstar Tera Patrick, but this weekend Tera will be referred to as the Diva of Dance.

Join Tera as she dances the night away at Rouge Gentlemen's Club in Van Nuys when she takes the stage Thursday, September 21st – Saturday, September 23rd for several shows nightly.

The top drawing feature dancer and fan favorite nationwide for close to 3 years has earned Tera her title as the Diva of Dance from club owners and fans alike. Her presence on stage has been described as breathtaking, sexy, and erotic, her off stage personality while mingling with guests - rare, unique, and genuine.

With a passion for performing and meeting her fans Tera personally invites you to take part in the party this weekend, only at Rouge.

"Over the last few months I have been feature dancing all over America and it's nice to be back home", said the voluptuous brunette. "Rouge has become a true hub of the adult industry in porn valley and I look forward to seeing all of my friends from the biz and of course all you horny, rabid fans! Teramania is in full effect!"

After each and every stage performance, Tera is available for polaroids and autographs. Merchandise including her #1 selling title "Teradise Island" and other hot TeraVision/Vivid movies will be available for purchase.

If you don't happen to live in the Southern California area Tera can be seen this month on the cover of Garage Magazine and inside DUB and FHM.

Rouge Gentlemen's Club is located at 14626 Raymer Street in Van Nuys, CA 91343. Please visit www.rougegentlemensclub.com for more information.

Tera Patrick fans worldwide can visit www.clubtera.com where you will find exclusive photo sets, upcoming appearance schedules, news, and much more. You can also purchase limited edition, personally autographed merchandise as well as TeraVision/Vivid DVDs.

To view exclusive, extended trailers of Tera's most recent TeraVision/Vivid features available nowhere else on-line please visit www.teratrailers.com.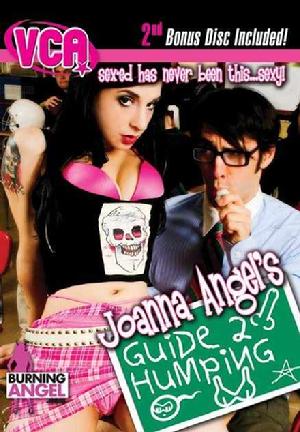 Celebrate the release in New York Saturday

Joanna Angel rocks Gotham with release party tomorrow

The tattooed performer/director tosses a bash for the release of her new Guide To Humping, as if any twentysomething female needs a guide on how to get laid. Tod's Guide To Humping For Women is as follows:

Show up in public somewhere. Anywhere. That's it. Even if you weigh 300 pounds and you look like one of those candleholders at the Haunted Mansion, you will find a guy who will want to fuck you inside an hour. Or less. In fact, he will find you.

Here's the detail if you're in New York and are looking for a porn party tomorrow night. What's a "pant checker" anyway?

BurningAngel to Throw "Joanna Angels Guide to Humping" Release Party

WHO: Joanna Angel and the girls of BurningAngel

WHAT & WHERE: Theo & Michael T present Rated X/The Panty Party @ Luke N Leroy (21 7th Ave South & Leroy Street)

WHEN: Saturday, September 23rd

WHY: Porn Alt-Queen and one of the New York Post's sexiest New Yorkers, Joanna Angel has unveiled the definitive guide to humping. JOANNA ANGEL'S GUIDE TO HUMPING is the sex-ed class you've only dreamed of. All of the humor of The Breakfast Club with a ridiculous amount of smutty hot sex. In perfect Joanna Angel tongue-in-cheek fashion, GUIDE TO HUMPING centers on the stereotypical students (jocks, nerds, slackers and even a hot foreign chick) in her naughty, one-day seminar. Angel says: "The movie is really silly... it's sort of like a John Hughes '80s movie. It was hard to film because we had to stop to laugh for 20 minutes in between each shot."

OTHER FEATURES OF THE EVENT: There will be a special Mid-Night DVD Screening of Joanna Ange'ls New Dramatic Motion Picture "Joanna Angels Guide to Humping"! Plus, over 10 scantily clad BurningAngel gals running around all night long! Open Bar 10-11! 2 4 1 Drinks all night for pant checkers only! Plus, 2 4 1 Drinks & Domestic Beers for everyone between 3 and 4!

MC:Peppermint Gummybear
Hot Body Contest @ 2am
$200 Cash Prize for "Winner"
Special Burlesque/Drag Show @ 1am!
Hosts:Astro Earle & Miranda Moondust
Main Floor Dj's: Michael T, Theo & Jess
Spinning: New Wave, Postpunk, Brit-Pop & Disco!
Downstairs dj's: The Bangers-Rok One & Nik at Nite!
Spinning: Booty Shaking, funky fornicating electro dance beats!
Photos by: Lastnightsparty.com Distribution: Shaw Promotion

Joanna Angel and WantedList.com want to congratulate Kristen from New York, the winner of the Party Like A Burning Angel Contest, found exclusively at www.wantedlist.com. This lucky Winner will party and rock out with the Burning Angels, VIP Style!

Which one's Wank?

Black Widow signs rockers Wank Punter

The porn-rock band, started in a Mike South video a few years ago, inks a deal with Ric Williams' mainstream-and-adult reppery. Also included are the Fluffettes, their topless back-up singers, who have included Lynn LeMay and Sunny Lane. Here is the press release:

Black Widow Talent Signs Porn Rock Pioneers Wank Punter

NORTH HOLLYWOOD, Calif. – Toronto-based porn rock troubadours Wank Punter signed with Black Widow Talent to bring their live, porn-oriented show to adult conventions and mainstream productions.

Taking their name from euphemisms for masturbation and for the kiss-and-tell clients of prostitutes, Wank Punter is made up of members of the adult industry -- Ben F. Driller, Feedback, Gunner Lingus, Joey A. Bigapini, Discombobulator and Wonderbread -- and was born out of a XXX production that featured adult Internet gossip webmaster Mike South in 2005. However, the band soon found the popularity of its eponymously named debut CD from RA Media exceeded its expectations, and the band's ode to performer Jesse Jane, "Super Size ME!", was featured on Playboy TV's Night Calls.

The band added The Fluffettes to their live show, backup singers who usually go topless during the performance. The lineup of The Fluffettes include Jenna Adams and Sassy, as well as adult performers Lynn Le May, Sunny Lane and Mia Rose.

"Wank Punter is a pioneer in the porn rock genre, bringing their own experiences in the adult industry and putting them to their hard rockin' beats," Black Widow Talent President Ric Williams said. "We're looking forward to placing them in adult venues to expand their exposure in the industry and in mainstream projects looking for an X-rated edge. With the growing acceptance of the industry in the society at large, Wank Punter's themes will find an audience beyond the San Fernando Valley."

For more information contact Ric Williams at ric (at) blackwidowmodels.com; Wank Punter can be reached at wankpunter.com, or through their myspace page, myspace.com/wankpunter.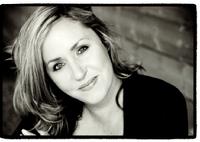 Theresa Flynt

The daughter also rises

Theresa Flynt has taken the reins of the LFP video marketing department, going from the retail end (she was instrumental in establishing the Hustler Hollywood chain) to the wholesale end. Good for her. Press release follows:

Theresa Flynt Heads Up LFP Video Marketing Department

(Beverly Hills, CA) Theresa Flynt, known for creating the successful HUSTLER Hollywood chain, is now heading up LFP Video Group's Marketing Department.

LFP Video Group is the parent company of HUSTLER Video and VCA Pictures, as well as the just relaunched HIS gay line.

In the past year, Flynt has been responsible for various licensing deals for HUSTLER, including the newly launched HUSTLER Lingerie line. In addition to her many accomplishments within HUSTLER, she holds a BA in marketing and has extensive knowledge of the adult industry.

Flynt will be working with Jeff Hawkins, Senior Vice-President, LFP Video Group, and Drew Rosenfeld, Creative Director. "We are very excited about the expertise and energy that Theresa will bring to our department," said Rosenfeld.

"With Theresa's experience in marketing and licensing in our industry, she will enhance our video line as well as provide marketing support for our distribution partners," said Hawkins. "I'm thrilled she will be working directly with the video department."

"I want everyone to know that HUSTLER Video is stronger than ever and we are focused and revitalized," said Flynt. "We couldn't have a better team!"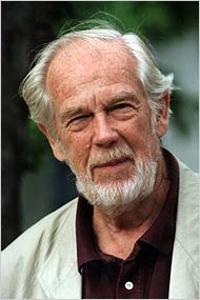 Sven Nykvist. Picture from Leif R. Jansson/Associated Press. 1997
900-year-old dead cinematographer

Sven Nykvist made his reputation by working with Swedish director Ingmar Bergman on over 20 films, creating a style with crisp black-and-white photography that matched Bergman's spare storytelling. (Ironically, both were reluctant to work in color, but when they did, in the 1972 film Cries and Whispers, it was nominated for five Oscars® and Nykvist won for his cinematography.) He worked with many directors, including Roman Polanski, Woody Allen, Richard Fleischer, Bob Fosse, Bob Rafelson, Louis Malle, and Lasse Hallström in a career that spanned six decades when he retired in 1998 due to illness.

He was 83.


Crescendo on its way

The new release from NinnWorx offers a look at Faith Leone's sexual psyche, or a reasonable facsimile. I've been a fan of Faith's for some time, and it's nice to see that she's getting starring roles. Have a look.

Lorraine Sisco's "Crescendo" Shipping Now
Erotic Foray Into Star Faith Leone's Darkest Desires Distributed By Ninn Worx
(Chatsworth, CA) What if you're running but not trying to hide? What if your dark dreams and sexual obsession turn into addiction? Is this lucid nightmare just the beginning of your erotic "Crescendo"? But how much is enough? And how much is too much? And who decides?

Thus begins Lorraine Sisco's latest foray, "Crescendo", into the sexual psyche of a beautiful woman both ashamed and captivated by her own lascivious desires.

Through a series of scenes, strongly sexual with the fetish aspects for which she is becoming known, director Sisco, for the first time focuses her own energies on the sexual entrapment and exploration of one star, Faith Leone.

With a strong (and grantedly kinky) supporting cast, Faith undergoes not so much a sexual metamorphosis as a rebirth, finding herself amazed at even her own potential levels of physical explosion – possible only when the mind truly lets the body unabashedly seek nothing but its own fulfillment.

"Crescendo" stars Faith Leone and features an all star supporting cast including Daisy Marie, Audrey Hollander, Kellemarie, Navaeh, Holly Morgan, Scott Nails, Mr. Marcus, Otto Bauer, Jerry and Tyler Knight.

"Crescendo" is available September 27th at your favorite adult video retailer. For a sneak peek, please visit www.ninnworx.com.

Distributors may contact Michelle Liss at Red Light Distributors to order your copies of "Crescendo" now.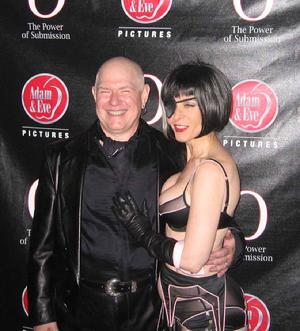 The auteur and the artiste: Ernest Greene and Nina Hartley.

September 21, 2006

O what a lovely party

I was interested when I heard that the party for the release of Adam & Eve's O: The Power of Submission was going to be held at Boardner's, a legendary Hollywood watering hole that used to be the domain of animators who would mutter into their beers about what a cheap prick Leon Schlesinger was. I had also heard that Steve Boardner was an ill-tempered old coot who didn't take well to fancy drink orders, but that was a long time ago and he probably wasn't around any more.

I drive up Cherokee to scope the place out and there is nothing to indicate that a party is going on. No mob, no searchlights, no posters, no other photographers. After a quick panicked phone call to Wayne Hentai confirming the date and location, I parked on Cherokee (in a $15 lot, dammit), and walked up to the somnolent Boardner's.

Boardner's was quiet, but the nearby alleyway leading to a courtyard behind the bar was hopping with activity, as the party was getting ready to start. The Usual Suspects were there – photographers JR, Dr. X, Our Australian Friend, plus Adam & Eve stalwarts like Katy Zvolerin, Peter Reynolds, Brian Gross, and Mischa Allen, plus a number of fetish-garbed performers, including an eyepatched Nina Hartley and her husband, the director of O: The Power of Submission, Ernest Greene. Somewhat disquieted from a walk from Sunset Boulevard, Our Australian Friend asks JR and me if we considered the world not a safe place. JR and I, habitués of Hollywood for decades, say no, we don't think so. A gaggle of starlets poses in front of the promo backdrop as cameras flash... Still pictures from the video flash across a wall.... A guy in a fedora walks by, looking like a refugee from the Chabad Telethon...
| | |
| --- | --- |
| Katy and Nina talk shop | Katy Zvolerin, left |
| Nina, Ernest, Carmen Luvana and Roy Karch | The director and the star |
| Ashley Blue and Sunny Lane | Katie Morgan |
| Anastasia Pierce and Kylie Ireland | Hillary Scott |
| David Lord and Tory Lane | Jeff Mullen and Sierra Sinn |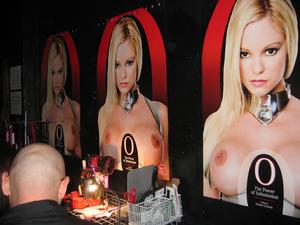 Fetish gear for sale
Rachel Worth, busy as can be. There's a Penthouse party nearby and another party for HBO's Entourage across the street... I notice that Katy's top laces up the back. When in Rome... A fetish party seems to be going on upstairs. Or maybe it's just part of the usual goings-on around here... I head into the restroom and find myself in a phone-booth-sized room with a urinal and a sink. Good thing that was all I needed...

A sales table has been set up in a corner of the bar inside, with fetish doodads for sale... Our Australian Friend chats up a girl in a leather corset and what looks like a bare backside, but I'm not gonna squat down and check... She turns around, G-string... Two new girls pose. Adrianna Nicole and Anastasia Pierce. Adrianna is a real go-getter, standing near the promo backdrop and jumping into pictures... Sunny Lane is in a black shiny dress. "Latex," she tells me. "Nina dressed me tonight. This feels good: It makes my nipples hard." She points with her index finger, and her nipple points right back... Boobs-out seems to be the style of the night. I like it... Kylie Ireland, haven't seen her in a while. We spend a moment catching up and promise to call each other. Who knows, maybe we'll do it this time... A woman walks by. She looks like Kathy Najimy. She probably isn't... I see Karen Stagliano chatting with Kylie... Katie Morgan, who I don't see as much as I used to since she stopped working at KSEX. Too bad, I always liked her... My mainstream writer friend is interested in that HBO interview she did, naked on the stage at the El Portal... Ashleyt Blue poses with Sunny Lane in front of the backdrop... Roy Karch is here. He could walk here. He probably did. Carmen Luvana makes her appearance, with Rob. Boobs out, of course... She poses with Greene, with Kylie, with Nina, with Anastasia... My mainstream writer buddy is here... Tommy Gunn... Hillary Scott, who I don't recognize at first. "If you had the lollipop, I would have recognized you," I laugh... Inside the bar, I see Jeff Mullen, who is reveling in being a party guest for a change... Sierra Sinn, Amber Peach... Director David Lord, who I haven't seen in a while, with Tori Lane. He offers to buy me a drink: "Vodka gimlet?" He's good...

The party begins to wind down about midnight. Or I do, at least. I say my goodbyes and head out into the not-so-dangerous streets of Hollywood to get back to my car.

The usual political folderol

Halliburton offers injured employee medal from the Department of Defense – if he doesn't sue.
http://www.tpmmuckraker.com/archives/001548.php

Ooh surprise: Problems at polls predicted:
http://www.washingtonpost.com/wp-dyn/content/article/2006/09/16/AR2006091600885.html


Adultcon sets talent list for this weekend

The little porn show that could, Adultcon, sets up shop for a two-day show at the L.A. Convention Center. The talent line-up as of last night is as follows:

Adultcon LA Coming This Week

Adultcon will be celebrating their 11th bi-annual two-day convention this Saturday, September 23rd 1pm-9pm & Sunday, September 24th, 1pm-6pm in 65,000 sq ft at the LA Convention Center.

For the first time, three Talent Agencies will be represented.

LA Direct Models is bringing Brooke Haven, Jezebelle Bond along with Adam Eve Contract Star Ava Rose, who will be making her first public appearance as a contract star.

Number 1 Models is bringing Rebecca Linares, Alison Pierce, 99, Terri Rayne, Katalina Linda, Charlie M, Issabella Sky & Carrie Ann.

Black Widow Talent is bringing Alexis Amore & CoCo Shanelle & Randy Spears.

Sinsations booth will have Dee, Mika Tan & Brooke.

Erotique Entertainment booth will be at the front of the show and feature Gina Lynn, the Adultcon Calendar Cover Girl.

Sharing the booth will be Celestia Star, Kaelyn Landers, Victoria Sin, Desire Moore and Jade Starr. Vivian West was featured on all the Adultcon billboards courtesy of Erotique Entertainment & will also be in the booth.

Red Light District Contract Star Dana Duvall will attend Adultcon for the first time.

Other well-known Talent coming to Adultcon includes Adrianna Sage, Aiden Starr, Moni Michaels, Teanna Kai, Nautica Thorn, Annie Cruz, Sophie Dee, Cindy Crawford, Crissy Cums, Michelle Lay, Luscious Lopez, Sierra Sinn, Cleopatra, Lori Lust, Keisha, Julie Simone & Lynn LeMay, Devyn Devine, Pretty Little Natalie, Christina Noir, Olivia O'lovely, Sophie Dee, Amber Peach, Jazmine Cashmere, Luscious Lopez, Amber Rayne, Trina Michaels, Franchezca Valentina, Aliana Love and Sinnamon Love

NEW for Adultcon will be Male Talent:
Sean Michaels, Tee-Reel, Brandon Michaels, Eric John, Travis & Randy Spears.

Talent booths are still only $150 for the weekend & can be split with other talent.

For the fans, Adultcon continues their popular policy of admitting fans free on Sunday if they pay on Saturday.

The $35 admission is an automatic 2-day admission pass & includes:
a free $5 Adultcon casino chip to spend in the show, a free collectible Adultcon calendar, a free embroidered shirt (not a T-shirt) or cap, free admission to the post-parties both nights, free admission on Sunday, free VOD from Hot Movies & a free DVD from Pink visuals.

The official Adultcon post-party will be at Rio Gentlemen's club on both Saturday & Sunday nights.

Adultcon is proud to have Xbiz as the official media sponsor of the convention.

Booth Info www.Adultcon.com

Contact at info (at) Adultcon.com

Adultcon is produced by Live Entertainment, Inc.

The Adultcon brand is a lifestyle providing live adult events for those demanding live, in-your-face entertainment via live interaction.

Vivid gets back in bed with Judith Regan

Judith Regan, the spiritual heir to Lyle Stewart with her ReganBooks imprint, has signed a contract with Vivid for three new books. No word on who the nominal authors will be. Yet.

VIVID ANNOUNCES THREE NEW TITLES WITH REGANBOOKS

LOS ANGELES – (September 20, 2006) – Vivid Entertainment Group, the world's leading adult film company, will create three new titles for ReganBooks, the popular New York City publishing imprint.

The commitment follows the success of How to Have a XXX Sex Life: the Ultimate Vivid Guide, published in hardcover in 2004 by ReganBooks and now available in paperback. It featured sexual secrets of the Vivid Girls as well as Vivid directors and several leading male adult film stars.

"We are planning for the next three books to reflect the remarkable company behind them which has been recognized as almost single-handedly bringing adult entertainment into mainstream. It's exciting for us to work with Vivid because of the increasing acceptance of this genre in our cultural consciousness," said ReganBooks Senior Editor Doug Grad.

The three new titles will also have "how to…" themes geared to adult audiences and will have interactive aspects to them. The first book is schedules to be released in August 2007.

"We are delighted to work with Judith Regan again," said Steven Hirsch, co-chairman of Vivid. "She has a strong grasp of what type of adult entertainment will appeal to mainstream audiences."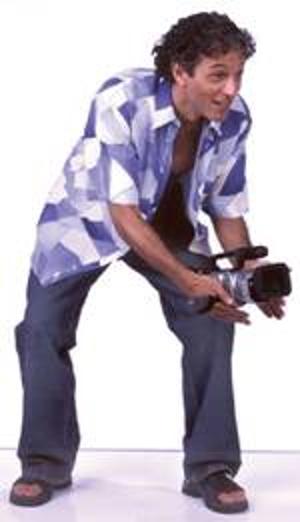 Seymore

Tough gig

Seymore Butts has been tapped to play himself in a new independent movie which screens in Beverly Hills tomorrow. The Fine Arts is a tiny theatre on Wilshire just west of La Cienega, so if you're going, get there early because there really aren't that many seats, maybe 600. Here's the detail:

Seymore Being Seymore: Butts Plays Himself in Indie Film

(Chatsworth, CA) -- Seymore Butts is porn's jack of all trades. For nearly two decades he has been one of the industry's most popular and respected directors. His talents both behind and in front of the camera led him to a successful career in adult film distribution and more recently Seymore has proven that mainstream crossover appeal isn't just for porn babes.

In addition to the success of his reality TV show "Family Business" (which just completed its fourth season), Seymore will appear in the new film ""A Study in the Orientation of Han Sum" which premieres this Friday at 9:00 PM at the Beverly Hills Fine Arts Theater. In the film Seymore plays himself and allows the lead "Han Sum" to job shadow him during the creation of a Seymore Butts Home Movie production.

Director Guil said "Adam is a natural actor. He's got the looks and the understanding of emotional timing. I would love to work with Adam again preferably in a mainstream role as the lead. I think he's got the charm and charisma to carry a film. Adam has the lead in the next piece that I am working on...of course if he wants it."

"Guil was great to work with and I really enjoyed the whole process. I don't know how much acting I did, considering I was playing myself in the movie. But I am looking forward to seeing the final product and working with Guil again in the future." stated Adam Glasser (aka Seymore Butts)

"A Study in the Orientation of Han Sum" is an Official Selection at the New York Independent Film Festival and will be showcased on the Independent Film Channel as part of the IFC Media Lab.
For more information check out www.HanSumFanClub.com


Weather report: Hot wet Rain for off-roaders

Continuing the specialization of porn, Taylor Rain adds the action of off-road biking to the usual attractions of a porn vid. Have a look:

BIKES, BOOZE AND BABES…WHEN THE DUST CLEARS THERE'LL BE SOME FUCKING GOING ON!

TORRID ENTERTAINMENT'S TAYLOR RAIN'S OFFROAD ADVENTURE
Porn Valley, CA – Think of some words that best describe Taylor Rain.

Wild. Dirty. Rowdy.

One more?

Okay. How's ballsy?

The girl even goes hard on holidays. A real hell-cat that Taylor is…

So are you surprised that Taylor gathered up some bitches and a camera and brought them to off-roading Mecca, Glamis, California for a quiet Thanksgiving weekend filled with bikes and sluts and sluts on bikes and 200,000 insanity-seeking freaks?

Good. You shouldn't be.

Taylor sums up this movie so eloquently…

"It's fun in the sun with chicks drinking cum!" Taylor boasts.

Really? Got another one for us, TR?

"Sure! It's bikes flying through the air and whores with jizz in their hair! How's that?!"

Very good, Taylor.

"Holla! Oh ya, and then there's Billy Glide tossing gasoline on a fire and almost blowing us all up. And You get to see me and Nadia Styles do some naked cooking. And the best part is you get to see me and the hookers prancing around naked and making these 200,000 fans go crazy"

Offroad Adventure is 4-wheeling acrobats at its pinnacle, Taylor Rain leads gassed-up porno sluts like Naudia Nyce, Nadia Styles and Kylee King doing what they do best – getting down in the dirt and fucking!... pretty much a high-octane, 100 thrills a minute fuck-race extravaganza worth beatin' your skins to…

"Yeah, that too!" adds Taylor.

Taylor Rain's Offroad Adventure features Naudia Nyce, Nadia Styles, Kylee King, Billy Glide, Winston Burbank and introducing Oldie Oldenclaw the old dog!

Click here to see the hardcore photo gallery and watch the Hi-Def Trailer !!!!

Get this high-def Gonzo today! Taylor Rain's Offroad Adventure ships September 20th and streets September 27th. To order, contact Anthony Simone via email at Anthony (at) torrident.com.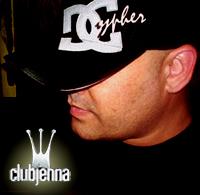 Director/pedestrian D Cypher

September 15, 2006

Small world

I was in Glendale yesterday and I saw a guy standing on a street corner (Brand and Broadway, southeast corner) who looked like writer/director D Cypher. I was going to wave, but I figured what the hell would D Cypher be doing in Glendale and then he started crossing the street right in front of me as I was making a left turn so I was busy watching traffic.

As the mystery D Cypher lookalike walked by in the crosswalk, I noticed that there was a big ClubJenna logo on the sleeve of his black sweatshirt. It was Cypher all right.

So D? The guy who didn't run you over yesterday? That was me.


Can't keep a good man down

John C. Holmes on the comeback trail

The legendary performer, who died in 1988, gets a big re-release on the 27th when a new DVD of The Devil in Mr. Holmes comes out from Paradise Visuals. Press release follows:

On Sept 27th The Devil comes back to Paradise!

For the first time in seventeen years viewers will get to see one of the most controversial adult films of all time on DVD. On Sept 27th, Paradise Visuals presents the final film of John C. Holmes, The Devil in Mr. Holmes.

See the film that was voted one of the 500 greatest of all time and said "everyone and his brother is going to want a copy of this because of its collectors' value."

Paradise Visuals prides themselves on only releasing classic DVDs with top of the line bonus features and this release will be no exception.

Bonus materials include:
An in depth one hour interview with Laurie Holmes (widow of John C. Holmes) moderated by Bill Margold.
A dirty thirty minute bonus featurette "John Holmes meets Ginger Lynn."

The Devil in Mr. Holmes stars John Holmes, Amber Lynn, Tracey Adams, and more.

Distributors interested in carrying The Devil In Mr. Holmes may contact Paladin Video at 1 800 228 8395
Visit www.paradisevisuals.com for more.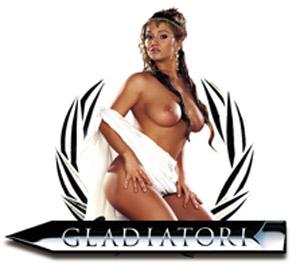 Lovely Rita

Private soirée in Ibiza tonight

Perhaps too late to go, but if you're in Ibiza anyway you might want to drop by and see what's going on. Press release follows:

Private Gladiator & Made in Italy Ibiza Present – THE CLOSING PARTY OF GLADIATORI - at AMNESIA IBIZA - on FRIDAY, SEPTEMBER 15, 2006.

Private is all set to cause a stir as the Ibiza invasion kicks off with the Closing Party of Gladiatori in association with Amnesia and Made in Italy, sure to be the most talked about closing event in the history of Ibiza. DJs Stefano Fontana and Ricky Montanari, two of the most influential Italian DJs, will carry the crowd through a magical night on Ibiza hosted by Rita Faltoyano and Toni Ribas, protagonists of Gladiator, and Julia Taylor, the star of Cleopatra. The night will begin with the star studded Gladiatori parade through the streets of exciting Ibiza Town. The evening's entertainment continues with sexy and scantily clad Roman slaves delighting guests at Amnesia with a live erotic strip show.

Congratulations to Alfredo from Barcelona, the lucky winner of Private's Ibiza Closing Party competition, a fan of Private for over 8 years, he will be accompanied by his girlfriend also a big Private fan. Alfredo, a huge fan of Rita Faltoyano said this was "a dream come true" being swept away to Ibiza all expenses paid. As the lucky winners, they will sip Champagne and Cocktails with the Private Girls at Sa Trinxa beach bar at Salinas Beach, where the party will get started and then they will head straight to the VIP lounge of Amnesia to dance the night away.

Joanna Angel
Joanna Angel presses the flesh in New Jersey tomorrow

The director/performer skeds a personal appearance in Edison, New Jersey (Thomas Edison would be so proud). Tell her Tod sent ya.

Joanna Angel to meet her fans at Playtime in New Jersey on Saturday, September 16th

Who: Adult Film Star Joanna Angel

What: Signing at Playtime in New Jersey

When: Saturday September 16th @ 5:30pm

Where: Playtime / 321 US Route 1 South / Edison NJ 08817-4417 / Phone: 732-985-1872

Why: Joanna Angel, writer, journalist, producer, director, model, and an AVN award winning adult film star, is founder and owner of BurningAngel.com, an independent site that celebrates the intersection of sex and rock n' roll with erotic photos and hardcore XXX movies alongside her interviews with punk and indie bands including Marilyn Manson, My Chemical Romance, the Bouncing Souls, and Bad Religion, among many others. Referred to as the "queen of altporn," Joanna has been featured on Playboy TV's "Sexcetera," Fuse TV, KSEX Radio, and in numerous editorials, including the The New York Times, The Village Voice, Time Out New York, The New York Press, Esquire UK, Penthouse, SCREW, XBIZ, Fleshbot, AVN, and Heeb, which featured her on their cover and named her an "up-and-coming Jew". Joanna holds a B.A. in English from Rutgers University --among her numerous professional and provocative roles, she considers herself a writer above all and documents all her life's experiences in her BurningAngel blog, which is revered by intellectuals, hipsters and rock n' rollers across the globe. Joanna also has a chapter published in Carly Milne's Naked Ambition released by Avalon Press, which is a collection of essays written by women who are changing pornography. Joanna was also the featured sex advice columnist in Spin magazine.

For all of the info, you can go to http://www.playtimexxx.com or www.burningangel.com/events

Adultcon announces talent line-up

Next week the little porn show that could comes back with a larger, two-day show in a larger room in the call-it-cavernous L.A. Convention Center. The $35 admission covers both days and $5 of that is a chip you can spend at the show. Here's the release, with the list:

Adultcon LA Coming Next Week

Adultcon will be celebrating their 11th bi-annual 2-day convention on Saturday, September 23rd 1pm-9pm & Sunday, September 24th, 1pm-6pm in 65,000 sq ft at the LA Convention Center.

Confirmed Talent: Teanna Kai, Vivian West, Alexis Amore, Annie Cruz, Sophie Dee, Cleopatra, Luciuos Lopez, Cindy Crawford, Lucious Lopez, Crissy Cums, Michelle Lay, Adrianna Sage, Lori Lust, Victoria Sin, Sierra Sinn, Keisha, Nautica Thorn, Julie Simone & Lynn LeMay

Male Talent: Sean Michaels & Brandon Michaels each have their own booths & Randy Spears signing in the Sinsation's booth.

Talent booths are only $150 for the weekend & can be split with other talent.
For the fans, Adultcon continues their popular policy of admitting fans free on Sunday if they pay on Saturday.

The $35 admission is an automatic 2-day admission pass & includes a free $5 Adultcon casino chip to spend in the show, a free collectible Adultcon calendar, a free embroidered shirt (not a T-shirt) or cap, free admission to the post-party, free admission on Sunday, free VOD from Hot Movies & a free DVD from Pink visuals.

The official Adultcon post-party will be at Rio Gentlemen's club on both Saturday & Sunday nights.

Adultcon is proud to have Xbiz as the official media sponsor of the convention.

Booth Info www.Adultcon.com
Contact at info (at) Adultcon.com

Adultcon is produced by Live Entertainment, Inc.
The Adultcon brand is a lifestyle providing live adult events for those demanding live, in-your-face entertainment via live interaction.

Did FCC spike study advocating local TV station ownership?

Looks like it. The 2004 study suggested that locally-owned TV stations devoted more time to local news than stations owned in large groups. The study was commissioned by Idiot Bastard Son Michael Powell, the son of Colin Powell who, although he was the chair of the FCC, once called television "a toaster with pictures" and said he didn't know what this "public interest" thing was. Powell resigned from the FCC in 2005. No official word on who shit-canned the study, or why. Yet.
http://www.chron.com/disp/story.mpl/ap/politics/4187090.html


VHS comeback continues at Dane Productions

The maverick company has sold almost 8,000 units of its recent 10,000-unit duplication order. Somebody's gotta be buying this stuff. The rest are available while they last. Here's the info I got from Dane:

Only 2100 VHS left....We still are not nucking futs!!!!!

Believe or not Dane made another 10,000 VHS features. Now we only have 2100 remaining. If you have not yet placed your order, Now is the time to do so before it is a memory. We have 100 of our best selling titles for you. Call Dane Productions for more information......

Dane Productions....... where we listen

LIZ AND BOB
Dane Productions

e-mail: liz (at) daneproductions.com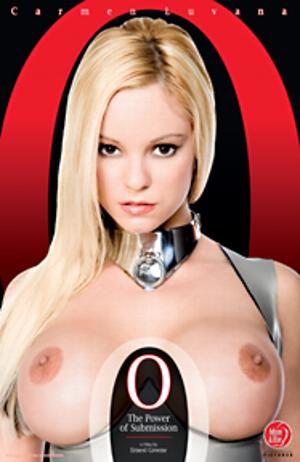 Open wide and say "O"
"O" is for Film Festival Acceptance

Adam & Eve's big-ticket entry in this year's awards derby, O: The Power Of Submission, gets a screening at the Cinekink festival in New York. I remember when the Los Angeles International Film Exposition rejected Chuck Vincent's Roommates because it was a porn film (although they did accept Jean-François Davy's Exhibition) but that was a long time ago.

"O THE POWER OF SUBMISSION" ACCEPTED INTO PRESTIGIOUS NEW YORK CINEKINK FESTIVAL

CHATSWORTH, CA Last week it was announced that Adam & Eve Pictures upcoming feature O - The Power of Submission
has been accepted for showing at New York City's prestigious Cinekink Festival.
CineKink is an organization that is dedicated to the recognition and encouragement of kink-positive depictions in film and television. With offerings drawn from both Hollywood and abroad, works presented at CineKink NYC will range from documentary to drama, camp comedy to hot porn and everything in between. O - The Power of Submission has been accepted as a rare entry in that it is a full-length adult video. It has been scheduled for a special 10:30 p.m. showing on Saturday, October 21, 2006.

Cinekink's organizer, Lisa Vandever, says of O - The Power of Submission, "Congratulations on a beautiful - and hot! - reinterpretation of 'O'!! The sets and visuals are truly stunning and you've done a superb job of transporting the story to a new setting and sensibility, while maintaining the essential elements that draws most of us to it in the first place."
"This is a particularly great honor," says director Ernest Greene. "Cinekink is a much-respected forum that has honored both mainstream and adult pictures, along with short subjects and documentaries, that portray unconvetional sexuality in a positive and/or revealing light. It maintains high standards for acceptance and it's extremely exciting to be chosen for exhibition at such an event, the more so for a 160-minute XXX feature."

Details regarding Cinekink can be found at their Web site: http://www.cinekink.com
Sacred Sin adds incentive for would-be buyers

There's a message in the packaging you can decode and if you do it first you can get a chance to star in a Michael Ninn movie or get an autographed guitar from Eddie Van Halen. Or, if you're really creative, both. Intrigued? That's the idea. Read on.

Ninn Worx' Highly Anticipated "Sacred Sin" Available Now
Packaging Holds Clues To Secret Code Contest

(Chatsworth, CA) The highly anticipated release of Ninn Worx' fall epic, "Sacred Sin" is available at retailers now.

Starring Ninn Worx' exclusive contract star and Penthouse Pet Heather Vuur the monumental title also features performances by an all star cast including Nick Manning, Jassie, Dee, Jean Val Jean, A.J. Bailey, Brooke, Nevaeh, Monica Mayhem, Scott Nails, Sledge Hammer, Ruby Flame, and Jeremy Steele.

The two disk boxed set contains "Sacred Sin The Movie" and a bonus DVD that includes an extra scene of Heather Vuur, five additional solo scenes, a 250 – image photo gallery, a sixty minute video on the making of the movie, trailers, and deleted scenes with commentary by Michael Ninn.

With a contribution of his incomparable musical abilities, legendary guitarist Eddie Van Halen's unrivaled energy can be found on the "Sacred Sin" Soundtrack. Two music videos featuring the Grammy award winning artist are also included on the Bonus DVD.

Unparalleled packaging not only holds the disks, but a 16-page booklet featuring the photography of 1019. A secret code can be found on one of the 10 panels of "Sacred Sin's" packaging. Among all of the artistic elements are various clues you'll need to unlock the code. Once deciphered the code will reveal a question you will need to answer and divulge how to contact Ninn Worx once you have deduced the answer.

A prize will be awarded to "the one" who submits the correct information first and he or she will have the choice to star in their own Michael Ninn movie or receive an autographed Eddie Van Halen guitar. However, should you decide you deserve both prizes, tell us why and your wish may just come true. The code may be complicated, but the prizes are rare and valuable so give it a shot.

Contest rules and further details can be found at www.ninnworx.com/sacred_code.

"Sacred Sin" has been highly publicized world wide in virtually every media format available in adult and mainstream media including Howard Stern, MTV, VH1, TMZ.com, and The New York Post just to name a few.

Michael and Eddie along with the cast, crew, and special guests will celebrate with a post release party known as The Gathering September 30th.

"Sacred Sin" is available today at your favorite adult store or on-line retailer.

For non explicit movie trailers, photos, music videos, and more please
visit www.ninnworx.com/sacredsin.


Doc Johnson keeping quiet about new vibe

This one's a big stick that speaks softly. Have a look, read the copy, if you get one, remember where you heard about it.

Doc Johnson's New Hi-Tech Vibes Boast Maximum Stimulation in Virtual Silence

NORTH HOLLYWOOD, Calif.– Adult novelty mega-manufacturer Doc Johnson, celebrating its 30th anniversary in 2006, continues its tradition of innovation with Silent Vibrations™, a brand new collection of technologically-advanced vibes that feature deep, powerful, but quiet vibrations, and Doc's new, state of the art scroll wheel controller.

The scroll wheel controller makes adjusting the vibration level of the vibe easier than ever. "We received a lot of requests from women looking for an easier way to adjust the vibe's level during use," explained Chad Braverman, Doc Johnson's Director of Product Development and Licensing. "The scroll wheel controller allows a user to find the perfect setting with the simple flick of a finger, making it the perfect solution."

Another high tech feature of the Silent Vibrations™ collection is Doc Johnson's proprietary silent motor, capable of providing a deep massaging action that maintains privacy without sacrificing power. "The silent motor is quickly becoming one of our most popular features," Braverman noted.

The Silent Vibrations™ collection includes two plastic vibe designs, one with a rounded head and one with a G-spot stimulator. Each design is available in two colors: the rounded vibe is available in pearl white or pink, while the G-spot vibe is available in peach or pearl white.

The Silent Vibration™ vibes have a circumference just under six inches width, with a similar length.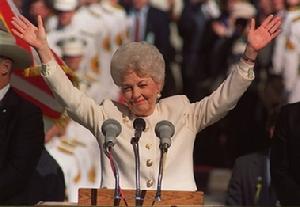 Ann Richards, 1933-2006

September 14, 2006

Ann Richards dies

She was one of the good guys, an articulate woman who referred to George H.W. Bush as having been "born with a silver foot in his mouth" at the 1988 Democratic Convention. She was elected Texas Governor two years later, and served one term before being defeated for re-election by Little Boots and his svengali Karl Rove. She was 73.
http://www.chron.com/disp/story.mpl/metropolitan/4185661

Tom Hymes lands on his feet

The veteran writer leaves Free Speech Coalition and becomes publisher at XBiz, adding credibility and professionalism the new news source for the adult industry. Good for him.
http://xbiz.com/news_piece.php?id=17067

Kirdy Stevens classics coming back

Six volumes of Taboo plus a personal favorite of mine – Playing with Fire, a title that takes the oops-was-that-your-daughter-I-fucked-last-night plot and plays it straight, as a drama that will make you understand what they meant by "the '70s Golden Age of Porn." Here's the detail:

Standard Digital Preparing New Edition of Kirdy Stevens' Classic Taboo Series

RESEDA, Calif. — Standard Digital's award-winning and best-selling series -- Taboo vols. 1 to 6, all directed by legendary Golden Age director and Hall of Famer Kirdy Stevens -- will return to store shelves next week following a brief hiatus.

When Taboo, universally regarded as among the best adult movies made since it was first produced in 1980 and one of the best-selling adult titles of all time, returns it will be an enhanced version of all six titles, Steve Stevens, president of Standard Digital and Kirdy Stevens' son, said.

"The new edition we're about to roll out is something that's worthy of what consumers expect from a line of movies that has fans spanning over 25 years, that is a true adult classic in every sense of the word and that continues to be a title that flies off shelves," Stevens said.

In fact, continued customer demand for the titles caused anxious inquiries from distributors and buyers as to when Taboo would return, John Islas of Addictive Entertainment, Standard Digital's exclusive distributor, said.

"The wait's almost over and when the distributors and buyers see what Standard Digital's done with it, they and their customers will be amazed." Islas said.

Notable performers who've appeared in the six volumes of Taboo include Juliet Anderson (Aunt Peg), Kay Parker, Cara Lott, Dorothy LeMay, Britt Morgan, Nina Hartley, Colleen Brennan, Kristara Barrington, Ginger Lynn, Amber Lynn and Porsche Lynn.

Standard Digital's Playing with Fire is also available, and the company plans on releasing two other Kirdy Stevens films -- Daisy Chain and The Animal in Me -- in early 2007.

For more information about the award-winning Taboo series from Standard Digital and Kirdy Stevens, distributors may contact Jon at jon (at) addictednow.com.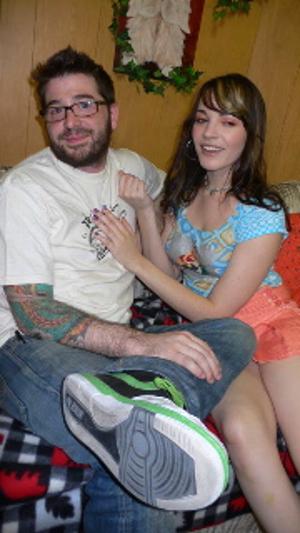 Contest winner Krist Sorge and Vivid-Alt actress Dana DeArmond

Vivid-alt/Fleshbot contest winner gets look at L.A.

The winner does not complain that winning the "be a porn star" contest involves dialogue besides the traditional "Oh fuck yeah!" Coulda been worse, he could have been asked to play a crazed street preacher. That never works well.

VIVID-ALT AND FLESHBOT.COM NAME WINNER OF THE "SO YOU WANT TO BE A PORNSTAR" CONTEST

LOS ANGELES – (September 14, 2006) -- Vivid-Alt, the alternative XXX film imprint of Vivid Entertainment Group, teamed up with the popular adult blog fleshbot.com to give one lucky fan the chance to win a role in the upcoming Vivid-Alt movie, "EastSide Story." The contest was to promote the August launch of the website www.vividalt.com.

Krist Sorge, the winner of the Vivid-Alt Weekend Prize Package, hopped on a plane from New York to Los Angeles, to be personally met by Vivid-Alt producer Eon McKai. Sorge was selected winner by McKai, director Vena Virago, and sexy Vivid-Alt actress Dana DeArmond.

"I wrote this essay where I said it was my grandfather's dying wish that I be in or witness a porn movie being made," said Sorge of his winning entry as to why he should make his porn debut with Vivid-Alt. A freelance commercial casting director in New York, Sorge learned of the contest through a visit to fleshbot.com.

After his arrival in L.A. Sorge immediately hit the studio for a little one-on-one time with Dana DeArmond before their "spumoni" date, another perk to winning the "So You Want To Be A Pornstar" contest. "It wasn't until recently that I found out my grandfather was named 'Onofrio'…and he was polyamorous," he confided to DeArmond.

During his visit to L.A. Sorge was also introduced to the ever-punk director Virago. "'EastSide Story' is about how the art scene and the porn scene mix," she declared. "The movie takes a hardcore look at the hipsters and graffiti-art-types who inhabit the neighborhoods east of Echo Park in L.A. and is part documentary and part 'art happening.'"

"I expected it to be surreal and un-erotic," stated Sorge wryly on his time in Los Angeles. However, his walk-on, speaking role in "EastSide Story," date with Dana DeArmond and attending a studio party proved to be a hit.

View the full photo-gallery and information on all winners at www.vividalt.com and fleshbot.com.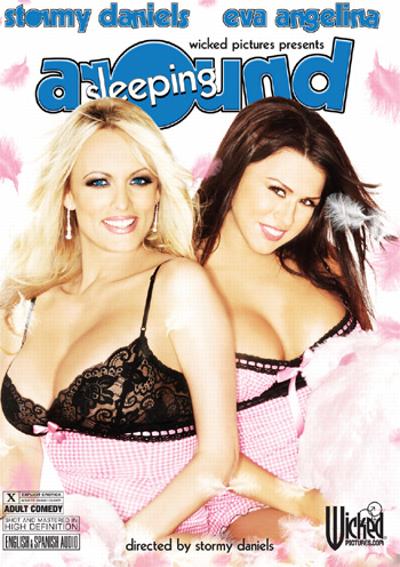 These two, sleeping around? I don't believe it.
Stormy's at it again

The Wicked contract performer/director/writer turns out another hardcore comedy, this time with Eva Angelina and Randy Spears leading an impressive cast. Have a look:

WICKED DVD SPOTLIGHT!

NEW RELEASE: "Sleeping Around"
STORMY DANIELS & EVA ANGELINA Deliver Three Cheers For Sweet Revenge!

LOS ANGELES, CA - (DMPR) - Wicked Pictures is proud to present Sleeping Around, the latest exercise in hardcore erotic comedy from multiple award winner Stormy Daniels!

Though she may be a true mainstream crossover sensation, Stormy hasn't forgotten her roots, and she proves herself an erotic triple threat in Sleeping Around by writing, directing, and co-starring with the delectable Latin sex sensation Eva Angelina. But this is one multi-tasking megastar who doesn't let her duties behind the camera get in the way of her ability to deliver 100% on screen. Indeed, from her sexy-as-hell tease footage to a filthy hardcore romp with Wicked contract actor and director Randy Spears, Daniels delivers some of the most heated sensual moments of her career to date.

But the aptly titled Sleeping Around is about more than mere superstar sex action, much more.

Fans of youthful newcomers are certain to get their fill with the excellent performances hardbodied Haley Paige and Holly Wellin deliver both in and out of bed, while Randy Spears and such trusted woodmen as Eric Masterson and Scott Styles make sure these couples-oriented sex scenes burn with the same level of heat found in the finest gonzo.

While the witty screenplay is certain to keep couples entertained, and the smorgasbord of extras (including TWO bonus scenes) give DVD sophisticates plenty to chew on, Sleeping Around speaks first and foremost to true porn fans, from the gorgeous pin-up style photography of "scorned lovers" Stormy and Eva that leers at you from the cover, to the hot hardcore revelry contained within.

With these two superstars dishing out the payback, Sleeping Around is certain to leave audiences everywhere begging for sweet revenge!

Wicked Pictures Presents
Sleeping Around
Starring Stormy Daniels
& Eva Angelina
Directed by Stormy Daniels.
Shot & Mastered In High Definition

Street Date: September 13, 2006

Cast: Stormy Daniels, Eva Angelina, Eric Masterson, Haley Paige, Holly Wellin, Marcus London, Randy Spears, Sammie Rhodes, Scott Styles, Van Damage.

DVD Includes: English & Spanish Audio, Greek Subtitles, Interactive Menus, Chapter Selection, Two Bonus Scenes, Behind The Scenes, Star Stats, Trailers, Wicked Casino, Wicked Award Winners & Nominations, Web Site Information, Company Information, Parental Lock, DVD-ROM Compatible

For More Information Please Visit:

www.wickedpictures.com
www.clubstormydaniels.com
www.myspace.com/stormydaniels

For Wicked Pictures Domestic Sales Information, Please contact Bonnie Kail
bonnie (at) wickedpictures.com

For Wicked Pictures International Sales Information, Please contact Steven Vlottes
MrVlottes (at) wickedpictures.com

Jason gets curious

Justine Joli and the director of her new video – a familiar name in another context -- will appear on KSEX Radio tomorrow on Jason Sechrest's The Young and the Curious show. Have a look:

CORRUPTED PICTURES' CAST OF CORRUPTED BY JUSTINE JOLI TO APPEAR ON KSEXRADIO.COM

In celebration of Corrupted Pictures' first release--the incendiary girl/girl sex fest that is CORRUPTED BY JUSTINE JOLI--the majority of the cast and crew are scheduled to appear on KSEXRADIO.COM as guests on THE YOUNG AND THE CURIOUS hosted by well-known porn journalist JASON SECHREST on Friday, September 15th from 5 to 7 PM PST.

Of the upcoming show, Sechrest said, "I'm honored to be the one hosting Heidi's first ever live interview. I've known her for years now and I'm really excited for her transition to directing. I've always said porn journalists and reviewers will end up making the best directors. After all, we've seen enough of them at this point to know what works and what doesn't!"

CORRUPTED PICTURES' CORRUPTED BY JUSTINE JOLI will be in stores everywhere on September 25th.
For more on KSEXRADIO.COM's JASON SECHREST, visit www.jasoncurious.com.

For Corrupted Pictures sales inquiries, contact David Gross via email at dgross (at) newmachine.com.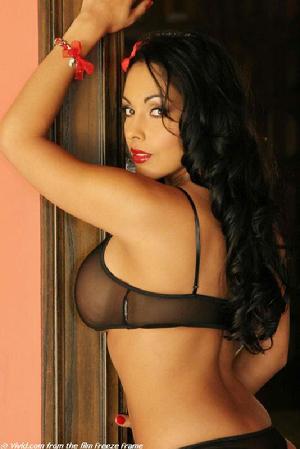 Nina Mercedez

Former Vivid giirl Mercedez gets first name, Hustler contract

Nina Mercedez, who was a Vivid contract performer under the name "Mercedez," is now making her own vids under a 12-pic contract with LFP. Read on:

NINA MERCEDEZ SIGNS DISTRIBUTION DEAL WITH LFP

(Hollywood, CA) LFP Video Group has signed a distribution deal with Nina Mercedez's company, Heartbreaker Films.

Under the agreement, Heartbreaker Films will produce 12 titles for LFP, all of them directed by Nina Mercedez or Raymond Balboa, President of Heartbreaker Films. Additionally, six of the 12 titles will star Nina Mercedez.

The one-year DVD distribution deal gives exclusive worldwide distribution rights to LFP, including HUSTLER TV broadcast rights. LFP and Heartbreaker Films hope to release their first title in early 2007.

Mercedez, a former Vivid girl, has a long history with Larry Flynt Publications. "The first photo of me ever published was in HUSTLER's Beaver Hunt Magazine," says Mercedez. "I feel like HUSTLER, from the very start, has believed in and stood behind me, and it feels right to come full-circle."

Mercedez and Balboa's move to LFP was an easy choice for both. "There was never any doubt," says Balboa. "HUSTLER was the only phone call I made. Nina and I talked about her next step, and HUSTLER was the obvious choice for both of us." Adds Mercedez, "I knew I could trust HUSTLER's reputation. There was never another option."

Jeff Hawkins, Senior Vice-President, LFP Video Group, is extremely excited about working with Mercedez and Balboa. Says Hawkins: "Nina's history with HUSTLER makes this a great fit. LFP Video is looking for passionate and creative distribution partners, and Nina and Raymond fulfill our criteria. We look forward to working with them for years to come."

Nina Mercedez is online at www.Mercedezxxx.com.

Hustlerworld at www.Hustlerworld.com.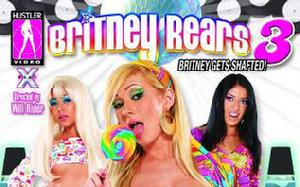 All this and more, delivered to your door. Or my door, at least.

September 13, 2006

Swag is only part of it

Monday I was walking out the door of Tod-Hunter.Net Intergalactic Headquarters and a box propped against the door fell at my feet. It held a treasure trove of promo material for the new Britney Rears DVD. The Britney Rears 3 DVD, of course, which is packaged with the first Britney Rears DVD inside, plus Britney Rears 2 in its own package. A folio with promo material, including a one-sheet poster and a complete Oui magazine with Britney on the cover. Two music discs, one with movie trailers on it. Promo stickers and a laminated All Access pass on a lanyard. A small bullet vibe. A pad of sticky notes with the Britney Spears 2 logo on them. A pink lollipop. A 50ml bottle of Polish vodka. A one-ounce squeeze bottle of Good Head Oral Delight Gel. A coffee mug. A glass dildo with a breathless sticker declaring "AS SEEN IN BRITNEY'S REAR!" and a vibrating cock ring packaged with a condom.

This is an excellent promo package. A movie, plus a few knick-knacks to make it memorable. Well-done promo is professional and clever. It is thoughtful. It isn't a bribe, it's a personal touch that makes you think well of the publicist's client(s).

About a year ago, a colleague and I went to a restaurant for lunch and saw a publicist sitting at another table. We exchanged pleasantries for a minute or two, then separated to have our lunches. After lunch, we flagged down our waitress for our check and we were told that the publicist had paid for our lunch, and had also left a generous tip.

As we head into awards season, the touch of the publicist could spell the difference between a good video and an award winning one.

Dave Cummings' monthly column

Our friend Dave Cummings checks in with his September contribution.

IN THE TRENCHES
BY: Dave Cummings—Porn Star/Producer/Director; www.davecummings.com

In a number of my past columns over the last few years, I warned about the glut of porn footage and new companies tardily entering the adult video/DVD business and further over-supplying the already crowded market place; of late, numerous others have likewise now noted and begun to also comment about it on adult news/gossip sites/etc; for years now, in the on-site classes I teach on how-to-make-adult-videos, as well as at my www.howtomakeadultvideos.com, I've expressed my personal views concerning the constantly growing mountains of excess productions, and hopefully I've had an impact on cautioning and saving many of my students from wasting their money and efforts on an already glutted productions market. Unfortunately, I was correct about the glut, and now I fear a shaking out of some of the present companies producing porn. I hope we consumers don't lose future access to any of our long-time favorite porn series!

In another column I wrote shortly after the foray in Iraq, I correctly opined that the Dow Jones (which was then was at a level around 8,200) would recover to pre 9-11 levels near 11,000---I'm glad I was on target with that prediction; in that same monthly column, I also expressed my concerns about the possibility that crude oil prices might increase dramatically and threaten economic growth/inflation/stability, and lead to higher interest rates -- I wish I had been wrong in that worry, but…!

Last month's column urged everyone to register to vote and get others to follow suit, to become informed voters, and to actually vote in every upcoming election. I've been concerned about the present negative noise-making against allowing consenting citizens to continue having their Constitutional right to access legal porn productions, and I worry that unless we ALL get involved in rallying the true ALL-AMERICANS to vote accordingly, we might soon see religious fanatics continuing to adversely influence lawmakers at all levels of government and indirectly affect/infect our future sex lives. Believe me, I sincerely hope last month's column was not in vain. I hope my worrying is unfounded, and I pray that YOU vote and help return our free country back to real freedoms! Please help me stop being a worrywart concerned about OUR freedom to access legally produced porn!

On another note, one of the subjects I also discuss in my video-making classes is my personal thinking that obscenity convictions will continue to be pursued by politically conservative governments, but that eventually they will constitutionally trip over the First Amendment now that "community standards" can no longer consist of only small geographical locales; the Internet and mass communications like television, video-on-demand, and the future cell phone delivery systems, has widened the playing field to such an extent that jaded religious views of the few but verbose religious radicals and the people they bully/influence can't alter or halt the ongoing mainstreaming of porn. Indeed, the breadth of porn's acceptance by overall populations is so pronounced that the modern community standards will undoubtedly testify and find that the present legit porn world produces porn, but NOT obscenity! Now, once that realty becomes the law of the land, I think the focus of future religious/government/hypocrite attacks will lessen against the porn per se but might increase upon the actual individual people in the Adult Industry, and possibly against consumers of Adult Entertainment. Because of this, to avoid being targeted by such entities as the IRS and law enforcement, I urge Industry individuals to make certain that they accurately and comprehensively compile and pay all their taxes without fail (keep in mind that recent escort-related entities, past "mafia" individuals, and even some past Adult Industry folks, were pursued/prosecuted by the IRS once other avenues were closed down to prosecutors by the courts); that we all adopt a personal standard of deportment against driving while under the influence; that we guard against alcohol or drugs being involved in any manner on or near porn sets, and that no one of legal drinking age provides alcoholic beverages to adult performers under 21 or others under any circumstances, and that we all realize that we might well be under a more powerful microscope than non-porn entities and persons. Actually, with the ongoing movement of all facets of the Adult Industry into the mainstream, following the aforementioned and other responsible ways of life might even possibly make us an inspiring example for others to emulate---wouldn't it be a nice lessen to the enemies of present day porn if they see our personal behaviors being admired by society!

Please: re-read the above; become an informed voter and urge others to do likewise; personally strive for and sustain responsible personal behaviors as models for others in America and elsewhere to admire and follow; and, let's positively influence and convert some of the radical religious hypocrites to realize that sex between consenting adults is a God-given way of life that is natural, normal, and healthy! Heck, let's wave a magic wand and somehow arrange for the religious and political hypocrites to watch and guiltlessly enjoy porn, visit gentlemen's clubs, join adult web sites, and masturbate without wrongly feeling like they are bad boys and girls!

Enjoy our precious lives on Earth,

Dave Cummings
www.davecummings.com

Matters of opinion

Keith Olbermann takes Little Boots to task on what has happened since 9-11 in an eloquent editorial
http://www.msnbc.msn.com/id/14687895/#060911b

Is the game already over and the right wing in complete charge? This guy thinks so.
http://www.moderateindependent.com/v4iSEPTpathtodisney2.htm


Lori Lust plans to attend Adultcon

The promo-minded performer passes along this missive about her plans for the weekend after this one, which include a visit to Adultcon in their shiny new bigger digs at the L.A. Convention Center, conveniently close to the Pantry at 9th and Figueroa, which is never closed, never without a customer, and has the biggest prtions you ever saw.

Lori Lust and many stars attend Adult Con Sept 23rd

The mega bombshell sensation Lori Lust will almost be nude in heels at Adult Con 2006.

The girl with the best body in the Industry and a personality to match will have two booths T521 and T523 against the prestigious wall as you walk in the show enterance to your right.

One of Adult Cons premier attractions is bringing many movies including her last four that are rated four stars. Also 8x10's, posters, Polaroid's and Booty oil rubs. Yes Lori Lust of www.lorilustxxx.com will let you rub oil on her legs and butt for a special promotion. WOW. Also she will have a huge multi mega poster display behind her.

Also over 70 more porn stars and tons of exhibitors of adult material will also be attending this mega event. Last time Jenna's girls where signing so the line-up will be strong at this particular show.

Show promoters of www.Adultcon.com said this is by far the most promotion they have ever done on a show. Judging by the tons of billboards almost on every street corner in the valley this event will easily be a record breaker. The owner said they spent twice the amount of promotion for this one particular event in order to get a record attendance.

One of the best shows for being liberal with cleavage is right up the alley for porn star enthusiasts.
Who wants to see girls covered up when you go to a porn event? Not us.

The new west end ballroom at the L.A. Convention Center is definitely larger and more elaborate then the previous venue so don't miss out.

When and Where :
Los Angeles Convention Center
-West Hall
Saturday, September 23rd, 2006 1pm-9pm
Sunday, September 24th, 2006 1pm-6pm
65,000 foot new West Hall
Tons of free gifts with free 2nd day pass!
Tons of Exhibitors of Adult related merchandise

For directions and porn star lineup you can go to
http://www.adultcon.com/indexa.html

Click here for additional Convention Center Information

AGE
18 and over admitted
We reserve the right to refuse entrance

PARKING
$10 inside the convention center
$8 across the street


The next big thing(s) from Kelly Madison

The buxom performer cashes in on the dumb-big-boobed-blonde image with a new video that features six big-boobed stars and a number of very happy guys.

Kelly Madison Productions Releases Pornfidelity's All Ditz and Jumbo Tits #2

Los Angeles, CA Kelly Madison's newest DVD, All Ditz and Jumbo Tits #2, is part 2 in the series that pays tribute to those girls out there who have enormous tits and not so much in the way of brains. Check out Puma Swede, Trina Michaels, Candy Manson, Danielle Derek and Jamie Brooks, in all their glory!

In scene one, Kelly was doing her daily errands and ended up at a coffee house to warm her buns up. There she meets Puma Swede, who was waiting for her friend to show up but was convinced she'd be waiting all day. It was cold outside so Kelly invited her over to see if she couldn't help warm her up with the help of her horny husband.

In scene two, Kelly was giving Ryan a blowjob in an alley when Officer Naughty (aka Trina Michaels) caught the two in the act. Instead of writing them a ticket or hauling them off to jail, she decided to join in the fun and help get Kelly's man off.

In scene three, we find a hugely endowed blonde named Candy. She was applying for a job at a store called DD's, where she was under the impression that you had to have double D's to work there. Obviously that wasn't the case, but that didn't stop our buxom Kelly from taking her home to and showing her how she could put those double D's to work!

Scene four was a bummer for Kelly because she didn't really get a chance to be involved. Kelly was leaving town for a few days and happened to run into Danielle Derek. It turns out that she's a big fan of Kelly's website, and knew all about Kelly and Ryan's work. Kelly wasn't able to stay but she brought her to Ryan so he could show her how much fun the couple has with their little sexcapades. Now not only is she a fan, she's a part of it!

In the final scene, Ryan and Kelly were attending a really fun masquerade party, but it really got wild when a smoking hot blonde came downstairs to join The dynamic duo for an impromptu threesome. They didn't find out it was Jamie Brooks until everyone took their masks off, not knowing who she was the whole time made it so much more fun for lovers.

You'll have to own this DVD to see all the crazy fun Kelly and Ryan had with this new batch of big titty ditzy girls! On this DVD you'll also find behind the scenes video and photos as well as other features.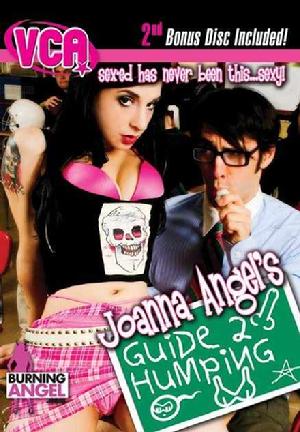 The professor will fuck you now

Hot for teacher

Performer/director Joanna Angel turns her hand to the instructional video, and offers a look at a trailer in the classic first-one's-free come on. Have a look:

VCA PICTURES' CONTRACT STAR RELEASES JOANNA ANGEL'S GUIDE TO HUMPING

NY, NY – Porn Alt-Queen and one of the New York Post's sexiest New Yorkers, Joanna Angel is unveiling the definitive guide to humping on September 12. JOANNA ANGEL'S GUIDE TO HUMPING is the sex-ed class you've only dreamed of. All the humor of The Breakfast Club with a ridiculous amount of smutty hot sex.

In perfect Joanna Angel tongue-in-cheek fashion, GUIDE TO HUMPING centers on the stereotypical students (jocks, nerds, slackers and even a hot foreign chick) in her naughty, one-day seminar. Angel says: "The movie is really silly... it's sort of like a John Hughes '80s movie. It was hard to film because we had to stop to laugh for 20 minutes in between each shot."

JOANNA ANGEL'S GUIDE TO HUMPING is, of course, for Joanna Angel devotees, but will also bring other porn fans into the fold. Angel wrote, directed and stars in GUIDE TO HUMPING, and her attention to detail, from the music ("Dr. Octagon" and "Theo and the Skyscrapers") to the eclectic cast, is first- rate. "Joanna knows what makes a great sex scene, and unlike some of the other directors of her genre, she really understands filmmaking," says Drew Rosenfeld, Creative Director, Hustler Video Group. "With Joanna you get hot sex inside a very entertaining movie."

Joanna Angel also knows a thing or two about scorching-hot sex. One nasty and humorous lesson in the film illustrates how a simple kiss can lead directly to anal sex. Another noteworthy tutorial is demonstrated by the class "bad boy" (James Deen) and the "hot foreign-exchange girl" (Haley Paige). The two engage in an outrageous bathroom screw session that will leave the audience begging for more. There are five graphic sex seminars in all, each one more instructive than the last. GUIDE TO HUMPING also contains girl-on-girl action, toy DPs and four anal scenes — including one rewarding anal pounding between Joanna and James Deen.

JOANNA ANGEL'S GUIDE TO HUMPING is a two-disc set that include a bonus disc containing behind-the-scenes interviews with cast and crew members. Check out a trailer of the movie at: http://www.burningmerch.com/shop/product_info.php /products_id/45? osCsid=edc786e67037755c9422f60bab978e8f

For VCA sales inquiries, contact David Diamond at ddiamond (at) lfp.com. For VCA marketing inquiries, contact Theresa Flynt at tflynt (at) lfp.com.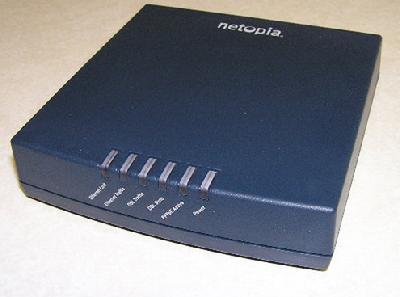 Speak to me dammit! Blink!
September 12, 2006
Carbon unit failure
Saturday morning, I had that terrifying feeling of not being able to access the Internet as I surveyed a dead DSL modem. The usual gleeful green lights, which blinked cheerfully to reassure me that I was connected, were dark. I wiggled the connections, pushed the RESET button on the bottom, banged on it a few times, nothing. I called 1-800-PACBELL (they may have changed their name, but the old phone numbers work) and got some guy who sounded like Gandhi but claimed his name was "Joey" and I told him my problem – "Dead modem" – and he flipped through his response cards and told me in phonetic English that basically I was fucked and I could call this 800- number to get a new modem on Monday.
I went to Fry's and got a new 12-volt transformer, thinking that maybe the power source was the weak link, and I crawled under the desk and hooked it up to the modem and nope, zip, nothing.

Yesterday, I called the 800- number and I got a person who spoke native English, and she told me that the dead modem actually belonged to me, not them, and I would have to buy another one and Best Buy had a good deal on them, at $70. I went to Fry's first, to return the transformer, and saw that they were charging $80 so I went to Best Buy and forked out $70 for a new modem.

I got back to tod-hunter.net Intergalactic Headquarters, took the new modem out of the box, unwrapped it, and when I turned it over to plug it in I noticed an On-Off switch on the back of the new modem.

Shit.

I picked up the "dead modem," looked on the back, and found an On-Off switch. I poked it, and the green lights on the front started blinking.

Status has returned to quo.

Things of a political nature

What have we learned from 9/11? Robert Scheer asks what haven't we learned:
http://www.alternet.org/stories/41474/

Path to 9/11 wrap-up: ABC makes some cuts, beefs up disclaimer.
http://www.sfgate.com/cgi-bin/article.cgi?f=/n/a/2006/09/11/entertainment/e020031D87.DTL

Somebody has found out why Disney/ABC got all political on us:
http://www.mydd.com/story/2006/9/10/22035/2310

Workin' for the man 24/7/365
http://www.alternet.org/workplace/41404/

Alana and Chris Evans
New company sends out booty call for male newbies

If you're a horny late-teen-early-20s man, this is your lucky day. Alana Evans and husband Chris are starting a new company, and they're looking for new male talent to fuck Alana on camera. For full details, read on.

ALANA EVANS & CHRIS EVANS LAUNCH CREAMWORKS FILMS
Porn's hottest couple becomes porn's hottest producers.

(WOODLAND HILLS, CA) -- One of adult entertainment's most notorious couples just got even hotter! ALANA EVANS and husband CHRIS EVANS, known for their scorching sex performances in front of the cameras, are now going behind the lens to form their own company, CreamWorks Films. The transition has been a dream come true for the couple and a goal of theirs since they began working in films nearly ten years ago. With ALANA's creativity and CHRIS's talent for everything from camera work to editing, to say nothing of their hard hitting sexual panache, CreamWorks is a company fans and fellow industry insiders alike will want to watch in the coming year as it blossoms into its own and rises to the forefront.
The dynamic duo is currently wrapping production on the first installment of their debut series, "Pick 'Em Young," which sees ALANA scoping out locals for hot 18 - 21 year olds who have never had sex on camera. She seduces the fresh meat while her husband captures it all on cameras, giving these boys a ride they'll never forget or ever be able to live down!
Hot 18 - 21 year olds in the Los Angeles County area looking to perform on camera with ALANA EVANS can email CreamWorks publicist, JASON SECHREST, at jason (at) jasoncurious.com. (Ahem... "hot" being the keyword!)
CreamWorks Productions is to be distributed through Cinderella Media. Visit www.AlanaEvans.com for further news and release dates as they become available.
Magician Dana Daniels, with Luigi the Psychic Parrot

TV guide

The Magic Castle will be on the Channel 5 Morning Show tomorrow morning, as intrepid reporter Gayle Anderson storms the Castle to interview magicians Dana Daniels and Jonathan Pendragon, and promo the 50th-anniversary edition of the magic show "It's Magic!" this coming Sunday at the Kodak Theatre, and probably also mention the star on the Hollywood Walk of Fame honoring Magic Castle founders Milt Larsen and Bill Larsen, Jr., which will be unveiled Friday.

NEWS FLASH!!

Dana Daniels will appearing on channel 5 news in Los Angeles tomorrow morning September 13th. 2006. It will be a live feed from the Magic Castle in Hollywood and also feature Jason Alexander from Seinfeld and renowned illusionist Jonathan Pendragon.

Reporter Gayle Anderson will be doing two to three live spots that morning promoting the 50th anniversary of the It's Magic Show.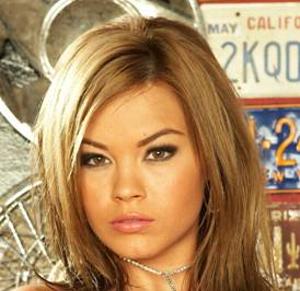 Brea Lynn. Pic courtesy of Rockstar magazine.

New contract performer at Vivid

The North Hollywood outfit signs a new 20-year-old to an exclusive pact, starting her first vid on October 20. Here's the detail:

BREA LYNN IS SIGNED AS THE NEWEST VIVID GIRL

20-year-old Phoenix dancer and former student nurse has never even been on a set but is ready for her next big adventure

LOS ANGELES - Twenty-year-old Phoenix dancer and former student nurse Brea Lynn has been signed as the newest Vivid Girl and will perform exclusively in films for the leading adult studio.

With measurements of 32DD-24-34, Brea admits to knowing very little about the adult entertainment business. She says, "Though I've been interested in it for some time, I've never shot anything and never even been on a set. Vivid is making it an easy transition for me. Everyone I've met at the company was not only nice, but very caring about me. I feel as if I'm getting ready for my next big adventure."

She will go into production for her first Vivid Entertainment movie starting October 10th. The feature will be directed by award winning director Paul Thomas.

Brea was attending nursing school and dancing part time when she was discovered by her agent who got her interested in modeling. Several top photographers shot pictures of her and the photos were brought to Vivid. Co-chairman Steven Hirsch set up a meeting with her and soon after invited her to join the company.

She describes her personality as outgoing, fun loving and a bit goofy. She says she loves dancing and hopes to continue in between making movies for Vivid. "I love to go on stage and like to impress and please people with my pole tricks," she noted. "I've had a few memorable experiences, including one time when one of my tricks didn't quite work and I fell off the stage and landed on a table. The guys who were sitting there were a bit startled, but happily, I wasn't hurt and just jumped back on stage. I actually made more money than usual that evening," she noted.

As far as dating, she says that she likes men who are confident. "If they show confidence in themselves, they'll also be confident in their lovemaking," she notes.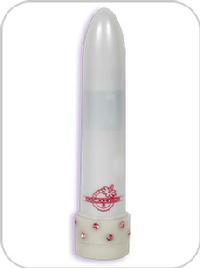 A kiss on the hand may be quite Continental, but a rhinestone-studded vibe is pure North Hollywood

Rhinestones replace diamonds as a girl's best friend

Doc Johnson releases "Jenna's Jewels," – no, not a cast of her tits, they've already done that – a vibe with rhinestones down at the switch end, which comes in 5-1/2 and 7-1/2 inch models. Read on.

Diamonds are Forever, but Rhinestones Feel Much Better
– Doc Johnson, Club Jenna Introduce Jenna's Jewels –

NORTH HOLLYWOOD, Calif. – On its 30th anniversary, adult novelty powerhouse Doc Johnson and adult film princess Jenna Jameson, through her namesake production company, Club Jenna, presents a novelty fit for royalty.

Developed by Doc Johnson, exclusive manufacturer of all Club Jenna products, Jenna's Jewels™ are multi-speed waterproof vibes with a pearl white body encrusted with pink rhinestones that circumnavigate the base of the vibe, immediately above the twist dial that controls the multi-speed settings of the vibe. Jenna's Jewels™ are available in 5.5-inch or 7.5-inch versions.

"Because Jenna is the most popular adult film star on the planet, she also has a huge female fan base," said Chad Braverman, Doc Johnson's director of product development and licensing. "The rhinestone accents in Jenna's Jewels are a nice touch to a sexy product that we're confident will be a huge hit among women."

Doc Johnson's collaboration with Club Jenna frequently results in some of the novelty industry's best-selling items, including recent hits such as Jenna's Perfect Pair™ and anatomically correct UR3® Pocket Pussies™ created from molds of Club Jenna's contract stars.


Vice is nice

A recent flopperoo mainstream film gets the porn once-over, with Kurt Lockwood and Tee Reel standing in for whoever Universal got to stand in for Don Johnson and Philip Michael Thomas. Have a look.

L.A. VICE BATTLES BAD GUYS & DIRTY GIRLS FOR SEX Z PICTURES

(HOLLYWOOD, CA) Sex Z Pictures is set to roll out a cell-block load of California sunshine as they prepare to release the rock 'n' roll detective romp L.A. Vice in stores September 22nd.

With a cast of sexy cuties, veteran performer and sophomore director Kurt Lockwood teams up with Tee Reel to reinvent the best cop duo since Adam-12. Borrowing from the popular television show set in Miami during the 1980s; L.A. Vice takes the viewer on a bulldozing and reckless ride on the mean streets of Los Angeles as good battles evil and fucks it.

"This movie is packed with beautiful California girls and is quite funny," stated the movie's executive producer and Sex Z Pictures' owner Bo Kenney.

"Directing my second adult feature film for Bo Kenney and SEX-Z PICTURES has been a total labor of love. The idea of a porn version of Miami Vice had been kicking around in my head for a while now and this was really fun to make," stated Lockwood as he looked at his completed project with the beaming pride of a brand new father.

"We shot all around L.A. so we could make the city of L.A. seem like a character in the movie. We shot everywhere from Venice, the Valley, and on the Sunset Strip in Hollywood. We had a great time," Lockwood reflected.

Using the sun-soaked city of Los Angeles as a backdrop proved to be a very difficult undertaking for the idea filled director as his grand vision met with the reality of producing a location movie.

"This is a lot more difficult than it looks but I think the results are great," he continued as he commented on the difficulty of shooting on location as opposed to solely at a studio or house.

"There were so many cool places we had to go to get the perfect shots but I'm really happy with the results," he reflected.

If cops and robbers are your thing, then L.A. Vice packs enough good versus evil to give you a full time hard-on that will endure through any prison sentence. With sex gangsters and good girls such as Samantha Ryan, Jenna Haze, Sandra Romain, Harmony, Annie Cruz, Trina Michaels, Marie Luv, Nyomi Marcela, Gia Jordan and Nicki Hunter supplying the pussy power, Lockwood turns on the tongue in cheek humor with his authentic performance as the conflicted lead cop. A surprising stint by everyman's favorite superstar Ron Jeremy gives the movie a final touch of urban street credibility.

As the evil king pin bad guy, Jeremy plays the role he was born to star in and looks every bit the part of fat cat drug lord. "I love working with Kurt and L.A. Vice was a fun movie to be in," Jeremy stated as he dined at a Hollywood eatery looking more like a mob boss or syndicate dealer than a legendary cock star.

In fact, Jeremy is not the only porn legend in L.A. Vice as Lockwood cast legend Nina Hartley to play the role of the police captain. "I was so happy when Nina said yes. Tee-Reel fucks the shit out of her, by the way," Lockwood mused.

Cops, robbers, gangsters and California sunshine abound in this sexy urban flick. L.A. Vice will be in stores everywhere September 22nd from Sex Z Pictures.

For a sneak preview check out the action packed movie trailer available on the Sex Z Pictures website. Check out www.sexzvod.com and www.myspace.com/sexzpictures for more information


Speaking of Miami...

Platinum Blue heads to the Sunshine State to get a good look at the local talent, up-close and spread-eagled.

Eight is not Enough for Platinum Blue's Miami Maidens 8

Chatsworth, CA – Platinum Blue and Edge Entertainment's pro-am series, Miami Maidens, just gets better and better. Number eight in the series is shipping out this week.

"The fucking is still as solid as ever, and we've kicked up the box art and look of the authoring," said Platinum Blue President and CEO Skye Blue. The latest episode in the series features Destiny, Kiki, Mackenzie, Britney Jay and Brandi May.

Directed by Dale Dabone, the series with on location Miami action and talent is getting good reviews all around. Roger T. Pipe says, "If you like fresh new girls then this is a line that you will want to pick up," and Foundry Music said, "All the performances are top notch."

To order 'Miami Maidens 8', and other exclusively distributed titles from Platinum Blue, see PlatinumBlueProductions.com, or contact skye (at) platinumblueproductions.com.


Look! There on the bed!

The SuperWhores line gets a new director, who was already on staff at Mercenary. The usual carnal attractions are expected to follow. Here's the release:

Tina Tyler Takes the Helm of Mercenary's SuperWhores

CANOGA PARK, Calif. — Mercenary director Tina Tyler adds SuperWhores to her list of directorial credits as she takes the reigns of the critically acclaimed series with its seventh volume.

SuperWhores 7 stars Felony, Velicity Von, Cassidy Blue, Sara Jay, Bailey Monroe, Jean Baptiste, Brian Pumper, Mr. Marcus and Mercenary owner and three time Male Performer of the Year, Lexington Steele.

"I'm elated to take over one of Mercenary's best-known lines," Tyler, who also directs IronHead, Black Moon Risin' and Fresh Out the Box for Mercenary, as well as Blow Hardz and Handyman for Mercenary's subsidiary Black Viking, said. "Mercenary and Lex have given me the opportunity to develop as a director and I've received nothing but support every step of the way. Lex giving me the helm of SuperWhores is something I thank him deeply for, and I'm looking forward to my further contributions to Mercenary's excellent library of titles."

SuperWhores 7 is an outstanding addition to the series, Steele said, but he also expected nothing less from Tyler.

"I have the utmost confidence in her ability as a director and she's always delivered titles that are excellent in all facets of production," Steele said. "She consistently shines as a shooter and director and she's been with Mercenary since the company's began distributing its own product. She has an amazing rapport with the performers, and since she came to directing after a career as a true porn star in the adult industry, she's able to get the women in this business to go above and beyond what they normally would do. Tina's product gives the consumer at home the most bang for their buck -- which is what we strive for with all the titles Mercenary and Black Viking releases."

For more information, visit LEXINGTONSTEELE.COM. Distributors may contact Hank at mercenarypictures (at) msn.com. For foreign sales, contact Dani at dani (at) calvista.com.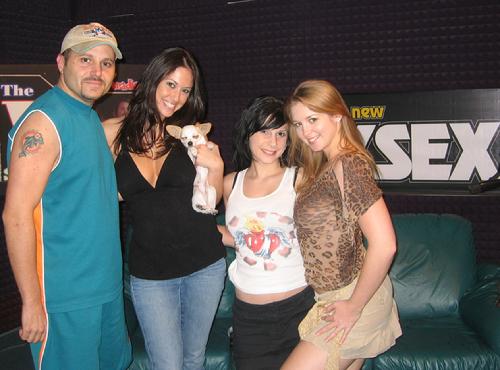 Joanna Angel, second from right, with Wankus, Cassia Riley, and Sunny Lane at KSEX last night

September 7, 2006

See? Smart IS sexy.

Joanna Angel, who I met last night at KSEX, was named one of the 25 sexiest New Yorkers by the New York Post. Here's the information, along with a picture of The Lady Herself from last night's Wanker Show.

New York Post Chooses Joanna Angel as One of the 25 Sexiest New Yorkers

New York, NY — Joanna Angel, owner of BurningAngel Entertainment and VCA Pictures contract star, has been chosen by the New York Post as one of the 25 sexiest New Yorkers.

The New York Post is one of the oldest newspapers in the United States. Since 1976, it has been owned by Australian-born billionaire Rupert Murdoch's News Corporation and as of March 2006, is the 11th largest newspaper (in terms of circulation) in the United States. The piece was written by Sara Stewart and Reed Tucker. The New York Post has a circulation of about 700,000.

"There are so many beautiful people in New York, I am flattered to have received this honor," says Joanna Angel.

About Joanna Angel:

Joanna Angel, writer, journalist, producer, director, model, and award winning adult film star, is founder and owner of BurningAngel.com, an independent site that celebrates the intersection of sex and rock n' roll with erotic photos and hardcore XXX movies alongside her interviews with punk and indie bands including Marilyn Manson, My Chemical Romance, the Bouncing Souls, and Bad Religion, among many others. Referred to as the "queen of altporn," Joanna has been featured on Playboy TV's "Sexcetera," Fuse TV, KSEX Radio, and in numerous editorials, including the The New York Times, The Village Voice, Time Out New York, The New York Press, Esquire UK, Penthouse, SCREW, XBIZ, Fleshbot, and Heeb, which featured her on their cover and named her an "up-and-coming Jew." Joanna holds a B.A. in English from Rutgers University --among her numerous professional and provocative roles, she considers herself a writer above all and documents all her life's experiences in her BurningAngel blog, which is revered by intellectuals, hipsters and rock n' rollers across the globe. She also acted as a featured sex advice columnist in Spin magazine.

Tony Blair: I'm gonna quit

Little Boots' attack poodle Tony Blair, facing substantial opposition at home and within his own Labour Party, today confirmed that he'll resign within a year. No word about which major multinational corporation will hire him as an influence-peddler. Yet.
http://news.yahoo.com/s/ap/20060907/ap_on_re_eu/britain_blai

Back to wall, Little Boots finally tells truth on secret prisons

Looking like a deer in the headlights, Our Esteemed President read a piece of paper that was handed to him, containing the admission that the CIA was holding prisoners in secret and maybe they'll be tried if Congress approves.
http://www.nytimes.com/2006/09/07/us/07detain.html


See all this and more at Spearmint Rhino this weekend

Shy Love's opening in downtown L.A. tonight

The performer struts her stuff at the Spearmint Rhino through the weekend. Get there tonight and beat the rush.

HUSTLER CONTRACT STAR SHY LOVE TO FEATURE THIS WEEKEND IN LOS ANGELES
Fan Favorite Debuts New Shows at The Spearmint Rhino

(Woodland Hills, CA) A favorite of fans and gentlemen's clubs across the nation, SHY LOVE straps on her dancing shoes for a feature engagement September 7th – 9th at THE SPEARMINT RHINO in Los Angeles.

Shy has been working diligently to create fresh fetish meets fantasy feature dance presentations to captivate your soul. Never content with the average, Love immerses herself in the crowd for a totally interactive show that teases and tantalizes fans time and time again.

"I can't wait to show my fans my new costumes and choreographed stage shows. I am certain everyone likes that I keep it fresh and change up my look for each venue," said Love.

"Justin Timberlake isn't the only one bringing sexy back! One of my super lucky fans will get to join me on stage on Saturday night for my erotic water show and he or she will get wet n' nasty with me on stage, in front of everyone!" Shy exclaimed.

After each spellbinding stage show, Shy looks forward to seeing you up close and personal for a lascivious lap dance. Polaroids, movies, and other merchandise are available for purchase and will be personally autographed.

THE SPEARMINT RHINO is located at 2020 East Olympic Blvd., Los Angeles, CA 90021. Please visit www.spearmintrhino.com for show times and additional information.

SHY LOVE fans worldwide can see more of this hot HUSTLER contract star by visiting her official web site www.shylove.com.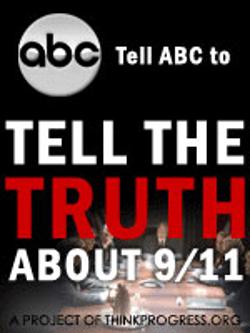 Click here for more detail on this ongoing story

Clinton officials dispute ABC "Path to 9/11"

Former Secretary of State Madeline Albright joins those asking ABC to revise the TV movie to reflect the facts.
http://www.washingtonpost.com/wp-dyn/content/article/2006/09/06/AR2006090601819.htm

"Path to 9/11" writer disclaims phone-slamming scene, calling it "improvised"

They're scrambling already. The writer of the screenplay, in a conversation with right-wing radios station KRLA here in L.A., said that a pivotal scene was improvised by the actors.
http://thinkprogress.org/2006/09/07/accidents-occur/

Scholastic backing off on "teaching guide" to ABC's 9/11 lie-fest

An online guide to the ABC blame-Clinton movie "Path to 9/11" has been taken down from the Scholastic Website, although a Scholastic spokesperson said it will be back up later. The Usual Websites will be keeping an eye on this one.
http://thinkprogress.org/2006/09/07/scholastic-911/


Who's the leader of the club?
Right wing gets talking points and makes identical defenses of "Path to 9/11"

Media Matters has noticed similarities in the terms used to describe "Path to 9/11" by four different right-wing commentators, leading to questions about the original source of the descriptions.
http://mediamatters.org/items/200609060011

Dane still movin' the goods on VHS

I guess the DVD revolution hasn't reached some places. Here's the latest missive from Liz at Dane. I usually don't edit or change these, but I made an exception here because it was IN ALL CAPS.

Not enough....what is going on?

A week ago bob said he was going to make VHS product if he had enough orders to do this. He already sold 10,000 in 8 days, so he figured he would make an additional 5,000 as he figured the demand would be less. Boy was he wrong. He's selling these faster than he can imagine. People are calling him for VHS from towns i never heard of. He has 100 titles of Dane being done as i write this. The price is still $1.50 we also have a limited number of sell-thru VHS, 300 titles for $1.00 if you would like more information contact Dane.

Contact us
Email: liz (at) daneproductions.com

I'm wondering... Can a comeback for Lp's be far behind? Should I hook up my turntable again?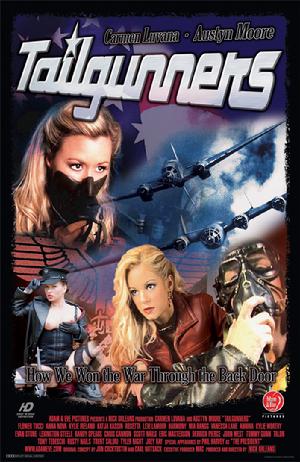 Women at war

Adam & Eve streams WWII-set vid

Tailgunners, a new vid from Nick Orleans featuring an all-star cast (including Phil Harvey), releases on September 19 but is available right now on streaming VOD if you don't much care about the plastic box. Here's the information:

AdameveVOD.com Announces Streaming Of "Tailgunners"!

AdameveVOD.com, the premiere video streaming site of adult industry powerhouse Adam & Eve, is pleased to announce the most anticipated movie of 2006, Adam & Eve Pictures' "Tailgunners," is now available for streaming.

Set for DVD release September 19th, 2006, this controversial XXX blockbuster is already drawing huge numbers in traffic with this "pre-release" online availability.

"Tailgunners," from award-winning director Nick Orleans, is an historical effort, over a year in the making, and inspired by true events. This epic story is set in 1944, as it's discovered that the Germans are testing a bomber that can fly overseas and drop a dirty bomb on Manhattan. In the fight to stop the Nazi ME 264 bomber, the United States loses a top spy, Louis Champagne. The President of the United States (played with delicious aplomb by Adam & Eve President, Phil Harvey) is desperate, and is pressured by the First Lady to do something never done before…let women fly for the military.

Amidst this tale of spies and politics, "Tailgunners" features 10 incredible sex scenes! Adam & Eve Contract Star Carmen Luvana earns her stripes as a Nazi sympathizer who will do anything (yes, anything!) to get what she wants. As the Argentinean "Red Devil," she devours any man or woman who gets in her way.

Former Adam & Eve Contract Star Austyn Moore (in her final film with Adam & Eve Pictures) proves she has what it takes playing talented pilot who is called into service for A.S.S. (the American Secret Service). An all-American 'girl next door' type, she gladly accepts the extraordinarily dangerous mission to occupied France. She uses both her brain and her incredible body to succeed.

Filled with campy humor, great special effects, historical accuracy and outrageous sex, "Tailgunners" is worth the wait. Featuring a cast of today's hottest adult film stars: Anna Nova, Annika, Flower Tucci, Harmony, Katja Kassin, Kylie Ireland, Kylie Worthy, Lexi Lamour, Mia Bangg, Roxetta, Vanessa Lane, Chris Cannon, Derrick Pierce, Eric Masterson, Evan Stone, Joey Ray, John West, Lexington Steele, Randy Spears, Rusty Nails, Scott Nails, Talon, Tommy Gunn, Tony Tedeschi, Trent Saluri, Tyler Night, and an exclusive appearance by Phil Harvey, "Tailgunners" can be viewed today at http://www.adameveVOD.com.


New Neighbors sets release date

The new vid "The New Neighbors" hits the streets next Tuesday, just like a mainstream movie DVD release. Have a look:

'The New Neighbors' Move on to Your Block September 12

Canoga Park, California - SLLAB's first feature production, Frank Castle's 'The New Neighbors' introduces the adult audience to twisted, scary ideas that play on social taboos and psychological horror. This long awaited release is available September 12, through New Beginnings.

"It's been a long time coming," agrees Castle. "SLLAB and SLLAB's distributors were waiting for the right time to release 'The New Neighbors', and we all agreed that September was the right time to release this film. 'Neighbors' advance reviews are overwhelmingly great and I'm looking forward to seeing my movie make it onto the store shelves"

'The New Neighbors' pushes the boundaries on horror porn. Demons, depraved orgies, exorcism, perversion and even a nun who does gangbangs, are all involved in the sordid story of how one quiet community responds to an invasion by a subversive force of evil.

"'Neighbors' will make people think about what could possibly be going on right next door to them, and what we all are capable of doing…with just a little push from the right outside forces" Castle said.

Tod Hunter of tod-hunter.net praises 'The New Neighbors': "Randy Spears adds another powerful performance to his résumé, and Nicki Hunter shines as an evil seductress. Jack Remy's camerawork dazzles the eye, especially in the night scenes. A high point in plot-driven [adult] video."

Portraying the innocent and the evil in Castle's psychological drama are Linda Roberts, Mike Horner, Nicki Hunter, Randy Spears, Haley Paige, Jack Venice, Steven St. Croix, Tommy Gunn, Barbara Summer, Tyla Wynn, August, Brooke, Kyle Stone, Kyle Moore, Jerry and a special appearance by E.Z. Duzzit, as Severin.

To order 'The New Neighbors', contact New Beginnings by email at bryan (at) newbeginnings.com.

For 'New Neighbors' trailers, galleries and other information, visit sllabwurks.com.

For 'New Neighbors' collectibles, visit www.cafepress.com/frankcastle.


Period piece

I guess WWII is hot right now. People are nostagic for a war we could all get behind. Same thing happened in the '70s, note Bette Midler's 1973 hit with Boogie Woogie Bugle Boy and the 1974 Broadway musical Over Here! which reveled in WWII imagery in the depths of Vietnam. Anyways, here's a new release from VCA set in the '40s, and it looks good. And maybe a bit more realistic than the Hays Code-approved mainstream movies of the time. Take a look for yourself:

CALENDAR GIRLS WHO GO ALL THE WAY

(HOLLYWOOD, CA) Sweet and seductive pin-up girls come to life in the VCA Pictures release PIN-UP PUSSY. Available now, PIN-UP PUSSY features stunning adult-film stars portraying 1940s calendar girls. But, unlike the pin-up girls of the past, these women go all the way.

Directed by Eric Lasher and Alec Metro, PIN-UP PUSSY allows the viewer to experience the voluptuous and feminine women of the '40s. From the sexiest garter belts to the impeccable art design, no detail was overlooked. Metro remarked about the film: "We spent a lot of time researching the era and went to some of the best costume houses in order to get it right. We also paid particular attention to who we cast -- their tattoos, hair and body type -- to make sure we got everything accurate." He added: "The design crew did an amazing job building sets that add to the '40s flavor. They created all the sets I requested, including a life-size fighter jet in a hangar, a battleship and even a boxing ring."

PIN-UP PUSSY features five pulse-racing, creative scenes that will appeal to both men and women. In fact, Metro was so determined to make a film that aroused both of the sexes that he collaborated with a female friend. "I want more women interested in adult video," said Metro, "so what better way than to hire someone who is not in porn and utilize her ideas."

In one scene, the adorable Phyllisha Anne engages in some hardcore and very patriotic sex with the sailor-suit attired Will Powers. From the big band music playing in the background to the naval ship set, this vignette is a true fantasy. Phyllisha Anne is so thoroughly in character that even when she takes it from behind, she still keeps her heels and sailor cap on. She is, after all, a lady.

In another dazzling scene, the very flexible Vanessa Lane plays a horny card girl in a black-and-white boxing fantasy with Reno. While being pleasured by Reno, Lane executes a graceful handstand that is truly awe-inspiring. This scene alone is well worth the price of admission.

Everything about PIN-UP PUSSY is unmatched. In addition to beautiful costumes and production design, Lasher and Metro did not skimp on the sex. Every single woman in the film can screw like a bona fide dirty girl.

Already, PIN-UP PUSSY is making a splash. David Diamond, director of sales at VCA, can't keep up with the overwhelming demand. "Everyone is blown away by the gorgeous cover of Avy Lee Roth," he says. "The packaging is so unique and sexy."

Buy it today! More fuck for your buck: Every VCA release comes with a bonus feature-length DVD.


September 6, 2006

Tempus fugit

Man, does it ever.

It was forty years ago this month. I forked out my six bits for the September 1966 Playboy, and when I got to the centerfold I was transfixed by this image:


Dianne Chandler, Miss September 1966. Image copyright © 1966 Playboy.
Her name was Dianne Chandler, and she was the most beautiful woman I had seen in my scant 14 years. (This exotic older woman was all of 19 at the time.) In 1996 I met her in passing at Glamourcon and after extended e-mail exchanges we met again at the Playboy Expo at the Pacific Design Center in 1999. We hit it off immediately and I took steps to get her to review Playboy videos in That Magazine. (This gig is mentioned in the 50th-anniversary reissue of The Playmate Book.) I'm happy to say that she remains a friend to this day, and The Lovely Mrs. Hunter and the Little Hunters have adopted her as a friend of the family. (In 2004 I escorted Dianne to the Playmate of the Year luncheon, and she and I blew off the after-party to have dinner in Hollywood with The Lovely Mrs. Hunter and the Little Hunters instead.)

On this 40th anniversary of Dianne's appearance in Playboy, I just wanted to say holy crap how did 40 years go by that quick?!??

Congratulations on your anniversary, toots.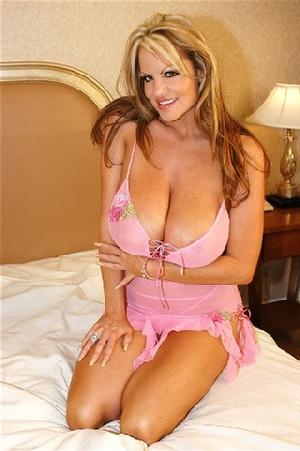 Kelly Madison

The 411 on 413

Performer Kelly Madison renames 413 Productions, issues press release to celebrate. Attaches picture so I'll post it. It worked.

413 Productions is now Kelly Madison Productions

Los Angeles, CA -- Adult Film Star Kelly Madison (Owner of the successful Web enterprise KellyMadison.com and Pornfidelity.com as well as the enormously popular PornFidelity DVD series), has dropped the name 413 Productions and will now run all of her movie titles through Kelly Madison Productions.

Recently, Kelly Madison and her husband Ryan launched Kellycash.com, the affiliate program for all natural 34FF Kelly Madison's official website, KellyMadison.com and her three-some site, Pornfidelity.com. Kelly Madison also launched Kellyfind.com, a free online adult content database created by Kelly Madison, has exceeded 7,000 girls. The website was built and staffed by 413 productions, which not only contains more than 7,000 models at this date, but over 50,000 galleries in its database.

"Ryan and I decided that 413 Productions needed a makeover, and what better way than to create an umbrella production company that encompasses all of our 'hard' work! Thus, Kelly Madison Productions was born, and we are excited with the endless possibilities. Kelly Clarkson, eat your heart out!"

Kelly Madison discusses the changes to her company. "Changing the name of our production entity better reflects my hands on approach to every aspect of our video production company. I have always been the one to make all the final decisions and success or failure has always been reflective of my personal choices so we thought the name of the company should represent that."

"413 Productions came about because we started in an old warehouse, penniless, and that place happened to have the address 413. We began our company wanting to do websites for other people and be more service oriented. After seeing the success of our own projects such as kellymadison.com, pornfidelity.com and kellyfind.com we figured out that my name and personality was more profitable than the other projects. We dropped the other sites and now we are embracing the name Kelly Madison Productions to better reflect the products we produce. We look forward to making a name in the adult industry as producing DVD's that are original in theme and boasts the quality consumers require."

Kelly and Ryan take pride in the fact that the both of them do everything from casting, filming, editing, website production and even their own banking and customer service. The company has become a one stop shop, taking on the responsibility to making their fans happy.

Kelly Madison Productions just released Slant Eye For The White Guy, as well as Pornfidelity's Dirty 30's. "With Kelly Madison Productions and Pornfidelity, we have a wide variety of movies for everyone's pleasure."

ABC goes commercial free for 9/11-was-Clinton's-Fault TV movie

After the lefty blogs (http://www.hoffmania.com/blog/2006/09/factchecking_th.html) started screaming about this TV movie, Path to 9/11, that basically whitewashes Little Boots and blames President Clinton for the terrorist attacks on September 11, 2001, suddenly ABC decides that they're still going to run it, but without commercials. They are also offering it for free download on iTunes. Does ABC have that many stations up for license renewal?

I'm thinking of having one fuck of a garage sale if Disney goes through with this. (Hold your horses, Carly, I'm just thinking about it.)

A couple of questions for ABC

Jennifer Nix wants to know. So do I.
http://www.firedoglake.com/2006/09/05/if-only-i-had-an-abc-approved-press-pass/

For the latest on this "Path to 9/11" business

Check in with ThinkProgress. http://thinkprogress.org/?tag=Path+to+911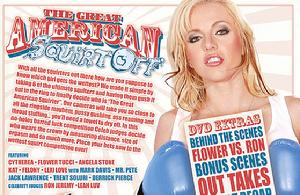 Back cover. All of the copy, none of the nudity (if you crop it right).

Nocturnal focuses on emissions for latest release

The Great American Squirt Off is coming, so to speak, next week, with a competition between several porn performers to see who can make the best impression. I've only seen one of them in action, Cytherea, who shot a load halfway across the KSEX studio, and she's here, which will probably trigger a déjà vu reaction when I see it on my home TV. I'll probably dive away form the TV set. Here's the info straight from Megan's keyboard:

Nocturnal Makes Its Great American Entrance

Chatsworth, Calif. – Squirting is a controversial subject, especially for fans wanting to know who the best squirter is. Nocturnal Productions' first release will set the record straight and crown the queen of squirting on September 12 with their release of The Great American Squirt Off.

The Great American Squirt Off is a true competitive squirting challenge featuring Flower Tucci, Cytherea, Angela Stone, Lexi Love, Kat and Felony. Each contestant's squirting abilities were actually measured in several categories such as distance, amount of fluid and frequency. The title also features Mike Maravich as the comedic host and Ron Jeremy and Leah Luv as the Judges.

"Squirting is such an interesting subject to us, on message boards you see hundreds of fans arguing back and forth for their favorite performer. We saw the need for their to be some sort competition to decide the winner and to film the most amazing orgasms I have ever seen!" said Ian Friedman, Nocturnal Owner. "The girls got really competitive and gave their best. I am pretty sure we broke all the records in our distance squirting challenge."

"This competition was quite a unique experience. We had four cameras rolling at all times to make sure we caught everything. We didn't hold back, we weren't afraid of 'getting our feet wet', so to speak, and it shows" said director Eddie Powell. "It's very up close and personal, literally."

"The title has all ready exceeded everyone's expectations even before ship date." said Megan Stokes, Vice President of Sales at Shane's World Studios. "The release of this title is a milestone for Shane's World Studios. Nocturnal is the first company we have chosen to distribute for. We are thrilled it's doing so well and excited to be adding even more great reality lines to our catalogue."

The Great American Squirt Off will be shipping September 5th and streets on September 12th solely through Shane's World Studios. For foreign and domestic inquiries: megan (at) shanesworld.com.

Viacom's Tom Freston gets the heave-ho

I haven't been this surprised since Lew Wasserman and Sid Sheinberg left Universal. Viacom fair-haired boy Tom Freston got fired by octogenarian Viacom bossman Sumner Redstone. Freston had been instrumental in changing MTV from a video-music delivery service to a cultural force to be reckoned with (Boxers or briefs?) and for his good works got "promoted" when Viacom split into two companies, but it looks like Freston's company, "Viacom," got the B-list properties, mostly cable TV channels (and one possible A-list, Paramount Pictures), and new-kid-on-the-block CBS Corporation got the prestige properties like CBS Television, Showtime, and Simon & Schuster, plus cash cows like CBS Outdoor (billboards), CBS Radio (formerly Infinity Broadcasting), and KingWorld (about which I can't say much because of the libel laws, suffice it to say if it weren't for them I'd probably still be working in game shows). CBS Corporation is headed by whiz kid Les Moonves, whose résumé looks like something you would make up to impress somebody.

http://www.latimes.com/entertainment/news/la-fi-redstone6sep06,1,5503110.story


Freston may be gone, but the MTV knockoffs continue

Pipedream presents Pimp My Vibe, a jeweled slim dildo vibe. Don't worry, the jewels are down at the switch end. Have a look.
Team Pipedream Dares You To Take A Wild Ride On A Custom Vibe

"Pimp My Vibe" Blinginit To The Bedroom

(Chatsworth, CA) Pipedream, a leading manufacturer of adult pleasure products and novelties, premieres "Pimp My Vibe."

Team Pipedream's latest pleasure vibe has been stripped down, tuned up, and pimped out. Covered in smooth satin skin and decked with dazzling jewels, this sleek slimline multi-speed vibe is sparkling, seductive, and sexy.

Available in Purple, Red, Black, Pink, or Lavender, 2 AA batteries set it off. It'll make you throw your hands in the air like you just don't care!

Power it up, get yer freak on, and take a wild ride on this iced out custom vibe!

Are you down?

Pipedream's "Pimp My Vibe" is available now at your favorite adult shop or on-line retailer.

For more information about Pipedream's extensive line of adult gifts, novelties, and pleasure products, please visit www.pipedreamproducts.com.

GOP gave cash to Lieberman?

Nominal Democrat/Little Boots toady Joe Lieberman, who was defeated in the Connecticut Democratic primary, apparently got millions of dollars in campaign contributions from the White House.
http://www.huffingtonpost.com/2006/09/05/conservative-mag-gop-sec_n_28772.html


Sister sister

Lethal Hardcore adds incest to miscegenation in the latest edition of I Was Tight Yesterday as the business ends of the Stevens sisters get the plumbing of their lives in their first-ever scenes. Stoney Curtis is pleased, and you probably will be too.

Stevens Sisters Loosen Up for Their First Video Experience in Lethal Hardcore's I Was Tight Yesterday 5

CHATSWORTH, Calif. — Though it's the fifth volume of I Was Tight Yesterday -- Lethal Hardcore's critically acclaimed interracial series -- it's the first time on video for a pair of sisters that steal the show.

Directed by Lethal Hardcore owner Stoney Curtis and in stores now, I Was Tight Yesterday 5 stars Ashley Anne, Rickie White and Lexie Belle, as well as first-timers Whitney Stevens and Britney Stevens in six scenes clocking in at over three hours.

"The whole volume of I Was Tight Yesterday smokes, but there's nothing like watching a new girl get it on in front of the camera," Curtis said. "But the real treat's that we have sisters popping their video cherries. The Stevens sisters -- Whitney and Britney -- gave me a great scene and it makes this something all raincoaters will want to see."

Anal Cumsumption 5, Lethal Hardcore's next release slated to hit store shelves next week features Tiffany, Taryn Thomas, Tobi Pacific, Annette Schwarz and Laurie Vargas.

"Tiffany's appeared in many of our titles, but she keeps on turning out nasty scenes that grab the attention of our fans," Curtis said. "In this case, she shines in Anal Cumsumption 5, an anal creampie movie where she downs a man milkshake after it's deposited in her butt. It's a great scene and part of an even better gonzo title."

For more information visit stoneycurtisxxx.com. Distributors may e-mail Mike Ott at celestialproductions (at) socal.rr.com

September 4, 2006
Labor Day

This is the only day you get if you work for a living,
the other 364 are all "Capital Days" and don't you forget it

Private moving into mainstream?

Interesting idea. Usually it's individual people who move from porn into mainstream, Gregory Dark being the most recent crossover success, with the 2006 feature See No Evil. Now it's a company trying to break into mainstream, and they've certainly mastered the production values part of it. Here's the press release, and stay tuned:

THE ACADEMY AWARDS INCLUDES NEW CATEGORY CALLED ADULT ENTERTAINMENT

Or at least that is what the headlines would read if Private Media Group has anything to do with it.

Private, one of the world's leading adult entertainment companies, is not interested in taking it to the next level – because they have decided to take it to the top. After 41 years of publishing the best magazines and producing hundreds of award winning adult movies, Private will begin making movies for the big screen.

"The whole world is talking about how porn is going mainstream. There is a wax statue of Jenna Jameson at Madame Tussaud's and pornstars are appearing in advertisements for super brands. It's time for real-sex to be a real box-office hit," states Private's enigmatic CEO and chairman, Berth Milton.

And this is not just talk. During the past months Private has actually contacted the offices of several top directors including John Malkovich, Lars Von Trier, Julio Medem and Pedro Almodovar.

"Having a great director is one step, but to produce an award winning movie you also need a good script and talented actors, otherwise you will only be at the third level and we are taking this straight to the top," says Gary Thoulouis, Private's director of marketing. To get the right actors Private has decided to offer a whopping 1.000.000 USD to Latoya Jackson to star in one of their future cinematic productions and is planning to make the same offer to Sophia Loren, the sexiest woman to ever live, in a gallant attempt to convince her to co-star in a Private production of an uncensored, steamy, movie of her life. "These are not porn films, these are mainstream films produced by accredited directors and production companies." Mr. Thoulouis continued, "We are also planning to make the same or better offers to personalities like Rebecca Romijn, Sara Michelle Gellar and Yasmine Bleeth."

Since the early days of cinema, moralists have objected to nudity and sexuality, yet as cinematography aged and man evolved socially and emotionally there have been far fewer objections. Censorship boards all over the have world moved from a "pass the scissors" mentality to playing the rating game. However, most studios have always understood that film-going audiences want to see the sex. The greater permissiveness and tolerance, displayed by censorship boards, as is evident of the increase in nudity and sexuality in Hollywood's films, has opened a window for edgy production companies to climb through and for the viewer to get what they want.

Sexy and erotic images already appear in many varieties and kinds of films shown in cinemas, like art-house films, horror/slasher films, erotic dramas, European films and many mainstream films. Private's entry into cinema intends to exploit this already established norm as they finally provide the adult viewer with professionally directed and produced films with popular and talented actors. "They'll (The Academy Awards) have to create a new category for us," Mr. Milton boasted. When asked what the category should be called, Mr. Milton answered that "it could only be called Adult Entertainment.

Private Media Group is a world leading adult entertainment company which distributes a wide range of arousal stimuli multimedia content that range from beauty and glamour to semi explicit and explicit over all available platforms, including wireless and broadcasting technologies, narrow and broadband Internet, DVD and magazines. Private is the first adult entertainment company to be traded on the NASDAQ stock exchange (ticker symbol: PRVT) and owns the worldwide rights to the largest archive of high quality adult content in the world, which it distributes all over Europe, North America, Latin America, South Africa, Asia Australia and New Zealand.


Adultcon goes west

The little show that could is moving to a bigger venue at the L.A. Convention Center, into the West Hall for its next go-round later this month. The show itself is expanding as well, adding a second day. Here's the latest:

Adultcon Celebrates their 5-Year Anniversary by moving

After 10 shows, Adultcon begins the first step of a major expansion and re-vamping of their show.

Adultcon celebrates their 11th bi-annual 2-day convention by moving from 20,000 sq ft into the West Hall with 40-foot high ceilings and 65,000 sq ft. For the first time, there will be live entertainment to keep the fans longer.

This is the first of several moves to be announced as Adultcon is now on schedule to be in the position to grow larger and at a faster pace.

Adultcon will be on Saturday, September 23rd 1pm-9pm & Sunday, September 24th, 1pm-6pm.

Exhibitor booths start at only $750 for the 2-day show, which includes insurance & cleaning.

Adultcon guarantees excellent customer service and personal attention to exhibitor needs. Talent booths are only $150 & can be split with other talent making the booth only about $39 per day per talent.

For the fans, Adultcon continues their popular policy of admitting fans free on Sunday if they pay on Saturday.

The $35 admission is an automatic 2-day admission pass & includes a free $5 Adultcon casino chip to spend in the show, a free collectible Adultcon calendar, a free embroidered shirt (not a T-shirt) or cap, free admission to the post-parties, free admission on Sunday & a free DVD from Pink visuals.

The official Adultcon post-party will be at Rio Gentlemen's club on both Saturday & Sunday nights.

Adultcon is proud to have Xbiz as the official media sponsor of the convention.

Official word on Adultcon Vegas cancellation

Adultcon honcho Renaud tells me that the cancellation is due to an inability to find a venue that is adult-friendly and available during the dates he wants, which coincide with the SEMA Show, which brings a lot of adult consumers into Las Vegas.

Political paraphernalia

Right-wing nutbirds demand candidates return contributions from Playboy
http://www.xbiz.com/news_piece.php?id=16609

It isn't just me, everything is falling apart
http://seattletimes.nwsource.com/html/nationworld/2003226851_fragile26.html

Our Esteemed President: L'etat, c'est moi
http://www.correntewire.com/bush_im_responsible_for_the_federal_government_constitution_no_youre_not

Former President Carter "surprised and extremely disappointed" by Tony Blair
http://www.telegraph.co.uk/news/main.jhtml?xml=/news/2006/08/27/nblair27.xml

Real wages dropping as productivity down. All that DVD money is going to food, rent and gasoline
http://www.nytimes.com/2006/08/28/business/28wages.html

Federal judge puts kibosh on GOP block-the-vote plan
http://news.yahoo.com/s/ap/20060828/ap_on_el_ge/voter_registration_lawsuit

Who's in charge here?
http://www.boston.com/news/globe/editorial_opinion/oped/articles/2006/08/26/the_cheney_presidency/

ABC to air blame-Clinton 9-11 doc? Are ABC broadcast licenses up for renewal?
http://www.dailykos.com/storyonly/2006/8/28/1469/21819

"Fetal homicide" laws chip away at abortion rights
http://www.alternet.org/story/40676/

"Brownie" says the white House wanted him to lie. Hadda go to India for this one:
http://www.dailyindia.com/show/55052.php/Brown-says-White-House-wanted-him-to-lie

So. like, who's really the fascist?
http://www.commondreams.org/views06/0828-23.htm

What is the "public interest," anyway?
http://www.alternet.org/mediaculture/41030/

Jane Smiley: Business will kill you if there's a buck in it
http://www.alternet.org/envirohealth/40682/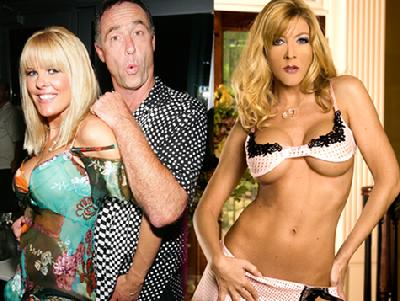 Sunset Thomas, guy who looks like Dick Martin but probably isn't, Lexi Lamour
Talent shuffle at KSEX

The Hunter-manse-adjacent Internet radio station re-jiggers its line-up, with new hosts joining the nightly free-for-all. Have a look:

Sunset Thomas, Lexi Lamour Become KSEX Hosts

New additions, musical mics and some fine tuning at the popular Internet broadcast station

In Kaufman and Hart's hit Broadway show, You Can't Take It With You, Mr. Depinna came to the Sycamore home to deliver ice and never left. VCA and HBO megastar, Sunset Thomas may just do the very same thing to her new friends at KSEX as she recently volunteered to celebrity host this Wednesday's episode of Contract Superstars, then accepted a regular role as the host of a weekly show beginning next Thursday night.

Penthouse Magazine's most featured model and member of the Hustler Hall of Fame, Thomas, with the help of her new co-ho, famed PR guru, Kent Wallace, is ready to use those sexy lips and get very personal with fans of KSEXradio.com. "I have a lot to say," Sunset laughed. "And while it's not my goal to verbally attack anyone, I certainly don't plan on editing my thoughts very much!"

The Cheri Magazine publisher will be live in the KSEX studio a couple of times a month but on some weeks will appear from a city around the country as she tours and dances on and off throughout the year. Thomas, who is also nearing the release of a tell-all book featuring her very interesting life, will host a show called Sunset After Sunset every Thursday at 9:00pm (PST), replacing Two Live Jew with Harry Weiss and Daphne Rosen.

"Harry and Daphne aren't leaving on bad terms," KSEX Program Director, Wankus said. "Their schedule got in the way of their weekly commitment--it happens a lot. We'll always welcome them back to KSEX if their situation changes." Two Live Jew has one final farewell show this Thursday night.

There are some other shuffling moves and additions as KSEX veteran, Flexx, along with adult star, Katie Gold are moving to Tuesdays from 5-7pm (PST) with the show Distorted Reality. Flexx, an adult webmaster known mostly for his urban focus, teamed with southern bell and porn star, Gold replacing Gauge and Quasarman who started the show three years ago. The pairing of the hood rat and the hick already made for one big distorted reality. But just in case it wasn't twisted enough, the crazy programming team at KSEX has added another personality. The third element in the mix will now be New Sensation's marketing pro, Mike Siegel who presents himself as "Jew Hephner" and adds yet one more twisted perspective into the mix.

Taking Flexx and Katie's old spot, recent Exotic Dancer's 'Club Owner Favorite' winner, Lexi Lamour grabs a mic along with Ethan Cage for their new show, Road Head heard at 9:00pm (PST) every Tuesday. Lamour has been a guest and fill in host on KSEX for many years and is excited that she finally has a show of her own. "I've always wanted a KSEX show but between my traveling schedule and availability, it never worked out," Lamour said. The opportunity has finally come and the show will focus on stories from the road, interviews with dancers and club patrons around the country, life with her husband and their long standing as a happy couple in porn.

On Thursdays at 7:00pm (PST), Tony Batman has been promoted from his "fill in" host status to regular show host with the addition of the program, I Don't Think So, Buddy!

Full KSEX Schedule:

MONDAYS

5pm – The British Are Cumming with Taylor Wane and Dick Nasty
7pm – The Wanker Show with Wankus and Rebecca Love
9pm – Tits and Asshole with Brooke Hunter and Don Hollywood
10pm – Temptation with LorrAINIAC and Cuzz Fucker

TUESDAYS

5pm – Distorted Reality with Flexx, Katie Gold and Jew Hephne
7pm – Aural Sex with Dee and "B"
9pm – Road Head with Lexi Lamour and Ethan Cage
10pm – Temptation with LorrAINIAC and Cuzz Fucker

WEDNESDAYS

5pm – Blast From the Past – KSEX Archived Shows from Yesteryear
6pm – Contract Superstars with Lacie Heart (Vivid) and Ashley Steele,
Stormy Daniels (Wicked) and Mike Moz, Nikki Benz (Former Teravision)
and Tony Batman, Tyler Faith (Team Tyler Productions) and Wankus
7pm – The Wanker Show with Wankus and Sunny Lane
9pm – Me So Horny with Mika Tan, Annie Cruz and A-Rock
10pm – Temptation with LorrAINIAC and Cuzz Fucker

THURSDAYS

5pm – Baadmaster's Dungeon with Baadmaster and Mistress Genevieve
7pm – I Don't Think So, Buddy! With Tony Batman and Monica Mayhem
9pm – Sunset After Sunset with Sunset Thomas and Kent Wallace
10pm – Temptation with LorrAINIAC and Cuzz Fucker

FRIDAYS

5pm – The Young and the Curious with Jason Sechrest and Sam Phillips
7pm – The Wanker Show with Wankus and Tyler Faith
9pm – Jaded by Lust with Layla Jade and Dustin K
10pm – Temptation with LorrAINIAC and Cuzz Fucker

(All times Pacific)

Bozell so upset over Mirren's Emmy statement, he misquoted it

Media watchdog Brent Bozell of the Parents Television Council, a right-wing pressure group that had no problem with nationwide broadcasts of Little Boots saying "shit," took serious umbrage at Emmy winner Helen Mirren's semi-vulgar statement of self-congratulation at ascending the stage without falling over. The pissy missive stated ''During the 9:30 pm CT/MT hour on August 27, 2006, the phrase "t*ts over a*s" was spoken by both Ms. Mirren and Ms. Flockhart and both times aired unedited during the NBC Network broadcast of the Emmys."

Years ago, when I was working at Jeopardy! there was one writer who had a disquieting habit of watching awards shows, writing down whatever she thought she heard and airily expecting the researchers to verify it. In self-defense, I started a habit of taping (now TiVo-ing) Awards shows. Like the Emmys. I fired up the TiVo, fast-forwarded to what Mirren said, and present it here:

My great triumph is not falling arse-over-tit as I came up those stairs.

And yes, the phrase was repeated by Calista Flockhard and Craig Ferguson. But it was "arse-over-tit." The oh-so-sanctimonious Mr. Bozell not only got it wrong, but in his fury he also didn't notice that tits-over-ass is the normal order of things.

I look forward to this frivolous complaint being dismissed.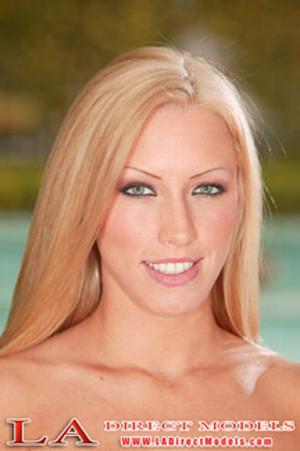 Portrait of the artiste

Cassie Young struts her stuff in Van Nuys this weekend

The performer gets a solo feature shot at the local club. Here's the detail:

Cassie Young Feature Dance Weekend At Rouge In Van Nuys

(Studio City, CA) Southern California is known for its warm climate and hot blondes and September 7th – 9th; Rouge Gentlemen's Club in Van Nuys will send the heat index soaring with fiery, fair haired, feature entertainer Cassie Young.

Young, who first made her dance debut in May for LA Direct Model's "Up And Comers" Beautiful Babes night, has since been feverishly working on stunning stage presentations for your viewing pleasure.

"I installed a stage and a pole in my house and been practicing for my shows making them more interesting and fun to watch. Kylie Wild has given me a lot of tips on how to interact better with the crowd. It's not just about putting on a good dance routine it's about the package as a whole."

The all natural, blue eyed Young can be seen in Third Degree's Camel Hoe's #2 available at stores now and will have copies on hand for purchase after each stage show. Cassie is also available for lap dances, polaroids, and autographs and looks forward to a little one on one time with her fans.

"I can't wait for the opportunity to personally meet everyone who comes out to see me. I love getting feedback about my scenes and what fans would like to see me do in upcoming films", said the Las Vegas native.

"The chance to meet face to face certainly allows me to get to know who my real fans are and for those who are, I always have a special free gift to give as a thank you for all of your support throughout my career."

Rouge Gentlemen's Club is located at 14626 Raymer Street in Van Nuys, CA 91343. Please visit www.rougegentlemensclub.com for more information.

Cassie Young's next scheduled feature dance appearance is set for September 15th – 17th at The Palomino in Las Vegas.

Cassie Young is exclusively represented by LA Direct Models. To book her for scenes, photo shoots, feature dancing, and more please visit www.ladirectmodels.com.


August 31, 2006

Transitions

I've been busy the last week or so, on a trip with The Lovely Mrs. Hunter and the Little Hunters to San Francisco to see A Chorus Line and the plan was to see other parts of Northern California, but we shit-canned that and just hung around San Francisco for most of the week, and I can recommend a hotel a one-block walk from Union Square, the Apple Store, The Virgin Megastore, a five-story used-and-new CD and DVD store, a Sephora, and the Powell-and-Market terminus of the cable cars. We left our car in the parking garage for five days. The trip was a final end-to-summer, with the Little Hunters starting school last Monday (yes, before Labor Day, what is the world coming to) and the older Little Hunter's 18th birthday Tuesday.

I think I shook hands with Jon Dough once or twice, we didn't know each other, so I don't have any warm personal memories about him to share. He was beloved by his friends, as you can tell from the tributes all over The Usual Websites. He had more than his share of problems, and he seems to have succumbed to despair and died by his own hand at 43, which is young for a person but old for a porn performer. Randy Spears has set up a MySpace page to help pay for a burial: http://www.myspace.com/jondoughmemorial (Randy, The Lovely Mrs. Hunter used to work at Forest Lawn and she can help with this. Call me.)

School starts, people pass on, Summer goes to autumn. Life goes on.


David Stanley is at it again

The way-talented writer-director puts Wicked Pictures contract performer Carmen Hart in his latest video. Sounds good to me.

NEW RELEASE: "1000 Words"
Sultry & Sexy Megastar CARMEN HART Delivers The Language Of LUST!

LOS ANGELES, CA - Wicked Pictures is proud to present 1000 Words, the latest exercise in hardcore erotic mayhem from award Winner David Stanley and exotic Wicked contract sensation Carmen Hart!

The last time these two XXX giants collaborated, the result was Rendezvous, the outrageous carnal comedy that received a near perfect 4.75 out of 5.00 rating from Adult DVD Empire, one of the world's most respected adult sales sites.

Over On Adult DVD Talk the praise has been just as high, with moderators offering in a review for the Kirsten Price vehicle Just Like That that Stanley's Wicked track record in 2006 constitutes the best winning streak of any adult filmmaker since 2002! With 1000 Words featuring Carmen in the most outrageous boy/girl scenes she's filmed to date, the reviews - and sales - will undoubtedly soar even higher!

And with the Brad Armstrong blockbuster Manhunters geared and primed for an explosive September release that's certain to push this exotic beauty to Stunner Number One status both near and far, accept the super-explicit 1000 Words as an early invitation to quench your lust in the kind of satisfaction that only Carmen Hart can deliver!

Wicked Pictures Presents
1000 Words
Starring Carmen Hart & Directed by David Stanley.
Shot & Mastered In High Definition

DVD Includes: English & Spanish Audio, Interactive Menus,
Chapter Selection, Bonus Scene, All Access - The Making 1000 Words, Star Stats, Trailers, Wicked Casino, Wicked Award Winners & Nominations, Web Site Information, Company Information, Parental Lock
DVD-ROM Compatible

For More Information Visit:

www.wickedpictures.com
www.carmenhart.com

For Wicked Pictures Domestic Sales Information, Please Contact Bonnie Kail
Bonnie (at) wickedpictures.com

For Wicked Pictures International Sales Information, Please Contact Steven Vlottes
MrVlottes (at) wickedpictures.com

Ken Levine weighs in on the Emmy Awards

And as usual, he's laughing-out-loud funny. (By the way, that girl in the low-cut gown at the very end congratulating one of the producers of 24 was not April Storm, I asked her. Oops.) Read and enjoy:
http://kenlevine.blogspot.com/2006/08/2006-emmy-awards.html


(L-R) House of Blues, Lucky Winner, Sunny Lane
Teppan steak, Ted Nugent and Sunny Lane

Not exactly the ol' loaf-of-bread-a-jug-of-wine-and-thou, but it'll do. The lucky devil who won the date-with-Sunny-Lane contest gets his face splashed all over the Websites, along with the unfortunate quote "I love her spunky spirit." Here's the story so we all know exactly who and what to envy:

Jon Rocks Ted Nugent Concert, Visits XXX Set Thanks to Lethal Hardcore

CHATSWORTH, Calif. - Jon, winner of Lethal Hardcore's Win a Date with Sunny Lane contest, rocked Hollywood to the San Fernando Valley during his whirlwind stay in Los Angeles.

The Arizona native was met at the House of Blues on the Sunset Strip on Aug. 19 by Lane, an award-winning adult star, and a limousine that took them to dinner for two at Benihana in Beverly Hills. After a steak dinner, the pair took a leisurely drive up the Sunset Strip, then around Hollywood before returning to the House of Blues to watch rock legend Ted Nugent perform in an amazing show.

The next day Jon was on the set of a scene starring Odessa, a new performer, and Nathan Threat in Lethal Hardcore's upcoming release, Black on White Camel Toe.

"Sunny's incredibly hot in that girl next door kinda way -- I love her spunky spirit and she truly seems to have fun in her scenes which makes all the difference," Jon said, adding that he had an amazing time in Los Angeles with Lethal Hardcore.

Stoney Curtis, owner of Lethal Hardcore, said he was happy to give a fan the opportunity to meet his favorite performer and to give him a first-hand look at the process of shooting a scene.

"Lethal Hardcore always strives to give the fans what they want," Curtis added. "We're always interested in giving them what they're looking for in adult entertainment and we're happy that we could give back to them with the Win a Date With Sunny Lane contest."

For more information visit stoneycurtisxxx.com. Distributors may e-mail Mike Ott at celestialproductions (at) socal.rr.com.


Miss January, Miss February, Miss March, et cetera...
Tera Patrick calendar on the way
The Tera Patrick 2007 calendar will be shipping for those end-of-the-year gift-giving opportunities. Have a look:

Tera Patrick 2007 Calendar Coming Soon To A Store Near You

(Studio City, CA) Tera Patrick fans world wide can now see the exotic brunette bombshell each and every day of year. The highly anticipated, long awaited, 2007 Tera Patrick Calendar and two full sized posters are coming soon to a store near you!

Entering into an exclusive licensing agreement with TNT Media Group, a twelve month calendar and two posters are the first of many licensed items that can be found in most popular retail bookstores and on-line outlets beginning late September.

Joining an illustrious line up of other popular licensees including Maxim, Fender Guitars, Pirates of the Caribbean, Star Wars, The NFL, and FHM to name just a few, Tera is ecstatic about the partnership and looks forward to offering fans new products.

"This is officially my first ever calendar, and retail posters! This will definitely be a recurring collector's item for all my fans around the world. 2007 is available now, and we have just finished shooting my 2008 calendar, which will be available next summer. Growing up I always idolized pinups like Bettie Page, and Marilyn Monroe, so to be able to hang on guys walls all year round is a real thrill for me!"

TNT Media Group, who is already receiving pre-orders for Tera's new products, is equally thrilled with the agreement

"We're very excited to be working with Tera Patrick. She adds another dimension to our product lines. Two posters will be releasing shortly and we're rushing a 2007 edition calendar to market, something we normally wouldn't do this late in the season," says Jeff Loeser, Vice President of Licensing.

Tera Patrick fans worldwide can visit www.clubtera.com where you will find exclusive photo sets, upcoming appearance schedules, news, and much more. You can also purchase limited edition, personally autographed merchandise as well as TeraVision/Vivid DVDs.

To view exclusive, extended trailers of Tera's most recent TeraVision/Vivid features available nowhere else on-line please visit www.teratrailers.com.

Be sure to declare those sex toys and that bottle of lube at the January awards

Goodies distributed at awards shows are now considered taxable income. Have a look:
http://www.washingtonpost.com/wp-dyn/content/article/2006/08/17/AR2006081700844.html

Dane still stocking VHS

This does make sense. There are still a helluva lot of VHS players out there.

Greetings from Dane Productions

I Ain't Nucken Futs!!!!!!!

A few weeks ago, I ordered 10,000 VHS format movies, 100 of our top titles, 100 deep. These include Nineteen, University Coeds, Panty World, Run Aways, Oral Exams, Virgin Stories, POV, One Woman, and the ever popular Hookers. These came in on a Monday, And the following Tuesday, they were for the most part gone. Everyone Laughed when I told them I was going to do this, but I know people, and you have a separate what you like, and think of the customers instead, and their likes.

I know many people still have VHS recorders, and would still given the opportunity, like to continue with VHS. This is where my influence comes in. Dane is not my boss. I listen to you, so here is what I would like to do, you can call or email me with your order. I am willing to make up 100 titles, 100 deep. I need these to be done on a pre-orders basis. I will then have these made up new box covers, new innards, everything brand new. Bright shinny Boxes, all in a row there are many of you who were disappointed the last time around. I myself knew these would sell, but not so fast, so I am going back to the well may people tell me I need this like a luch en cup (hole in my head), but I am a stubborn sob, those of you that know me know I never give up. So the ball is in your court now. I hope you will call or email me with your wishes. Now if you would excuse me, I have to go shine my disco ball. be well, Bob (at) daneproductions.com

Greetings To All Our Value Customers!

We thank all of our venders for thir great support

Best Wishes,

Liz and Bob
Dane Productions

email: liz (at) daneproductions.com

Politics, as usual

Molly Ivins: Blaming "Activist judges" for things that they didn't do
http://www.alternet.org/columnists/story/40802/

Bookstores endangered?
http://www.alternet.org/story/40490/

Bigot gets Muslim kicked off airplane
http://www.cbc.ca/story/canada/national/2006/08/18/doctor-winnipeg.html

Administration blocks US citizens from returning to the US
http://glenngreenwald.blogspot.com/2006/08/still-more-unchecked-powers-for-bush.html#links

Our Esteemed President stomps his widdle foot on surveillance setback
http://news.yahoo.com/s/ap/20060818/ap_on_go_pr_wh/bush

European wiretapping experts "commiting suicide"
http://www.alternet.org/story/40485/

Right-wing arm-twister joins Governator's campaign
http://www.sfgate.com/cgi-bin/blogs/sfgate/detail?blogid=14&entry_id=8124

Our Esteemed President speaks his mind
http://onegoodmove.org/1gm/1gmarchive/2006/08/my_position_is.html



Joseph Stefano, about 1960

Two 900-year-old dead people

I'll start with the writer.

Joseph Stefano was a promising writer who achieved immortality by writing the screenplay for Alfred Hitchcock's Psycho. The novel begins with fat, bald, middle-aged Norman Bates reading a book about human sacrifice, but Stefano got Hitchcock's attention by suggesting that the movie should start with "the girl shacked up with her boyfriend." Stefano went on to produce the TV show The Outer Limits, and also re-wrote his Psycho script for Gus Van Sant's 1998 remake. He was 84.

http://www.latimes.com/news/obituaries/la-me-stefano31aug31,1,3601263.story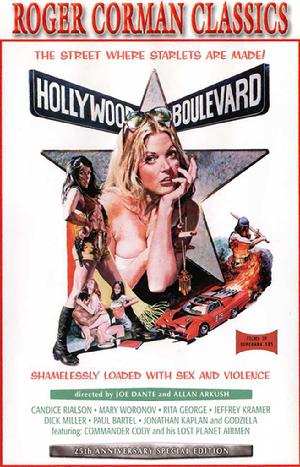 Candice Rialson, center, starring in Hollywood Boulevard

Actress Candice Rialson was a pretty blonde with big boobs who made a splash in Roger Corman movies in the '70s, including the immortal Hollywood Boulevard, a movie that owes its existence to a bet that co-directors Allan Arkush and Joe Dante made with producer Roger Corman that they could make a movie in 10 days for $50,000. Corman wasn't about to pass up that bet, and Arkush and Dante cobbled together a pretty-good behind-the-scenes B-movie slasher flick from miles of stock footage cut together with new material featuring Mary Woronov, Paul Bartel, Corman stalwart Dick Miller, and Rialson. Rialson's career pretty much ended when she starred in a film called Chatterbox, about a woman with a talking pussy. (David Stanley did the same bit a few years ago with Evan Stone having a talking asshole, and nobody had a problem with it. Times change.) She retired, but she still had fond memories of her acting days, and apparently at her death was unaware that she still had a fan base – and her death was only discovered when some producers were trying to find her to do a commentary track on a DVD. She was 54 when she died last March.
http://sergioleoneifr.blogspot.com/2006/08/candice-rialson-1952-2006.html

Governator apes Jack Abramoff, shakes down Indian casinos

Arnie changes his tune from 2004, when he opposed casino expansion, approves new rules authorizing almost 20,000 new slot machines. Tribes have given $50,000 to a political account controlled by the Senate President Pro Tem, Democrat Don Perata. No word on payoffs to the Governator's office.
http://www.latimes.com/news/local/la-me-gambling30aug30,1,6481230.story


Study: Director with keg

Penny Flame re-ups with Shane's World

The irrepressible performer/director and the party-hearty company renew their vows for another year, with their latest vid set for a September release. Here's the release.

Shane's World Studios Extends Penny Flame Contract

Chatsworth, Calif. – Shane's World Studios and Penny Flame have decided to continue the party. Penny Flame has been directing exclusively for Shane's World Studios for a year and has just had her contract extend for another year. Penny is responsible for the popular Shane's World series Girl's Night Out and Penny Flame's Blazed and Confused.

"Penny totally gets the Shane's World Studios vibe. She shares our wacky sense of humor and she's always up for an adventure." said Jennie Grant, owner of Shane's World. "She brings the professionalism of a director and the playfulness of a performer. Penny is very passionate about all of her projects and always gives 100%. She also always brings the zany, wild and carefree essence of herself to each and every movie"

Flames upcoming release Blazed and Confused 2: The Hunt for Maui Wowie will be released this September. The movie is a stoner adventure shot on location in Hawaii, including several scenes shot outdoors taking advantage of the islands beautiful surroundings and amazing waterfalls.

As for her upcoming release Flame stated, "It's going to be hilarious! I was literally in tears of laughter twenty minutes into it. We went on the ultimate hunt for Maui Wowie, and boy wait till you see what we found." Flame also went on to say she was happy that she got the opportunity to continue directing for Shane's World Studios and was looking forward to expanding her lines."

Company Owner Grant added, "We look forward to Penny spreading her wings this year. She's got a lot of ideas and I can't wait to see what she comes up with next."

Penny Flame's Blazed and Confused 2 features Penny Flame, Taryn Thomas, Emily Evermore, Amy Reid, Jack Venice, Sasha, and Erik Everhard.

Shane's World's roster also includes Tim Von Swine and Contract Girl Casey Parker.

You can find more information about the movie and its stars at http://www.shanesworld.com

Penny Flame's movies are distributed solely through Shane's World Studios. For foreign and domestic inquiries e-mail megan (at) shanesworld.com